When it first hit our TV screens 20 years ago, Will & Grace was completely groundbreaking.
It was the first prime-time sitcom to actually depict members of the LGBTI community as the main characters.
Will and Jack (and Grace and Karen) taught us a hell of a lot about dating, working and living as a gay person in the nineties and early noughties.
But since the show wrapped up, we've seen a lot more diverse LGBTI voices on our TV screens through shows like Looking, Transparent, Please Like Me and The L Word.
There's one scene in the new season of Will & Grace that has the power to save humanity. We're not kidding. 
When the Will & Grace revival was first announced a lot of people wondered whether we still needed the show.
And simply put – we do.
There's one particular storyline that reinforces the idea that we need Will & Grace more than ever.
It plays out in episode four when Jack meets his grandson, Skip.
In case you missed it, in the original series Jack discovered he had a son, Elliot, from donating his sperm.
Jack and Elliot became quite close but then we found out in the revival series that Elliot married an ultra-conservative Texan woman and left his father off the guest list for his wedding.
Jack and Elliot hadn't spoken for years, then little Skip turned up on Will's doorstep.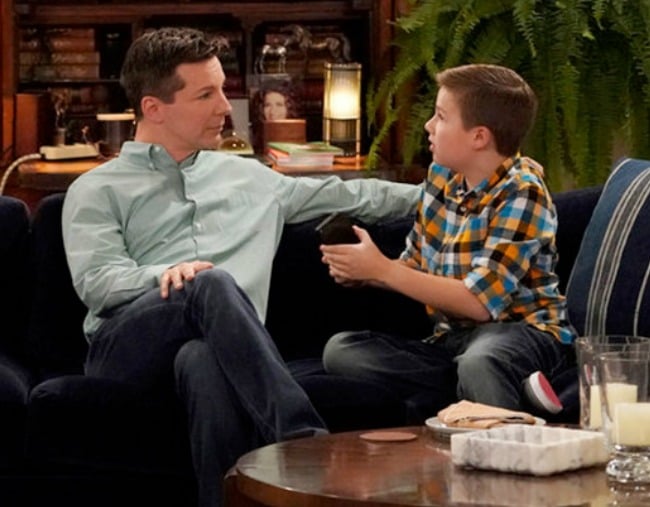 To cut a long story short, Jack soon discovers that Skip may be gay and that his parents were sending him to a gay conversion therapy camp called Camp Straighten Arrow.
Jack and Will then crash the conversion camp and Jack tells Skip neither this nor any other camp could "fix" him because he wasn't actually broken.
This whole episode plays out with the usual Will & Grace-style rapid fire jokes between the cast and the accompanying laugh track - but it makes an important point while doing so.
Things have certainly changed in the 20 years since we first met Will and Jack - but they haven't changed that much.
Members of the LGBTI community are still facing discrimination on a daily basis.
And we still live in a world where someone as sweet as little Skip could feel like he's "broken" just because he's trying to be true to himself.
You can watch the whole first season of the Will & Grace revival on Stan right now, along with the first original eight seasons. 
To keep up with all things TV, movies and funnies, follow Keryn Donnelly on Facebook and Instagram.