With the festive season well and truly upon us, there's a Christmas tradition no one's talking about.
You see, the practice is deeply embedded within Christmas history. There simply can be no Christmas without it. The routine is so visible, that it's become invisible.
Alongside Santa Claus, reindeer, and oversized trees, are the real makers of Christmas.
Women.
Santa's Little Helpers aren't some mythical elves. They are just women doing the cooking, cleaning, buying, wrapping, organising, scheduling, driving, calling, delegating, emailing, pouring, washing, baking, and decorating.
There is no 'magic' involved.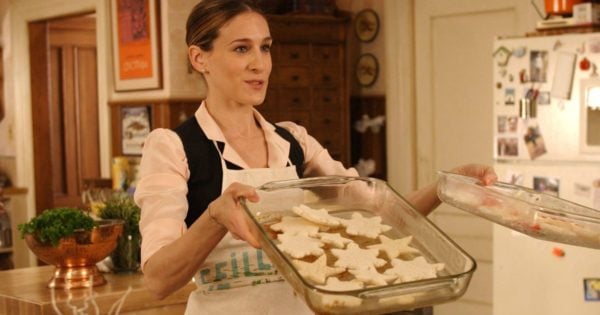 And for as long as Christmas has been a landmark occasion in Western culture, so too has there existed a conspiracy of silence around the investment of unpaid domestic labour.
Hence why, in 2016, women don't really like Christmas. They might like the idea of it. The notion of the family coming together on one day of the year, perhaps. But the event/s itself is about as relaxing as running a marathon through a blizzard. Covered in tinsel. While having baubles thrown at you. By crying children.
Although it is not exclusively women who prepare and execute Christmas every year, it is fair to say that the workload overwhelmingly falls to women in a vast majority of families. The work itself is gendered and, as is the case with 'women's work', completely undervalued.
Listen to why women really hate Christmas on Mamamia Outloud.