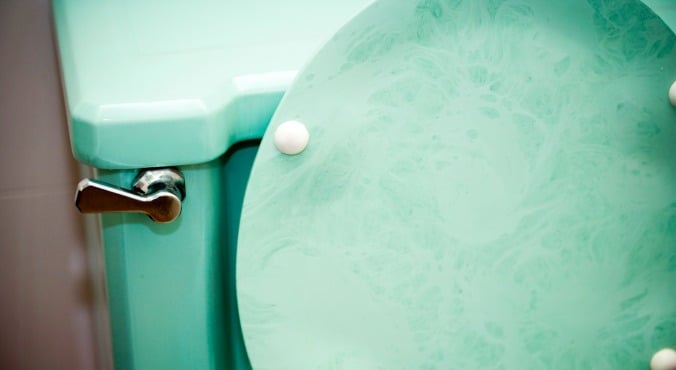 Image: iStock.
There are occasions when I believe you can judge the passing of time not by the lines on your face but by the conversations you have with your friends. So last night, I found myself discussing the subject of bowel movements with mine.
We discussed how her new Nutribullet makes green smoothies that look like Shrek poo, then that got us onto the Bristol stool chart and then that, because we are both a bit competitive, degenerated into an argument about whose stools were the most perfect according to said chart.
RELATED: Prepare to be shocked: 'breaking the seal' is a big, fat myth.
You may dismiss this as middle-aged toilet humour but on a serious note, you can tell a great deal about your health and diet by your bowel movements so, below, are the answers to a few questions you may not be old enough to discuss with your best mates…
1. What's the difference between irregular and constipated?
It's all down to what's normal for you. While the popular wisdom is that everyone should go twice a day some people only go twice a week. People with slow metabolisms also tend to have slow bowel movements. The important thing is to note your normal and then note changes. Some changes such as frequency, consistency and colour are down to age, diet, medications or lifestyle. Others may be cause for concern. (Post continues after gallery.)
What your urine says about your health.
2. Why does it smell bad?
The healthier a person's digestion, the less strain and the less smell. A low sugar, high fibre diet should keep stools relatively smell-free. If you suspect fruit is the problem, choose low sugar fruits such as apples, pears and berries and keep fruit away from main meals. Eating lots of red meat can cause stools to smell particularly rancid.
3. Why does it contain large food particles?
Certain foods. such as corn or seeds, will come out whole anyway. But if you are seeing food particles regularly, you need to start chewing your food more and slow down your eating. Digestion begins with chewing. Other ways to improve digestion include sipping water with lemon juice or high quality apple cider vinegar or eating bitter foods such as dandelion, rocket and endive.
RELATED: How to deal with constipation. Yes, we're going there.
4. Why does it contain mucous?
That's often a sign of candida or thrush. Try building up good gut bacteria by cutting down on sugar and increasing the probiotic content of your food. Try quality yoghurt, sauerkraut, tempeh, miso and keifar. A good probiotic supplement can also help.
5. Why are they a pale colour?
Light coloured stools may indicate some disruption with your liver, gall bladder, bile or some medications. Bile is a digestive fluid produced by the liver and stored in our gallbladder. Stools get their normal brownish colour from bile which is excreted from the liver into the small intestines during the digestive process. Mention it to your health practitioner and consider cutting back on excess alcohol, high fat and highly processed foods.