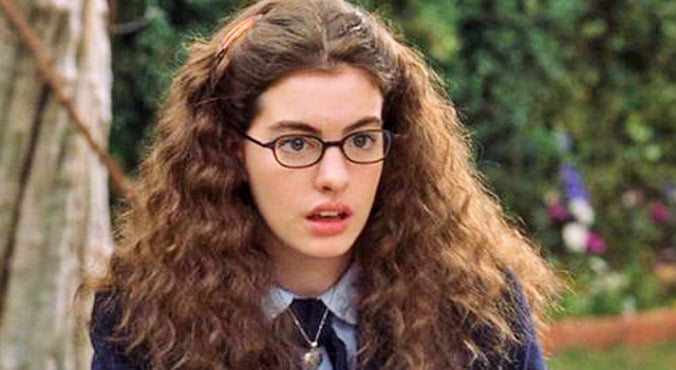 Image: Walt Disney Pictures
Those of us with thick or curly hair have a particularly impressive skill: we don't need an app to tell us the weather.
Yep, just a look at the reflection of our (huge/knotted/fluffy) hair in the mirror can tell us all we need to know about the level of humidity outside — which has almost limitless power to wreak havoc on our hair. But why is that?
You can thank the makeup of your hair. It's actually highly susceptible to changes in the level of hydrogen in air, which happens dramatically when it's humid. Essentially, we're actually almost predisposed to experience hair changes when the weather gets hot and sticky.
This is particularly bad for anyone with dry hair. Moisture affects keratin, an important protein involved in the hair strength and structure. When the weather gets humid dry hair screams out for moisture and soaks up up any water in the air, which thenmesses around with the keratin. This causes the hair to swell and the cuticle to break, leaving hair looking frizzy and feeling fluffy. For damaged and coloured hair, the signs are even more visible.
"The three most common humidity hair problems are frizz, flyaways and fluffy texture," explains Joey Scandizzo, ELEVEN Australia co-Creative Director and three-time Australian Hairdresser of the Year.
Thankfully there are ways to prevent, or at least minimise, the damage.
Watch: Brittany's top three hacks for fighting frizz. (Post continues after video.)
1. Focus on your base
Like a primer for your foundation, your shampoo and conditioner play a major role in protecting your hair.
"Prevention is always better than a cure. You can help prevent frizz caused by humidity by starting with the right foundation when blowdrying. Prepping hair with good quality shampoo and conditioner like Hydrate My Hair Moisture Shampoo ($22.95) and Conditioner ($23.95) will go a long way," he explains.
The key word to look for is "moisturising" — the more nourished your hair is, the less it will absorb from the air. (Post continues after gallery.)
// g?c=a+f+c:(g+=f.length,f=a.indexOf("&",g),c=0<=f?a.substring(0,g)+c+a.substring(f):a.substring(0,g)+c)}return 2E3<c.length?void 0!==d?ca(a,b,d,void 0,e):a:c};var da=function(){var a=/[&?]exk=([^& ]+)/.exec(p.location.href);return a&&2==a.length?a[1]:null};var q=function(a,b){this.width=a;this.height=b};q.prototype.round=function(){this.width=Math.round(this.width);this.height=Math.round(this.height);return this};var ea=function(a,b){for(var c in a)Object.prototype.hasOwnProperty.call(a,c)&&b.call(void 0,a[c],c,a)},ga=function(){var a=fa;if(!a)return"";var b=/.*[&#?]google_debug(=[^&]*)?(&.*)?$/;try{var c=b.exec(decodeURIComponent(a));if(c)return c[1]&&1<c[1].length?c[1].substring(1):"true"}catch(d){}return""};var ha=function(a,b,c,d){a.addEventListener?a.addEventListener(b,c,d||!1):a.attachEvent&&a.attachEvent("on"+b,c)};var ia=function(a){var b="";ea(a,function(a,d){if(0===a||a)b+="&"+d+"="+encodeURIComponent(String(a))});return b},r=function(a,b,c){a.google_image_requests||(a.google_image_requests=[]);var d=a.document.createElement("img");if(c){var e=function(a){c(a);a=e;d.removeEventListener?d.removeEventListener("load",a,!1):d.detachEvent&&d.detachEvent("onload",a);a=e;d.removeEventListener?d.removeEventListener("error",a,!1):d.detachEvent&&d.detachEvent("onerror",a)};ha(d,"load",e);ha(d,"error",e)}d.src=b;a.google_image_requests.push(d)};var ja=function(a,b,c){this.v=a;this.u=b;this.c=c;this.f=null;this.s=this.g;this.A=!1},ka=function(a,b,c){this.message=a;this.fileName=b||"";this.lineNumber=c||-1},ma=function(a,b,c){var d;try{d=c()}catch(g){var e=a.c;try{var f=la(g),e=a.s.call(a,b,f,void 0,void 0)}catch(l){a.g("pAR",l)}if(!e)throw g;}finally{}return d},t=function(a,b){var c=na;return function(){var d=arguments;return ma(c,a,function(){return b.apply(void 0,d)})}};ja.prototype.g=function(a,b,c,d,e){var f={};f.context=a;b instanceof ka||(b=la(b));f.msg=b.message.substring(0,512);b.fileName&&(f.file=b.fileName);0<b.lineNumber&&(f.line=b.lineNumber.toString());a=h.document;f.url=a.URL.substring(0,512);f.ref=a.referrer.substring(0,512);if(this.f)try{this.f(f)}catch(l){}if(d)try{d(f)}catch(l){}d=this.v;try{if((this.A?d.w:Math.random())<(c||d.o)){var g=d.m+(e||this.u)+ia(f),g=g.substring(0,2E3);r(h,g)}}catch(l){}return this.c};var la=function(a){var b=a.toString();a.name&&-1==b.indexOf(a.name)&&(b+=": "+a.name);a.message&&-1==b.indexOf(a.message)&&(b+=": "+a.message);if(a.stack){var c=a.stack,d=b;try{-1==c.indexOf(d)&&(c=d+"n"+c);for(var e;c!=e;)e=c,c=c.replace(/((https?:/..*/)[^/:]*:d+(?:.|n)*)2/,"$1");b=c.replace(/n */g,"n")}catch(f){b=d}}return new ka(b,a.fileName,a.lineNumber)};var oa=String.prototype.trim?function(a){return a.trim()}:function(a){return a.replace(/^[sxa0]+|[sxa0]+$/g,"")},pa=function(a,b){return ab?1:0};var qa=Array.prototype.indexOf?function(a,b,c){return Array.prototype.indexOf.call(a,b,c)}:function(a,b,c){c=null==c?0:0>c?Math.max(0,a.length+c):c;if(k(a))return k(b)&&1==b.length?a.indexOf(b,c):-1;for(;c<a.length;c++)if(c in a&&a[c]===b)return c;return-1},ra=Array.prototype.map?function(a,b,c){return Array.prototype.map.call(a,b,c)}:function(a,b,c){for(var d=a.length,e=Array(d),f=k(a)?a.split(""):a,g=0;gparseFloat(a))?String(b):a}(),Da={},A=function(a){var b;if(!(b=Da[a])){b=0;for(var c=oa(String(Ca)).split("."),d=oa(String(a)).split("."),e=Math.max(c.length,d.length),f=0;0==b&&f<e;f++){var g=c[f]||"",l=d[f]||"",U=RegExp("(\d*)(\D*)","g"),u=RegExp("(\d*)(\D*)","g");do{var L=U.exec(g)||["","",""],M=u.exec(l)||["","",""];if(0==L[0].length&&0==M[0].length)break;b=pa(0==L[1].length?0:parseInt(L[1],10),0==M[1].length?0:parseInt(M[1],10))||pa(0==L[2].length,0==M[2].length)||pa(L[2],M[2])}while(0==b)}b=Da[a]=0<=b}return b},Ea=h.document,Fa=Ea&&y?Ba()||("CSS1Compat"==Ea.compatMode?parseInt(Ca,10):5):void 0;!z&&!y||y&&9<=Number(Fa)||z&&A("1.9.1");y&&A("9");var B=document,p=window;function C(a){return"function"===typeof encodeURIComponent?encodeURIComponent(a):escape(a)}var D=null,Ga=function(){if(!B.body)return!1;if(!D){var a=B.createElement("iframe");a.style.display="none";a.id="anonIframe";D=a;B.body.appendChild(a)}return!0};var na;na=new ja(new function(){this.m="http"+("http:"===p.location.protocol?"":"s")+"://pagead2.googlesyndication.com/pagead/gen_204?id=";this.o=.01;this.w=Math.random()},"jserror",!0);var E=function(a,b){return t(a,b)};y&&A("9");!za||A("528");z&&A("1.9b")||y&&A("8")||xa&&A("9.5")||za&&A("528");z&&!A("8")||y&&A("9");var Ha=function(a,b,c){if("array"==aa(b))for(var d=0;d<b.length;d++)Ha(a,String(b[d]),c);else null!=b&&c.push("&",a,""===b?"":"=",encodeURIComponent(String(b)))},Ia=function(a,b,c){for(c=c||0;c<b.length;c+=2)Ha(b[c],b[c+1],a);return a},Ja=function(a,b){var c=2==arguments.length?Ia([a],arguments[1],0):Ia([a],arguments,1);if(c[1]){var d=c[0],e=d.indexOf("#");0e?c[1]="?":e==d.length-1&&(c[1]=void 0)}return c.join("")};var Ka=0,F={},Ma=function(a){var b=F.imageLoadingEnabled;if(null!=b)a(b);else{var c=!1;La(function(b,e){delete F[e];c||(c=!0,null!=F.imageLoadingEnabled||(F.imageLoadingEnabled=b),a(b))})}},La=function(a){var b=new Image,c,d=""+Ka++;F[d]=b;b.onload=function(){clearTimeout(c);a(!0,d)};c=setTimeout(function(){a(!1,d)},300);b.src="data:image/gif;base64,R0lGODlhAQABAIAAAP///wAAACH5BAEAAAAALAAAAAABAAEAAAICRAEAOw=="},Na=function(a){if(a){var b=document.createElement("OBJECT");b.data=a;b.width=1;b.height=1;b.style.visibility="hidden";var c=""+Ka++;F[c]=b;b.onload=b.onerror=function(){delete F[c]};document.body.appendChild(b)}},Oa=function(a){if(a){var b=new Image,c=""+Ka++;F[c]=b;b.onload=b.onerror=function(){delete F[c]};b.src=a}},Pa=function(a){Ma(function(b){b?Oa(a):Na(a)})};var Qa={l:"ud=1",j:"ts=0",B:"sc=1",h:"gz=1",i:"op=1"};if(B&&B.URL){var fa=B.URL,Ra=!(fa&&0=b)){var d=0,e=function(){a();d++;db;){try{if(c.google_osd_static_frame)return c}catch(d){}try{if(c.aswift_0&&(!a||c.aswift_0.google_osd_static_frame))return c.aswift_0}catch(d){}b++;c=c!=c.parent?c.parent:null}return null},Wa=function(a,b,c,d,e){if(10<Ua)p.clearInterval(N);else if(++Ua,p.postMessage&&(b.b||b.a)){var f=Va(!0);if(f){var g={};I(b,g);g[0]="goog_request_monitoring";g[6]=a;g[16]=c;d&&d.length&&(g[17]=d.join(","));e&&(g[19]=e);try{var l=K(g);f.postMessage(l,"*")}catch(U){}}}},Xa=function(a){var b=Va(!1),c=!b;!b&&p&&(b=p.parent);if(b&&b.postMessage)try{b.postMessage(a,"*"),c&&p.postMessage(a,"*")}catch(d){}};var O=!1,Ya=function(a){if(a=a.match(/[d]+/g))a.length=3};(function(){if(navigator.plugins&&navigator.plugins.length){var a=navigator.plugins["Shockwave Flash"];if(a&&(O=!0,a.description)){Ya(a.description);return}if(navigator.plugins["Shockwave Flash 2.0"]){O=!0;return}}if(navigator.mimeTypes&&navigator.mimeTypes.length&&(O=(a=navigator.mimeTypes["application/x-shockwave-flash"])&&a.enabledPlugin)){Ya(a.enabledPlugin.description);return}try{var b=new ActiveXObject("ShockwaveFlash.ShockwaveFlash.7");O=!0;Ya(b.GetVariable("$version"));return}catch(c){}try{b=new ActiveXObject("ShockwaveFlash.ShockwaveFlash.6");O=!0;return}catch(c){}try{b=new ActiveXObject("ShockwaveFlash.ShockwaveFlash"),O=!0,Ya(b.GetVariable("$version"))}catch(c){}})();var Za=w("Firefox"),$a=wa()||w("iPod"),ab=w("iPad"),bb=w("Android")&&!(va()||w("Firefox")||x()||w("Silk")),cb=va(),db=w("Safari")&&!(va()||w("Coast")||x()||w("Edge")||w("Silk")||w("Android"))&&!(wa()||w("iPad")||w("iPod"));var P=function(a){return(a=a.exec(v))?a[1]:""};(function(){if(Za)return P(/Firefox/([0-9.]+)/);if(y||ya||xa)return Ca;if(cb)return P(/Chrome/([0-9.]+)/);if(db&&!(wa()||w("iPad")||w("iPod")))return P(/Version/([0-9.]+)/);if($a||ab){var a;if(a=/Version/(S+).*Mobile/(S+)/.exec(v))return a[1]+"."+a[2]}else if(bb)return(a=P(/Androids+([0-9.]+)/))?a:P(/Version/([0-9.]+)/);return""})();var fb=function(){var a=p.parent&&p.parent!=p,b=a&&0<="//tpc.googlesyndication.com".indexOf(p.location.host);if(a&&p.name&&0==p.name.indexOf("google_ads_iframe")||b){var c;a=p||p;try{var d;if(a.document&&!a.document.body)d=new q(-1,-1);else{var e=(a||window).document,f="CSS1Compat"==e.compatMode?e.documentElement:e.body;d=(new q(f.clientWidth,f.clientHeight)).round()}c=d}catch(g){c=new q(-12245933,-12245933)}return eb(c)}c=p.document.getElementsByTagName("SCRIPT");return 0<c.length&&(c=c[c.length-1],c.parentElement&&c.parentElement.id&&0<c.parentElement.id.indexOf("_ad_container"))?eb(void 0,c.parentElement):null},eb=function(a,b){var c=gb("IMG",a,b);return c||(c=gb("IFRAME",a,b))?c:(c=gb("OBJECT",a,b))?c:null},gb=function(a,b,c){var d=document;c=c||d;d=a&&"*"!=a?a.toUpperCase():"";c=c.querySelectorAll&&c.querySelector&&d?c.querySelectorAll(d+""):c.getElementsByTagName(d||"*");for(d=0;d<c.length;d++){var e=c[d];if("OBJECT"==a)a:{var f=e.getAttribute("height");if(null!=f&&0<f&&0==e.clientHeight)for(var f=e.children,g=0;g<f.length;g++){var l=f[g];if("OBJECT"==l.nodeName||"EMBED"==l.nodeName){e=l;break a}}}f=e.clientHeight;g=e.clientWidth;if(l=b)l=new q(g,f),l=Math.abs(b.width-l.width)<.1*b.width&&Math.abs(b.height-l.height)<.1*b.height;if(l||!b&&10<f&&10<g)return e}return null};var hb,Q=0,R="",S=!1,T=!1,V=!1,ib=!0,jb=!1,kb=!1,lb=!1,mb=!1,nb=!1,ob="",pb=0,qb=0,W=0,rb=[],J=null,sb="",tb=[],ub=null,vb=[],wb=!1,xb="",yb="",zb=(new Date).getTime(),Ab=!1,Bb="",Cb=!1,Db=["1","0","3"],X=0,Y=0,Eb=0,Fb="",Hb=function(a,b,c){S&&(ib||3!=(c||3)||lb)&&Gb(a,b,!0);if(V||T&&kb)Gb(a,b),T=V=!1},Ib=function(){var a=ub;return a?2!=a():!0},Gb=function(a,b,c){(b=b||sb)&&!wb&&(2==Y||c)&&Ib()&&(b=Jb(b,c),jb?Pa(b):r(a,b,void 0),nb=!0,c?S=!1:wb=!0)},Jb=function(a,b){var c;c=b?"osdim":V?"osd2":"osdtos";var d=["//pagead2.googlesyndication.com/activeview","?id=",c];"osd2"==c&&T&&kb&&d.push("&ts=1");R&&d.push("&avi=",R);hb&&d.push("&cid=",hb);d.push("&ti=1");d.push("&",a);d.push("&uc="+Eb);Ab?d.push("&tgt="+Bb):d.push("&tgt=nf");d.push("&cl="+(Cb?1:0));""!=ob&&(d.push("&lop=1"),c=m()-pb,d.push("&tslp="+c));d=d.join("");for(c=0;c<tb.length;c++){try{var e=tb[c]()}catch(g){}var f="max_length";2<=e.length&&(3==e.length&&(f=e[2]),d=ca(d,C(e[0]),C(e[1]),f))}2E3<d.length&&(d=d.substring(0,2E3));return d},Z=function(a){if(xb){try{var b=ca(xb,"vi",a);Ga()&&r(D.contentWindow,b,void 0)}catch(c){}0<=qa(Db,a)&&(xb="")}},Kb=function(){Z("-1")},Mb=function(a){if(a&&a.data&&k(a.data)){var b;var c=a.data;if(k(c)){b={};for(var c=c.split("n"),d=0;d=e)){var f=Number(c[d].substr(0,e)),e=c[d].substr(e+1);switch(f){case 5:case 8:case 11:case 15:case 16:case 18:e="true"==e;break;case 4:case 7:case 6:case 14:case 20:case 21:case 22:case 23:e=Number(e);break;case 3:case 19:if("function"==aa(decodeURIComponent))try{e=decodeURIComponent(e)}catch(l){throw Error("Error: URI malformed: "+e);}break;case 17:e=ra(decodeURIComponent(e).split(","),Number)}b[f]=e}}b=b[0]?b:null}else b=null;if(b&&(c=new H(b[4],b[12]),J&&J.match(c))){for(c=0;cX&&!T&&2==Y&&Nb(p,"osd2","hs="+X)},Pb=function(){var a={};I(J,a);a[0]="goog_dom_content_loaded";var b=K(a);try{Sa(function(){Xa(b)},10,"osd_listener::ldcl_int")}catch(c){}},Qb=function(){var a={};I(J,a);a[0]="goog_creative_loaded";var b=K(a);Sa(function(){Xa(b)},10,"osd_listener::lcel_int");Cb=!0},Rb=function(a){if(k(a)){a=a.split("&");for(var b=a.length-1;0<=b;b–){var c=a[b],d=Qa;c==d.l?(ib=!1,a.splice(b,1)):c==d.h?(W=1,a.splice(b,1)):c==d.j?(T=!1,a.splice(b,1)):c==d.i&&(jb=!0,a.splice(b,1))}Fb=a.join("&")}},Sb=function(){if(!Ab){var a=fb();a&&(Ab=!0,Bb=a.tagName,a.complete||a.naturalWidth?Qb():G(a,"load",Qb,"osd_listener::creative_load"))}};n("osdlfm",E("osd_listener::init",function(a,b,c,d,e,f,g,l,U){Q=a;xb=b;yb=d;S=f;hb=U;g&&Rb(g);T=f;1==l?rb.push(947190538):2==l?rb.push(947190541):3==l&&rb.push(947190542);J=new H(e,da());G(p,"load",Kb,"osd_listener::load");G(p,"message",Mb,"osd_listener::message");R=c||"";G(p,"unload",Ob,"osd_listener::unload");var u=p.document;!u.readyState||"complete"!=u.readyState&&"loaded"!=u.readyState?!window.opera&&/msie/i.test(navigator.userAgent)?G(u,"readystatechange",function(){"complete"!=u.readyState&&"loaded"!=u.readyState||Pb()},"osd_listener::rsc"):G(u,"DOMContentLoaded",Pb,"osd_listener::dcl"):Pb();-1==Q?Y=f?3:1:-2==Q?Y=3:0