This year will not be quickly forgotten – and not just because it turned out to be a bit of a bad year (see: Trump, Brexit, David Bowie, Brangelina to name but a few).
No, 2016 will go down in the history books as The Year We Filmed Everything. Everything. From lunches to labour, nothing was too gory or trivial to record and broadcast to family, friends and even total strangers.
And if we weren't filming ourselves, we were watching the results of other people filming themselves.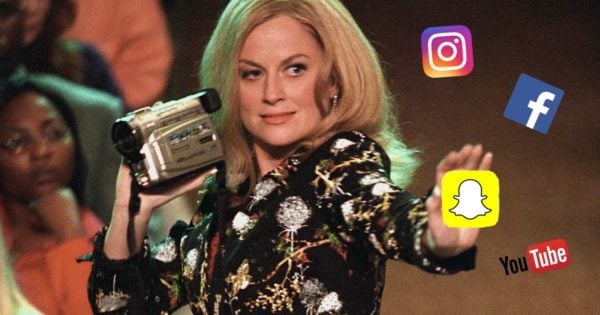 Work it gurl. Image: Paramount Pictures/Brittany Stewart
So how did videos come to fill up our feed? Who decided everyone needed to hear about what I ate for breakfast? And why did I just spend five minutes watching Kylie Jenner pose in a mirror?
1.The rise and rise and rise of Snapchat.
It all started with that tiny yellow ghost.
The photo sharing app has been around since 2011, with Snapchat Stories - a personal curation of snaps or videos that any follower can view -  first launched in 2014. But this year really saw it take off to another level. The app now boasts 150 million daily active users.
Its video usage has grown dramatically too with the app attracting 10 billion video views a day. That's 3,560,000,000,000 (yes, we're in the trillions) a year.
While personas on Facebook and Instagram have become more contrived, many attribute Snapchat's success to its "authenticity" (minus all those filters). It's easy to use, feels 'in the moment' and my teenage sister (like millions of others) practically lives her life on it, creating video content with a touch of a finger.