It's the question that has the world divided. Or our office, at least. Is The Big Bang Theory actually a terrible show?
It's one of the most watched shows worldwide, racking up an average 20 million viewers per episode. And its stars have once again topped the Forbes highest paid TV actors list, with the men who play the stereotypical nerds Sheldon, Leonard, Howard and Rajesh taking out the top four spots:
1. Jim Parsons, The Big Bang Theory — $24.5 million
2. Johnny Galecki, The Big Bang Theory — $24 million
3. Simon Helberg, The Big Bang Theory — $22.5 million
4. Kunal Nayyar, The Big Bang Theory — $22 million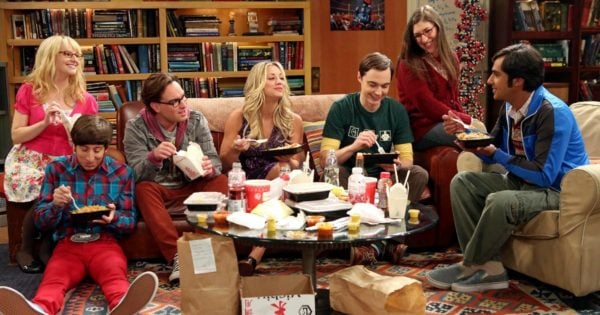 Kaley Cuoco came in a close second to Sofia Vergara on the actresses list for her ditzy character Penny, earning a massive $24.5 million.
How? We're baffled. Can the numbers lie?
This week on The Binge we asked: Is this show really worthy of all the accolades and the money it receives?
Sure, it has some merits. It brought nerds to the mainstream media. It's got more diversity than a lot of shows. Apparently some people inexplicably find it funny. It... Ummm... okay that might be all. And there are so many bigger problems with this show.