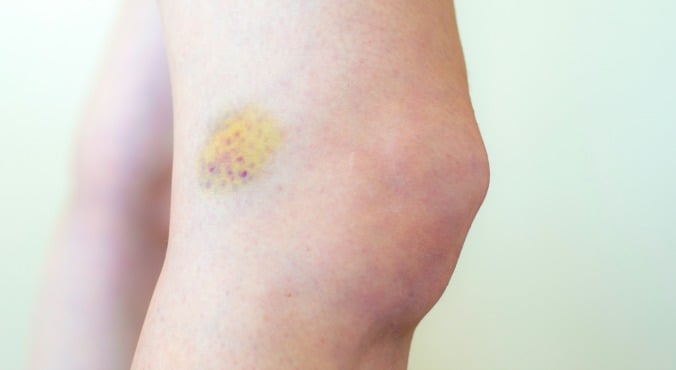 Image: iStock. 
If you, like me, bruise like a peach, you will know how frustrating it can be when even the slightest bump into a table leaves a mark the size of an egg on your leg.
I've always put this down to being incredibly clumsy things always irritatingly getting in my way, but I have found some comfort in the fact that there are actually many reasons why some people bruise more easily than others. Aside from clumsiness, obviously.
Here are the many and varied different reasons why some people bruise more easily than others.
1. Your age.
If you find that you're bruising more than you used to, it could be because of your age. As we get older, our skin loses its collagen, and becomes thinner. And we also lose some of the protective fatty layer that cushions our blood vessels from injury, which means we are more susceptible.
(Jess Rowe shares with us the advice she wishes she had known when she was younger. Post continues after video.)
2. Your gender and weight.
Interestingly, bruising easily can also be due to your frame. Dr Ilana Galgut, Associate Doctor and Cosmetic Physician from enRich Dermatology and Cosmetic Surgery Clinic explains that the thinner you are, the less fat you have to cushion your blood vessels, so the more likely you are to bruise. Women are also more likely to bruise, because, generally, a woman's skin is thinner than a man's.
"It's very normal to bruise after injuring yourself and having a few bruises at any one time is very normal," Dr Galgut says.
(The best anti-aging solution? Sunscreen. And lots of it. Post continues after gallery.)
The Glow teams favourite sunscreens