When we heard that Sarah and Telv had indeed called it quits on their relationship, we were sad.
The couple announced their split on Instagram (where else?) and Sarah's heartfelt message tugged at our heart strings.
She said that she walked away from the relationship with "great heartache, regret and sadness," and that she'll treasure the "many heartfelt moments [they] shared together," in her Instagram caption. But… she might be feeling a bit differently about the whole thing now.
Since going their seperate ways Telv has been reportedly dating new girlfriend Maddie Carolan, with The Daily Mail reporting the pair was partying in Melbourne this week.
The publication said that a (very legitimate and trustworthy) source claimed that 'they were flirty and very close.'
*gasps*
Miranda Devine describes the show as cruel but is Married At First Sight really problematic? Well… The Mamamia Out Loud team discuss. Post continues after audio.

Here's what Sarah thinks of that.
Posting a photo onto her Instagram (of her looking, quite frankly, amazing), a fan asked whether she was still single, and her response was as sassy as they come.
"I'm not in a rush unlike other people to just hook up with countless fame hungry insignificant randoms…
"Real love is truly important to me so I'm happy to ease slowly back into the dating life eventually when the time is right."
Zzzzzzzing!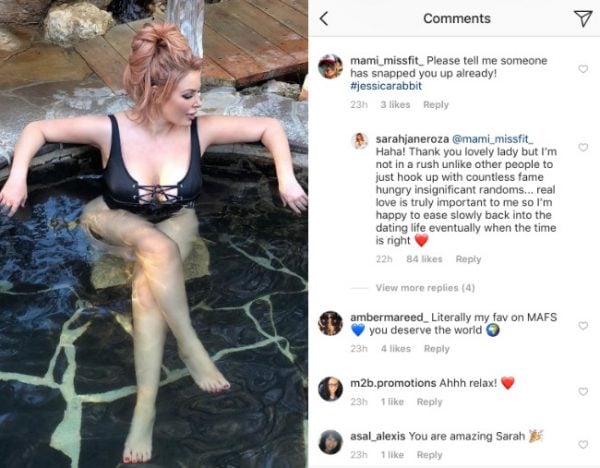 This comes after Telv's mum, Tracey, said some rather damning things about the televised faux marriage.
Speaking told The Daily Mail Tracey said that the couple had actually split in December of last year.
"[The producers] were coercing him into doing something which he basically didn't want and that was to do the re-commitment ceremony," she said.
"He didn't even want to re-commit."
Ahhhh, another day of reality television drama.
Onwards.