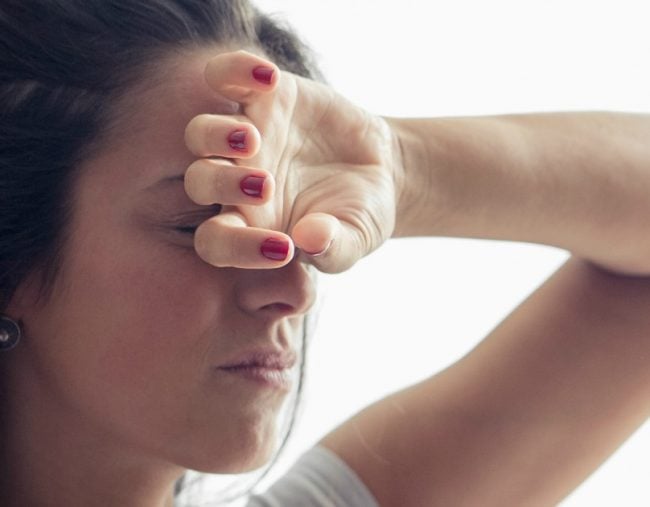 "We're living in a 25 hour society," sleep specialist at Sydney's Dr Levis Sleep clinic, Dr Dev Banerjee, said. And as a result, we find ourselves asking perhaps more than ever before: Why am I so tired all the time?
With so much to do, sleep is often one of the first things we find ourselves sacrificing. More than one in 10 Australians get less than five and a half hours of sleep a night, and no matter how they feel the next day, experts say they will experience serious neurological impacts in the long term.
Speaking to Mamamia, Dr Banerjee said sleep deprivation has serious physical, psychological and social consequences.
One side effect that we're often warned about is the risk of falling asleep behind the wheel. Dr Banerjee said, "one fifth of all motor vehicle accidents are due to fatigue and tiredness," which is an important reminder of the seriousness of not getting enough sleep.
But there are the four unexpected side effects of sleep deprivation that many Australians might not know about.
1. Sleep deprivation and anxiety.
Dr Banerjee said a lack of sleep can make an individual cranky, moody and result in their "anxiety levels going up".
Neuroscientists have found that not getting enough sleep activates the areas of the brain responsible for emotional processing. According to Psych Central, "the resulting pattern mimics the abnormal neural activity seen in anxiety disorders".
There appears to be a harmful cycle, whereby excessive worriers are more vulnerable to the impacts of sleep deprivation, and also more likely to struggle to get to sleep.
Matthew Walker, Ph.D., the author of a seminal paper published in the Journal of Neuroscience, writes, "This discovery illustrates how important sleep is to our mental health… and emphasizes the intimate relationship between sleep and psychiatric disorders."
How to know when you're sleep deprived. Post continues.