When Lee Carseldine sat down to do an interview with OK! magazine, he mustn't have realised Survivor fanatics everywhere (myself included) were ready to analyse his every word.
Because it seems the ex-professional cricketer let slip a clue as to the final two contestants on the show.
The possible mistake occurred when the father-of-two explained the first thing he did when he was booted off the show.
"As soon as [we] got out of there, El and I hit up Max Brenner," the 40-year-old said innocently. "Yep, this was even before we took showers."
But… wait. What? He and El? Does this mean they left the show… together?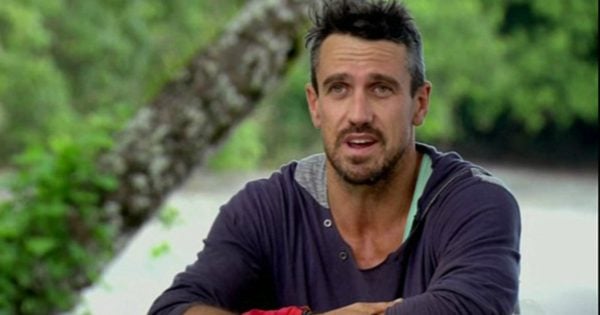 This could mean a few things. Firstly, they could have both been booted in a double elimination. Secondly, they could've been the final two. Or thirdly, Lee's simply referring to the final day when all 11 of the final contestants (the two finalists and remaining nine who make up the jury) finished filming.
While loyal Survivor fans might jump to option three, hear me out.
After elimination, ex-Survivors are given free reign of the Jury Villa and can access all the food and hot showers they want, making the choice to go to a chocolate shop after a regular elimination episode seem silly.
This makes me feel option two is likely. After the final day of filming wrapped, single parents Lee and El probably demanded the producers take them to some sweet, sweet chocolatey goodness.
The plot thickens, people. The plot thickens.
Speaking to the Daily Mail, Channel 10 rolled out their party line.
"All contestants appear at the final tribal council. A return date is no indication of the winner or result," they said.
But I'm not convinced. So if anyone has been to Samoa, and has seen a Max Brenner near a 'Fia Fia' flag, boy do I want to talk to you!
Who do you think wins The Survivor Australia?
For more smart TV talk, listen to The Binge podcast: