It may surprise you to learn that the world's "leading dating expert for women" is, in fact, a man.
For six years Matthew Hussey has been dishing out advice for ladies looking for love. He's written books with painfully long-winded titles like Get the Guy: Learn Secrets of the Male Mind to Find the Man You Want and the Love You Deserve, a New York Times best-seller, apparently.
He hosts seminars, has a range of handy downloadable how-to guides (How to Talk to Men, Get Him Running Back to You: The 5 Simple Steps to Win Your Ex Back Fast!) and nearly half a million subscribers on YouTube. Apparently, he's the Go-To-Guy for all you modern dating dilemmas. Like a real-life Carrie Bradshaw, but with a Y chromosome and a British accent.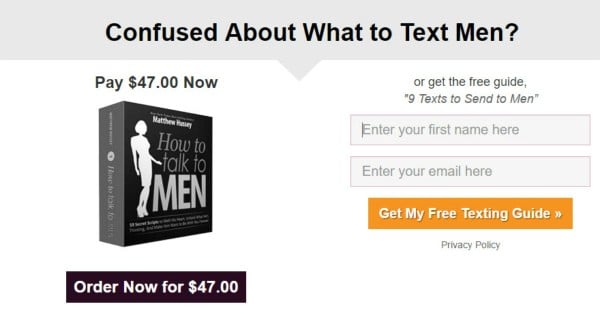 Only US$47, bargain! Source: Get The Guy
Anyway, he was recently asked to shed some light on the question that's apparently still plaguing modern-day daters: "When you're on a date who should pay?"
Here's what he had to say on the matter (post continues after video):