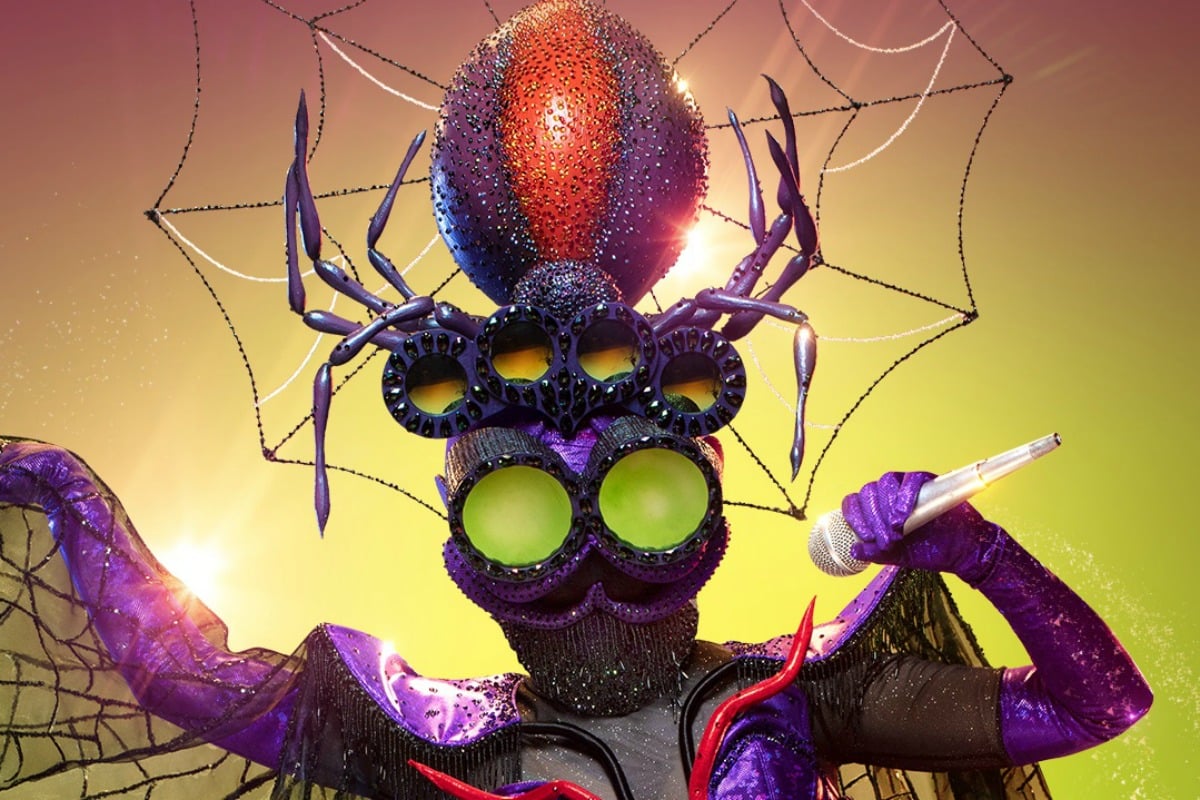 Warning: This post almost definitely contains spoilers for The Masked Singer Australia.
Excuse us.
It's time to investigate the identities of strange furry animals singing on a reality TV show.
With only five masks left – Robot, Monster, Spider, Unicorn and Wolf – suspense is certainly rising on The Masked Singer Australia.
In the few weeks that the show has been on our screens, we've predicted that Robot is Cody Simpson, Unicorn is Deni Hines, Monster is Gorgi Coghlan and Wolf is Rob Mills. (Yep, we're dedicated.)
But what about the Spider? After some serious investigative sleuthing, we're (almost) certain it's singer-songwriter and former Australian Idol star Paulini Curuenavuli.
We dive into all the behind the scenes info you need to know about The Masked Singer Australia on The Spill. Post continues after audio.
Who is the Spider on The Masked Singer Australia?
Here's all the evidence that Paulini is the Spider on The Masked Singer Australia.
According to Spider, none of the judges have come close to guessing her identity, so that rules out Jessica Mauboy, Dami Im, Willow Smith, Amy Sheppard, La Toya Jackson and Sia (Dave Hughes, please).
Clue: "If you can't stand the heat, get out of the kitchen, or call a fireman, but don't burn."
Evidence: This clue could be a reference to Paulini's 2012 song, 'Fireman,' and the music video for 'Rough Day,' which also features the singer in a kitchen.
Clue: The pictures of Pope Benedict XVI and Jennifer Aniston.
Evidence: Both Paulini and Jennifer Aniston have played characters named Rachel; Jennifer as Rachel Green on Friends and Curuenavuli as Rachel Marron in The Bodyguard Musical. Paulini's connection to Pope Benedict XVI dates back to 2008, when the singer performed for the religious leader.
Clue: "My initial fame had a golden aura."
Evidence: While appearing on the first season of Australian Idol, Paulini was famously criticised by judge Ian 'Dicko' Dickinson for the way her body looked in a figure-hugging gold dress. At the time, the criticism sent the Australian media into meltdown.
 

View this post on Instagram