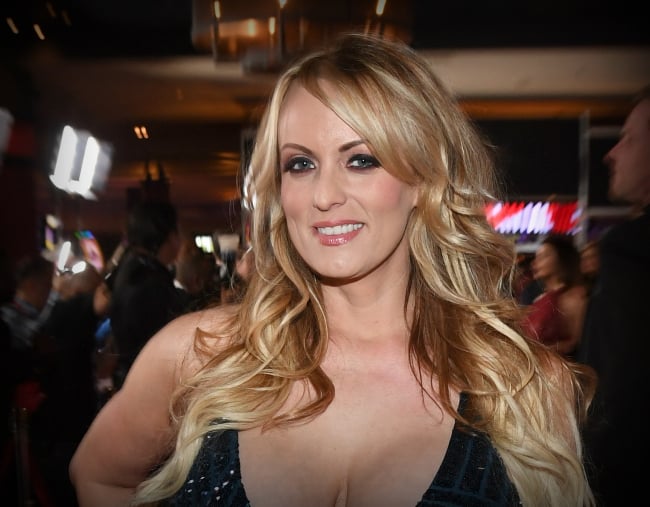 For years Stormy Daniels has been one of the biggest names in adult entertainment, having scored herself a slew of acting and directing accolades since she landed her first lead role in 2002. But this year, the 39-year-old has found herself a player in a vastly different scene: US politics.
After going public in January with claims of a 2006 sexual affair with President Donald Trump, the pornographic film star has become somewhat of a household name. Because after hundreds of headlines, countless hours of commentary, and Monday night's highly anticipated interview on US 60 Minutes, she has been pegged as one of the biggest threats to his presidency.
So how did the bizarre saga unfold?
We debrief on the three women currently suing Trump. (Post continues below.)
The alleged affair.
According to Daniels, she and Donald Trump first met during a celebrity golf tournament in Lake Tahoe in July 2006. In her 60 Minutes interview, she recounted that after she was introduced to then-60-year-old Apprentice host at the event, he invited her to dinner in his hotel suite and proposed that she become a contestant on the reality TV program.
"He was like, 'Wow, you, you are special. You remind me of my daughter.' He was like, 'You're smart and beautiful, and a woman to be reckoned with, and I like you. I like you,'" Daniels told the CBS program.
Daniels claimed she had sex with Trump that evening, though not before she raised the fact that his wife, Melania, had only recently given birth to their son Baron.
"He brushed it aside, said, 'Oh yeah, yeah, you know, don't worry about that. We don't even… we have separate rooms and stuff,'" Daniels said.
Her role on Celebrity Apprentice never eventuated.
The hush money.
In May 2011, Daniels agreed to disclose the affair to an American magazine for US$15,000 dollars, though according to CBS, the story was dropped following threats of legal action made by Trump's attorney, Michael Cohen.
But it was a personal threat that most rattled Daniels. During her 60 Minutes interview, the mother of one claimed that she was approached in a Las Vegas car park a few weeks later by an unknown man.
"A guy walked up on me and said to me, 'Leave Trump alone. Forget the story.' And then he leaned around and looked at my daughter and said, 'That's a beautiful little girl. It'd be a shame if something happened to her mum.' And then he was gone," Daniels told 60 Minutes.