"What doesn't kill you makes you stronger," former model Katie Piper, 34, wrote on her Instagram on the 10 year anniversary of the day a former lover arranged for acid to be thrown on her face in a busy street.
In the course of one decade, she's transitioned from being a model, to a spokesperson for burns survivors and a body acceptance advocate. Her whole life changed when acid was thrown at her, burning her entire face, and blinding her in one eye.
Piper has become the face acid attacks in Britain, and with their incidence on the rise, her story teaches us what we – especially women – need to know.

In March 2008, Piper had the world at her feet. She was a successful model, and had a promising career in the media. It was that beauty and fame which caught Danny Lynch's attention.
Lynch met and began dating Piper in February 2008. Within two weeks, Piper discovered just how dangerous he was. He held her hostage in a hotel as he raped and tortured her for eight hours. A terrified Piper managed to escape, but was too afraid to report Lynch to the police.
Two days later, Lynch asked Piper to meet him, but it was a trap. On the street, she was approached by a hooded man – Lynch's accomplice – who threw sulphuric acid at her. The highly-corrosive chemical covered her face, went into her eyes, and some of it was swallowed.
Piper was in an induced coma for twelve days, and her recovery was long. Over the next nine years, she underwent a painful 250 surgeries, including a complete facial reconstruction.
Despite the enormous challenges Piper faced daily, she knew she had to do something so that no other person would suffer like she was. So she established her charity, The Katie Piper Foundation to raise awareness about acid attacks, and support burns survivors.
Last year, she wrote an open letter as part of her campaign for greater control of the sale of corrosive chemicals.
"I couldn't recognise myself when I woke up from a coma and I wanted to commit suicide," she wrote.
"At present, it is all too easy for someone to buy a corrosive substance and throw it, sometimes from a distance, at another person. It is vital that we do everything we can to halt these types of attack."
To this day, Piper has passionately continued her advocacy for the rights of burns and acid attack survivors.

What happened to Piper is far from an isolated incident. Acid has been used for decades in conservative countries to disfigure women, usually to punish them for defying gender-based social norms, such as arranged marriages.
Recently, the number of acid attacks in Western countries has spiked. The UK has one of the highest rates of acid attacks per capita in the world, according to Acid Survivors Trust International (ASTI).
It claims the country does not have "tight controls on acid sales" or "legislation specific to acid attacks".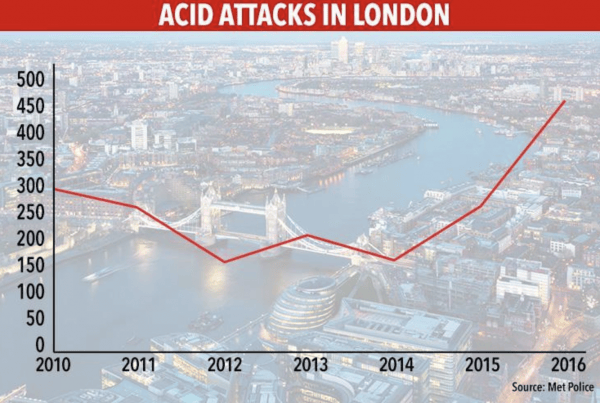 Last year was widely regarded as the worst ever with more than 400 incidents reported in the six months to April 2017 alone.
So why is acid an increasingly popular weapon of choice? Because it's easier to access than banned/restricted weapons such as knives and guns, and it can be bought conveniently in shops, using cash, making tracing the purchase almost impossible.
In robberies, acid is used to disable a potential target. In domestic violence situations, usually in response to rejection as in Piper's situation, it's intended to torture, humiliate, and ruin someone's life. The mentality by the rejected party is, "If I can't have you, then no one else will", because the other person will be physically and emotionally destroyed.
Because that's what acid does – it destroys everything. It rapidly burns skin, ears, hair, eyes and lips. It painfully disfigures, leaving the survivor traumatised.
That's what it did to Katie Piper – but not for long. Piper overcame her personal issues to dedicate her life to helping others. She's gone from saying "I couldn't recognise myself when I woke up from a coma and I wanted to commit suicide", to demanding, "This situation cannot be allowed to escalate and this is my plea to prevent more lives being destroyed."
Important first aid guide for acid attacks from @BAPRASvoice @BritishBurn and @NHSEngland RT & read more at: https://t.co/fu3lQKIMfR #burns pic.twitter.com/xby8LXDUNh

— The KP Foundation (@KPFoundation) August 31, 2017
If you think you may be experiencing depression or another mental health problem, please contact your general practitioner or in Australia, contact Lifeline 13 11 14 for support or beyondblue 1300 22 4636.