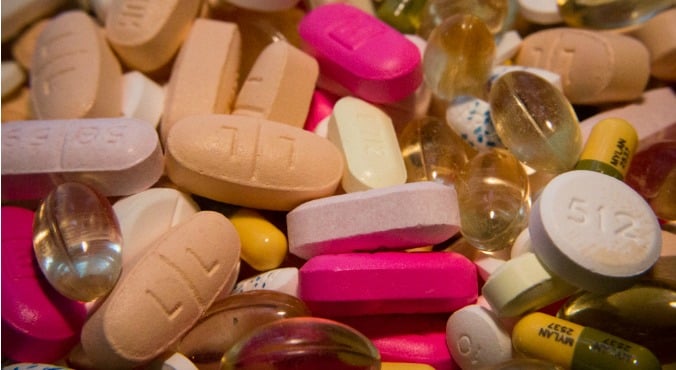 Image via Flickr
There's a vitamin and mineral supplement for almost every ailment and deficiency in life. And we mean every deficiency. Sure, there are iron supplements for individuals suffering from anemia, but there are also supplements that are guaranteed to improve your hair, your skin, and even your mood.
Women, who aren't pregnant, are now taking pre-natal supplements – because Gwyneth Paltrow has said they can assist people suffering from luscious hair-deficiency or glowing skin-deficiency. (They're real conditions. Just ask your doctor.)
But with so many varieties of vitamin and mineral supplements on the market, it can be difficult to know which ones are backed up by science; and which are nothing more than snake oil. For readers who need more than a catchy tagline promising better health and a better YOU, we've done the investigating so you know which supplements you can rely on. Here they are:
1. Vitamin D
Vitamin D is like the kale of the supplements world at the moment: everyone is talking about it, and people who have been converted to the Vitamin D camp see it as a cure-all for many ailments. Vitamin D performs some pretty essential functions in the human body. It is needed to help absorb calcium (one of the body's key building blocks); the immune system uses vitamin D to fight off invading bacteria and viruses; nerves use it to carry messages between the brain and the body; and muscles need it to move.
Dr. Rosemary Stanton, a leading Australian nutritionist, says that Vitamin D supplements can be useful for individuals who don't get out in the sun very often and have trouble absorbing the vitamin.
"Vitamin D is needed by those who do not get into the sun – usually the frail and aged, but also people with dark skin (who need much more time in the sun to absorb vitamin D compared with those with fair skin), small children or anyone who never gets outside," she says.
Dr Stanton notes that, "For those who can get some sunlight on their skin – an average of about 10-15 minutes/day exposure of arms to sun in summer and 20-30 minutes in winter – vitamin D supplements should not be required."
2. Vitamin B12
Vitamin B12 helps keep the body's nerve and blood cells happy, and also helps prevent a type of anemia called megaloblastic anemia – which makes people feel weak and tired.
Dr Ginni Mansberg (also known as the Sunrise and Morning Show GP) says that for people suffering from a specific B12 deficiency – which is more common among vegans and vegetarians – a B12 supplement can improve health.
Dr Rosemary Stanton agrees, saying, "Vegans need a vitamin B12 supplement. This vitamin is found only in animal foods – meat, fish, chicken, milk, cheese and yoghurt." She also notes that, "The frail aged often need vitamin B12 because absorption may decreases in the very old."
3. Magnesium
Magnesium is a big player in the human body, although you may not have noticed it on your supermarket shelves in the health aisle. It is involved in protein synthesis, muscle and nerve function, blood pressure regulation and blood glucose control. It also plays a role in muscle contraction and maintaining a normal heart rhythm.