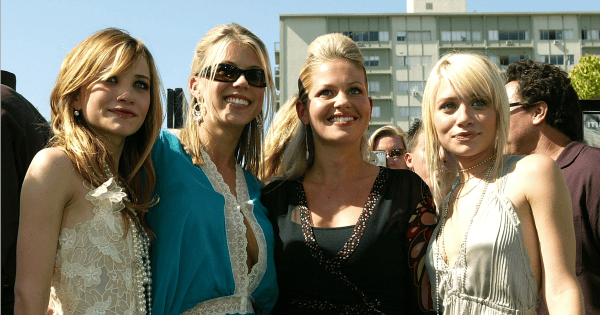 She was the innocent and loveable middle-daughter on the hit 90's show Full House , an actress who captured fan's hearts all those years ago.
But behind the facade of scripts, cameras and make-up Stephanie Tanner (Jodie Sweetin) was far-removed from her straight-laced, easy-to-please character.
As TV junkies unite to inhale Netflix's Fuller House, a remake of the cult-classic, many have no clue about the very private struggles that led Sweetin, 34, to morph from child star to drug addict and all the way back to now-sober TV actress and mother.
In her 2009 book, UnSweetined, Sweetin detailed how she was adopted at just nine-months old by her uncle, but never found out about the adoption or her biological family until decades later.
She also wrote in the book about the shadowy pasts that surrounded her biological parents: Her mother struggled with drug abuse and addiction in perhaps a tragic premonition for Sweetin's own struggle with drugs much later in life. Her father was killed in a prison riot.
Watch the trailer for 'Fuller House' here. Post continues below.
It was from this backdrop that at 14, a year after Full House ended, Sweetin admits to descending into a vortex of alcohol dependency that spiralled into an addiction to hard drugs. 
In her 2009 novel, Sweetin admitted that first drink was a trap.
"That first drink gave me the self-confidence I had been searching for my whole life. But that set the pattern of the kind of drinking that I would do," she wrote.
By 20, Sweetin was married and spending her days surrounded by drugs.
"At the time I started doing the hard drugs, the methamphetamine and coke and stuff, it was a lot easier to hide than drinking," she told TODAY back in 2009.