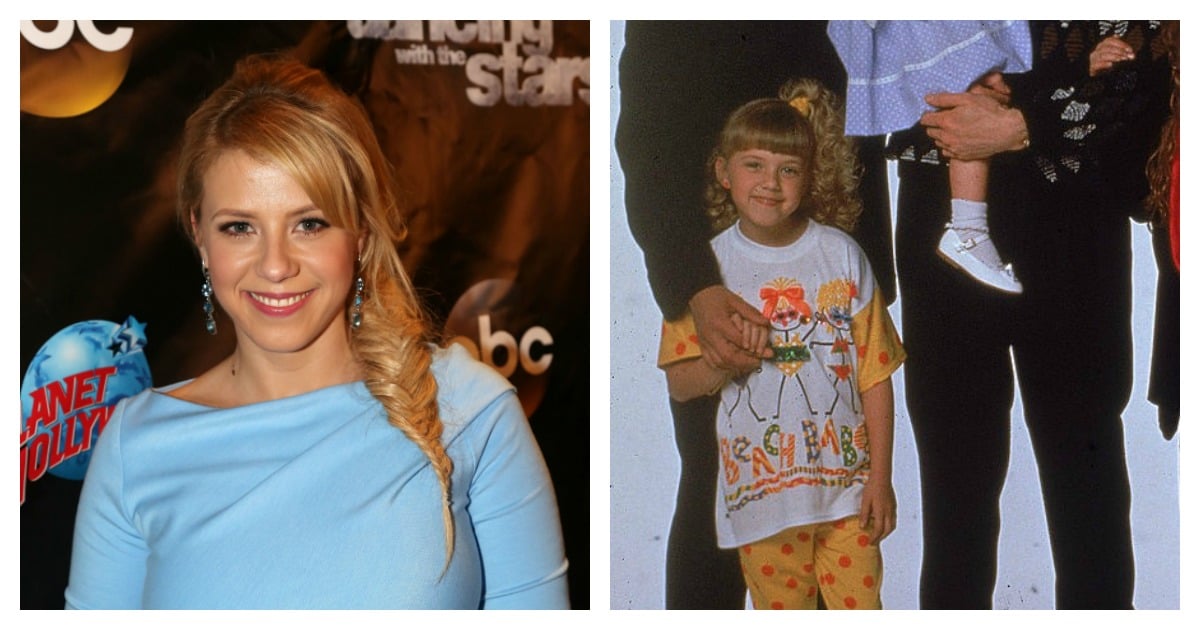 She was the innocent and loveable middle-daughter on the hit 90's show Full House , an actress who captured fan's hearts all those years ago.
But behind the facade of scripts, cameras and make-up Stephanie Tanner (Jodie Sweetin) was far-removed from her straight-laced, easy-to-please character.
As TV junkies unite to inhale Netflix's Fuller House, a remake of the cult-classic, many have no clue about the very private struggles that led Sweetin, 34, to morph from child star to drug addict and all the way back to now-sober TV actress and mother.
In her 2009 book, UnSweetined, Sweetin detailed how she was adopted at just nine-months old by her uncle, but never found out about the adoption or her biological family until decades later.
She also wrote in the book about the shadowy pasts that surrounded her biological parents: Her mother struggled with drug abuse and addiction in perhaps a tragic premonition for Sweetin's own struggle with drugs much later in life. Her father was killed in a prison riot.
Watch the trailer for 'Fuller House' here. Post continues below.
It was from this backdrop that at 14, a year after Full House ended, Sweetin admits to descending into a vortex of alcohol dependency that spiralled into an addiction to hard drugs. 
In her 2009 novel, Sweetin admitted that first drink was a trap.
"That first drink gave me the self-confidence I had been searching for my whole life. But that set the pattern of the kind of drinking that I would do," she wrote.
By 20, Sweetin was married and spending her days surrounded by drugs.
"At the time I started doing the hard drugs, the methamphetamine and coke and stuff, it was a lot easier to hide than drinking," she told TODAY back in 2009.
Sweetin also admitted to snorting crystal meth in a bathroom stall at the premiere of her Full House castmates Mary-Kate and Ashley Olsen's film New York Minute in 2004.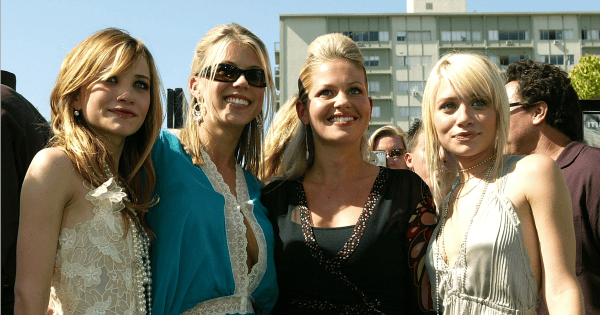 Sweetin, second from the left, at the New York Minute premiere in 2004. Image via Getty.
"I was pulling off the deceit," she wrote. "It was hard for people to believe I was doing that much [sic] drugs. I look at photos from that event, and I didn't even look strung out!"
It wasn't long before Sweetin got clean and began speaking at colleges around the US about her story of recovery. In the book, Sweetin talks about how after relapsing, she would continue taking the stage on the speaking circuit, despite being high at the time.
"I put on my best TV smile," she wrote.
"They didn't think I was coming down from a two-day bender of coke, meth and ecstasy, and they didn't think I was lying to them with every sentence that came out of my mouth," Sweetin wrote.
However, after an incident where she drove with her baby in the car after drinking and an investigation by child services, Sweetin wrote that it was the wake-up she needed to get sober and be the mother her daughters needed.
"That was the big rock bottom," the actress told Us Weekly in 2009. "I not only put myself in danger, but also my daughter, who I loved more than anything. I felt terrible."
This past March just marked an important milestone for Sweetin, who has just celebrated her fifth anniversary of her sobriety, while competing on the US series of Dancing With the Stars and starring in the much-anticipated Full House reboot.
In a recent interview with US Weekly, Sweetin admitted that "we all have our demons" but that  "when we finally learn to let them go, we get to live and be free."
Today, Sweetin has two healthy daughters, 7-year-old Zoie (with second ex-husband Cody Herpin) and 5-year-old Beatrix (with third ex-husband Morty Coyle) and is engaged to Justin Hodak.
It was her daughters who were the catalyst for her final attempt at sobriety, and Hodak who is a major reason she has sustained being sober for so long.
"I look back at things that have happened in the past, and I look at where I'm now, and it's crazy," she told the magazine.
"If anything, my life is a lesson to never give up."
Listen to Rosie Waterland, Laura Brodnik and Alex Greig have a heated discussion about Fuller House on The Binge.