The years of 2015 and 2016 were anomalies in Richie Strahan's life.
The rope access technician, from Perth, was 30 when reality TV fame, Instagram followers, and salacious media reports came knocking on his door. His dorky charm on Sam Frost's The Bachelorette, on which he came second runner-up, was enough in the eyes of Channel 10 executives to earn him the spot of The Bachelor the following year.
It would be interesting to know if Strahan regrets his involvement with the TV franchise; when the personality was quizzed as to his rumoured involvement on Bachelor In Paradise, he was blunt: "I will 100 per cent not be doing this."
Zara McDonald and I debrief on last night's Bachelor In Paradise episode below. Post continues.
While many of the men and women he appeared alongside court fame and attention with a level of brazenness reserved for former reality TV stars, Strahan has retreated almost entirely from the spotlight. There are no chance paparazzi "sightings" at Bondi beach, or nightclub openings, or whispers of future TV appearances.
By all accounts, life away from Bachelor looks quiet and normal for the man who was reportedly blindsided by his split from Alex Nation.
"Having something wonderful dissolve the way it did was heartbreaking, but at the same time, there was a lot of relief that the emotional rollercoaster was finally over," Strahan told The West Australian in December.
"It didn't matter how much effort I put into it — sometimes these things are destined to fail."
"I needed space from what I was dealing with and wanted to work on myself. So I surrounded myself with my family and friends, and found peace getting back to my passions, like surfing, fishing and dirt-bike riding."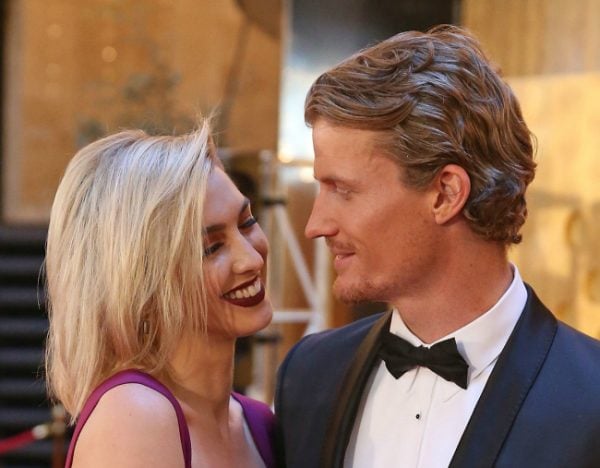 His Instagram following has, naturally, waned by about 30,000 since speculation sparked that he and Nation were no longer last March. While he is represented by a talent manger, Deborah Munson, Strahan's relationship with talent and modelling agency Chadwick also dissolved last year.
And so, while peers like Davey Lloyd are having their last crack at televised love/easy publicity on Channel 10 (Lloyd told Mamamia today that he has been inundated with "thousands and thousands" of messages from fans) Strahan is busy in the boxing ring; the 32-year-old has grown his hair out, and is rather taken by the thrill of popping gloves on for charity.
There's no longer a single photo or mention of ex-girlfriend Alex Nation on Strahan's Instagram profile - all have been deleted.
It seems Richie Strahan has no interest in reliving his Bachelor days while sipping on a cocktail in Fiji.
If anything, he'd quite like to forget about them.