In July 2011, a jury found Casey Anthony not guilty of the murder of her two-year-old daughter, Caylee.
During the six-week long trial – described by Time Magazine as the 'social media trial of the century' – Casey was branded the "most hated mum in America" with public outrage fierce.
Three years before, in July of 2008, Caylee was reported missing by her grandmother, who claimed she had not seen the two-year-old in 31 days and that Casey's car smelled like a dead body had been inside it.
Little Caylee's body was found months after she died in the woods near the family home. However, authorities were never able to determine a cause of death.
Despite what many considered strong evidence for the prosecution's case, a jury found Casey Anthony not guilty of murder.
And so, she was free to live out the life she wanted. That life, it would seem, was a quiet one.
As of May this year, Anthony was living in Florida with a man called Patrick McKenna. McKenna happens to be a private investigator, and was the lead investigator in fact, on her 2011 trial and part of her defence team.
According to The Associated Press, Anthony is also employed by McKenna to help with social media searches on his current cases, while PEOPLE report Anthony filed the paperwork to start her own photography business. At this stage, it remains unclear if the business has since got off the ground and landed any clients.
Before that, Anthony stayed with a pastor and his family in the same city, bleaching her hair blonde, wearing glasses and going out to local bars and restaurants.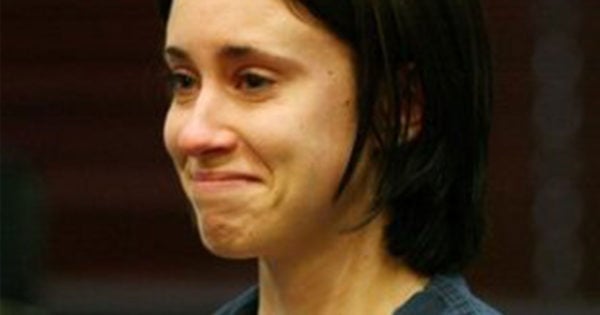 Interestingly, in February of this year, Anthony was photographed at a protest in Florida against Donald Trump. The photos, naturally, soon went viral. At the same protest, Anthony struck up conversation with a reporter from The Associated Press whom it's believed she had "several" conversations with.
A month later, after years out of the public eye, Casey Anthony gave one of her very first interviews with none other than the Associated Press, shedding light on what's like to be hated by an entire nation and moving on without her daughter.
In the exclusive interview, 30-year-old Anthony said she believes her daughter – who would be 12 this year – would be a "total badass".
"Based off what was in the media... I understand the reasons people feel about me. I understand why people have the opinions that they do," she said.
At the same time, Casey said she doesn't "give a s***" about people's opinions of her.
And given, all these years later, that public perception hasn't quite shifted, perhaps it's a blessing after all.

The tragic death of Caylee captured America and then the world. For more Australian True Crime, check out Mamamia's podcast.