It was 1994 when a bright eyed seven-year-old by the name of Amanda Bynes was 'spotted'.
Bynes was at a Los Angeles children's comedy camp that her parents – Rick, a former dentist, and Lynn, a retired office manager – enrolled her in. It was the platform that would launch Bynes, the youngest of three children, to breakout jobs on Nickelodeon before she had even hit high school.
Within years, her own children's comedy program The Amanda Show was the network's most successful offering. She would go on to win the "Favourite Television Actress" gong at the Kids' Choice Awards four years in a row.
She was, for a time, the world's most glittering and adored child star.
In 2002, The New York Times praised Bynes' "gift for physical comedy" and "fearlessness in front of live studio audiences". Then 16, writer David Hochman observed Bynes "literally grew up on Nickelodeon".
"I've seen kids in her position experiment with drugs and be too promiscuous, but Amanda has avoided all of that," Dan Schneider, one of Bynes' regular producers told Hochman at the time.
"My wife, who knows her, says she's almost like Marcia Brady in that she's so clean-cut and wholesome," Schneider commented, alongside Hochman's descriptions of Bynes' perfect "big night" (it "usually revolves around a rented video and microwave popcorn").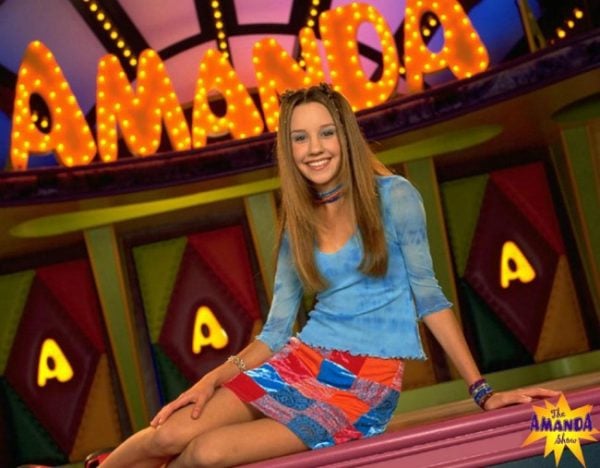 And yet Bynes' eye-watering success was only in its infancy; in the same year, she would charm in Big Fat Liar alongside Frankie Muniz, before star roles in What A Girl Wants (2003), She's The Man (2006) and Hairspray (2007) seemingly cemented the actress as a permanent fixture in Hollywood.
"She was completely professional and very sweet," Jennifer Gibgot, an executive producer on Hairspray, would later comment. "We thought of her as a young Lucille Ball."
It was 2007 and a 21-year-old Amanda Bynes was at the peak of her career when she changed management; father Rick had kept a careful eye over Bynes' career trajectory since she was a child. Now, with her newfound adulthood, she decided she would find another manager.
Perhaps, with the benefit of 10 years of space, it was the first domino to fall in the cascade that unravelled Bynes' life.
From Kaia Gerber to Milly Bobby Brown, the Mamamia Out Loud team discuss the complications of being a child star. Post continues.

Aside from a supporting role in 2010 film Easy A - the blockbuster that saw Emma Stone's celebrity skyrocket - Amanda Bynes' acting career was effectively finished. There would be no more feature films, no more accolades. The young woman who was loved by so many would slip away from the limelight, no longer the A-lister magazines fought to have on their cover, but the former child star who was now chronicling the ins and outs of her life through her Twitter feed.
Twitter would become the scene of her spectacular fall; a place for three million people to watch The Amanda Show of an entirely different, sobering kind.
"Being an actress isn't as fun as it may seem," the then 24-year-old tweeted after Easy A premiered. "If I don't love something any more I stop doing it... I know 24 is a young age to retire, but you heard it here first - I've retired."
The claims would soon be backtracked - they were all a joke, Bynes insisted - there was nothing to see here. In fact, she would be starring in upcoming film Hall Pass alongside Owen Wilson and Jason Sudeikis.
After one day on set however, sources told tabloids Bynes was fired - she wasn't "gelling" with other cast members, and hadn't learned her lines.
What on earth is going on with Amanda Bynes became the media's favourite new game.
An article observing Bynes' "insane thoughts" and "crazy" tweets, "The Curious Case Of Amanda Bynes' Twitter", was published in June 2011. Is it just us, the piece mused, or is everything not OK? Something odd was going on within the confines of Bynes' mansion. Judging by the time stamps on her Twitter activity, the was actress was not sleeping soundly; at 1:58am on April 4 she wrote, "I love the people in my life sooooo much!!!!!" when only hours before she had chastised the "evil folks" she was going to remove from it.
The year of 2012 would be defined by a series of arrests; drink driving, two hit-and-runs, and driving on a suspended licence. Reports of Bynes' erratic behaviour poured in as the months ticked by. One day, she was locking herself in a West Hollywood boutique dressing room for two hours. The next, she was thrown out of an up-market gym for removing her shirt while exercising. Witnesses recounted their childhood idol shutting herself in a cupcake bakery's bathroom for half an hour, before smoking unknown substances in her car.
By September, a neighbour was telling TMZ he had seen Bynes talking to inanimate objects for hours at a time.
Of course, one didn't need the tabloid media to illustrate the depth of Bynes' fall, her Twitter account was sufficient evidence that this was a woman in psychological distress. The story of Bynes' darkest days is told best by herself, in now-deleted tweets, where she spoke obsessively of ugliness, plastic surgery, sex, and the steadfast belief that her brain had been micro-chipped. Harrowingly (and unsurprisingly) as Bynes' mental state deteriorated, her social media following swelled.
On her mental state, Bynes wrote: "I Want A Million Dollars A Year For Illegally Having My Mind Read And Privacy Stolen." On her parents, she tweeted: "We are no longer on speaking terms. I would rather them be homeless than live off of my money."
"There's a surgery for everything that's wrong with you!" Bynes wrote one night. Everything was going to be OK, she told her followers, she was going to get a nose job.
It took Bynes setting fire to her neighbours' driveway in July 2013 for her to be involuntarily admitted to a psychiatric facility.
In documents tendered to court, Rick and Lynn Bynes recounted their youngest child "would cover smoke alarms with towels, tape windows shut and cover her car dashboard with cardboard and tape out of fear that cameras were watching her from inside these places."
Bynes' parents added her fascination with plastic surgery had morphed into a grotesque addiction, spurred by drug abuse; "[she talks] incessantly about cosmetic surgeries that she wants."
She stayed there for six months, during which her parents temporarily took over their daughter's financial and legal affairs. Bynes would exit the psychiatric hospital in December 2013, admit herself to a rehabilitation facility for drug addiction in January 2014, and be readmitted to a psychiatric facility once more in October 2014.
After the years that very well could have claimed her life, Amanda Bynes wiped the slate of her story - her Twitter account - clean.
She deleted every chapter, removed every tweet, and promised the beginning of a different narrative - only this time, for the first time since she was seven, it wouldn't play out on a stage in front of millions.
It has been four years since Amanda Bynes pressed 'restart' on adulthood. She is now 31. The violet and hot pink wigs have been swapped out for her trademark blonde. Her team wants the world to know she's busy studying at the Fashion Institute of Design and Merchandising.
"In 2018, Amanda looks forward to completing fashion school and dipping her toe back into acting," Bynes' attorney told Page Six late last year.
"She has had several offers but is waiting for the right one to come along for a comeback."
On Thursday, Bynes was photographed before class, running errands with her life coach. She looks different to what you might suspect; she looks fuller, like a normal woman - not one whose life was ravaged by the bright lights of childhood fame.
It is, hopefully, a sign that Bynes has escaped the demons that have plagued our most beloved child stars. A sign that she is doing well. A sign that she has a network of people who are supporting and loving her.
And perhaps a sign to many that when it comes to dizzying success and childhood, there is quite a precarious tightrope to walk.