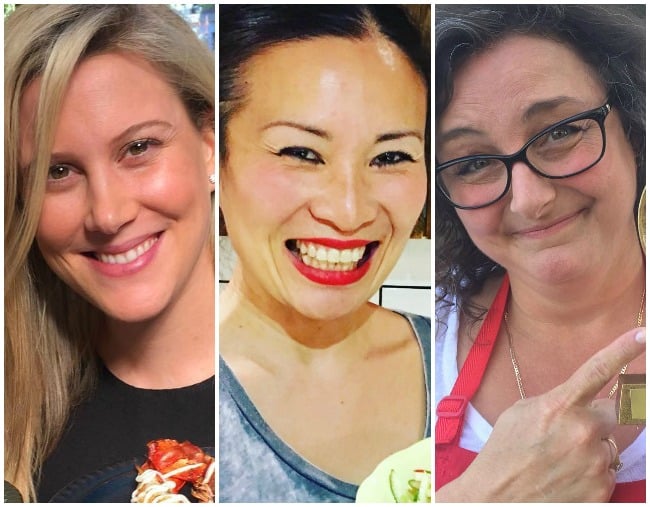 MasterChef Australia's tenth season has just begun. Which means for 10 years the Channel 10 cooking show has been making us feel inadequate about our own cooking ability inspiring us with tales of home cooks cooking up impressive dishes and chasing their "food dreams".
Let's take a look back at some of the show's most successful (and not so successful) contestants.
Julie Goodwin, Season 1 – Winner
Julie Goodwin was the show's original winner after going into the season one finale an underdog. Since then she's crafted a career in the media, gaining product endorsements, appearing on TV shows and having her recipes featured in magazines. She's also written six cookbooks. No biggie.
Recently though, the 47-year-old was in the news for a far less glamorous reason. Last month mum-of-three was charged with drink driving offences after she was caught driving with a blood-alcohol reading of 0.107 – more than twice the legal limit – on New South Wales Central Coast.
In a statement on her Facebook page, Goodwin expressed her "great shame and regret" for what happened.
"I accept full responsibility for this error in judgment, which I believe is completely out of character for me," she wrote.
"I am devastated that I have acted in a way so contrary to what I believe, to how I usually conduct myself, and to what I have taught my children."
"Many lessons will flow from this, and I will learn from each of them."
Poh Ling Yeow
Poh Ling Yeow has forged an enviable food and TV career from her MasterChef appearance. She's had her own ABC show, Poh's Kitchen, and later launched a cooking series on SBS online called Poh & Co. She's also released cookbooks and even dabbled in acting before and after her MasterChef appearance in 2009. Most recently she appeared in the 2013 ABC comedy series It's A Date.
As for her personal life, she told Mamamia in 2017 about the unusual situation with her ex-husband, Matt Phipps. He fell in love with her best friend, Sarah Rich, who he's still dating, but they stayed close friends and the pair even co-own an Adelaide cafe with Poh and her current husband, Jono Bennett.
We spoke to a MasterChef favourite, Poh Ling Yeow about her very awkward divorce, life after reality TV, and her latest project. It got interesting. Post continues.

Reynold Poernomo, Season 8
MasterChef fans will remember Reynold as the whizz kid who turned the competition on its head with his spectacular desserts. (They also might remember there was some controversy over his mum's food experience and whether he had an unfair advantage- but this was dismissed.)
If any former contestant was going to own a dessert restaurant, it was this guy and he's now the owner of the popular KOI Dessert Bar in Sydney.
Adam Liaw, Season 2 -Winner
Winning season two earned Adam Liaw the opportunity to release his first cookbook, Two Asian Kitchens. Since then he's published four more cookbooks and had his recipes and cooking advice published in various Fairfax publications.
And as with so many other popular contestants, the TV offers soon followed. In 2012 his cooking show Destination Flavour premiered on SBS and since then has had four more successful seasons.
Justine Schofield, Season 1.

After her MasterChef appearance, Justine was chosen to host a cooking show for Network Ten – Everyday Gourmet which has notched up more than 600 episodes and is entering its eighth season. She's also released two cookbooks.
Hayden Quinn, Season 3

Reality cooking show viewers would have recognised Hayden Quinn as a judge on Nine's Family Food Fight last year. He's also used his Aussie surfer persona to land a gig co-hosting Surfing the Menu – Next Generation – and co-authoring a cookbook of the same name, as well as his own book, Dish It Up.

But we're sure the achievement he's most proud to highlight on his resume was being named 2012 Cleo Bachelor of The Year.
Filippo Silvestro, Season 4
An ex-contestant making headlines for not so much his food as his illegal activities, Filippo Silvestro was found possessing more than 163 ecstasy tablets in 2015.
In November 2017 The Courier-Mail reported the Queenslander avoided serving time in jail after pleading guilty to drug possession, instead being sentenced to two years behind bars but immediately put on parole. At the time he was a chef at a Brisbane restaurant, but we've been unable to see if his conviction affected that.
Callum Hann, Season 2 - Runner-up

Callum Hann finished MasterChef with offers to work at some of Australia's most popular restaurants - which he took up. The 30-year-old has also released three cookbooks and started his own cooking school in Adelaide in 2011.
Marion Grasby, Season 2
Viewers might remember it was a shock to lose Marion in the competition so far away from the final (she came ninth). So many of us thought she was going to take it out.
But the early exit didn't stop her from landing cookbook deals, launching a food company and becoming the host of her own cooking show. She also took another stab at reality TV on 2012's season of Celebrity Apprentice.
In October last year, the 35-year-old welcomed her first child, Charlie.
Dani Venn, Season 3
Soon after her appearance on MasterChef in 2011, Dani had her own Channel Ten cooking show, Weekend Feast. Since then she's gone on to start a blog, The Wholehearted Cook, and launch a wellness retreat and her own food and communications agency.
She married her partner Chris in February 2017 and the pair have two young children, Harlow and Oscar.
Mat Beyer, Season 3
Okay, so Mat Beyer doesn't exactly have a thriving career in the food industry, but we really wanted to check in on the guy who was booted from the competition in 2011 after smuggling in a phone to talk to his girlfriend.
At the time he and his girlfriend were pretty annoyed at the consequences, but he's moved on with his life and now works in digital marketing.