Chances are you've watched an episode or two of Teen Mom. The popular MTV reality show has been guilty-pleasure viewing for millions of viewers in the US and here in Australia since it first aired in 2009.
Developed out of TV stations producers' attempts to capitalise on the popularity of prequel-of-sorts 16 and Pregnant, the first series followed the lives of Farrah Abraham, Maci Bookout, Catelynn Lowell, and Amber Portwood – who had all fallen pregnant as teenagers. Later, the show introduced new teen moms, in spin-off series Teen Moms 2 and 3. 
We watched as the girls – because they were still girls – faced the ups and downs of parenting in the first few years of motherhood and struggled with relationships, work and homelife.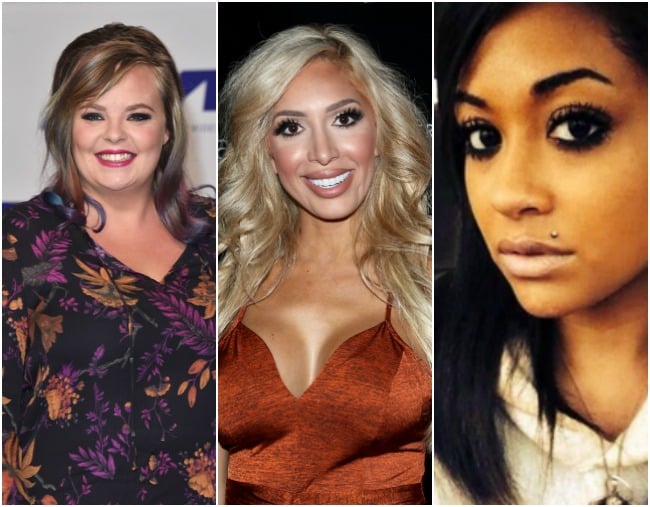 The producers exposed the rawest, and sometimes darkest, moments of these girls' lives and served it up as entertainment, without, it seemed, a second thought to the wellbeing of its stars.
And it's these girls who have ultimately paid the price for it.
Just this week we learned original series star Catelynn Lowell is seeking treatment after experiencing suicidal thoughts.
"Well today I thought of every way to kill myself... so I'm going to treatment," she told her 1.3 million Twitter followers on Saturday.
Lowell is far from the only Teen Mom participant who has gone on to face serious struggles outside of the show.
Fellow original cast-member Amber Portwood lost primary custody of her daughter Leah in 2011 to her ex Gary Shirley, whom she also faced charges for assaulting. Later that year, she was arrested for drug possession and after failing to complete court-ordered rehab was jailed in June 2012, serving time until her November 2013 release.
Following the sixth season finale and reunion show in 2016, Portwood claimed in a series of tweets she had been treated disrespectfully.
"Nothing has been dealt with or has made me feel any safer to even move on with people who have continuously hidden things from the network. The day I'm shown some respect by the people I've worked with for eight years is the day I'll be back. I've sacrificed a lot for this show."