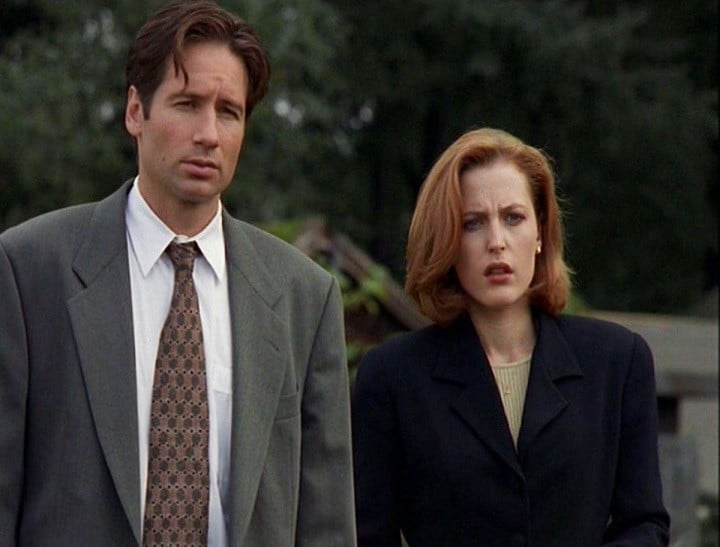 Season 10 of TV series The X-Files airs in Australia next Sunday on Channel 10.This means for those extra terrestrials who haven't watched the series ever, like, never, have a very short amount of time to catch up on a lot of paranormal speculation, alien intrigue, sexual tension and so much more.
Luckily for you we are still devoted fans of not only X-Files but of everything Gillian Anderson and David Duchovny has done ever since, including all the show spin-offs, The Fall (Gillian Anderson at her cool, brilliant detective best as Superintendent Stella Gibson) and Californication (can't get enough of David Duchovny as a troubled writer Hank Moody).
There are nine seasons to watch, and two movies. Just in case you don't have time to binge-watch them all, I'm going to catch you up on all the crucial information in approximately 60 seconds.
Nine seasons (plus two movies) of X-Files in 60 seconds...The truth is out there...
Special Agent Fox Mulder is a secluded alien hunter for the FBI who is paired up with the skeptical Special Agent Dana Scully in order to investigate the FBI's so-called X-Files, those unsolved cases that are unusual to say the least;
Scully is a doctor so uses science to rationalise where as Mulder believes in monsters, aliens, conspiracies and all the things that make for a good TV show;
It doesn't take long (a few episodes) for Agent Scully to start becoming less skeptical although she tries to rationalise everything possible - which can get quite annoying - but just serves to add to the sexual tension already building between Special Agent Mulder and Special Agent Scully;