BY NAT HAWK
Dear Car Pulled Up Next To Me,
There's something about me that you need to know.
When it comes to men, I don't have a type. I've dated them all. Light-haired or dark-haired, tanned or pale, Australian or foreign, built or slim – it doesn't matter. I dated the Greek bartender just as happily as I went to dinner with the lawyer from Melbourne. To me, personality is what matters, and you can't tell someone's personality from the colour of their hair or the build of their shoulders.
 Just as an FYI, you should know that this post is sponsored by Nissan Qashqai. But all opinions expressed by the author are 100% authentic and written in her own words.
But when it comes to cars, I have a type. And you are my type.
You see, I like Utes. But not the ones that are really low down to the ground, and definitely not the ones that are all-work-no-play, with their aluminium trays and giant "Jim's Mowing Services" stickers plastered across the body of the car.
I like big, rugged, powerful Utes, like you. The kind of car that is a hybrid between Ute and four-wheel-drive.
You're practical, and still a little bit luxurious. You're happy at work, and you're just as happy driving up the mountain through thick snow, or cruising over the sand dunes on the back roads to the beaches.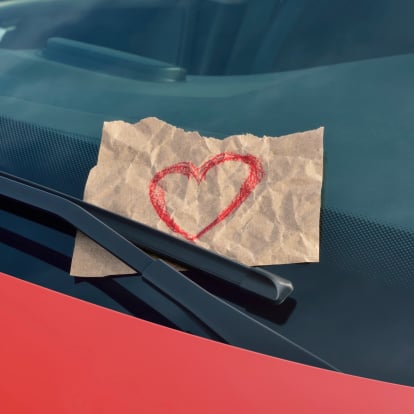 In my mind, the Hot Ute (as I've nicknamed you) will always be driven by an equally hot gentleman. The kind of guy that will sweep me off my feet and take me off on an adventure that involves something crazy-romantic, like hiking through beautiful bush land before coming to a deserted beach, where we go swimming in crystal-clear waters before dining on a picnic of brie and fresh raspberries and wine and Tim-Tams.
(Wishful thinking? Me? Never.)
So now that you've pulled up next to me, I've kicked right into full car-flirting mode. I've stopped singing along to Clarity by Foxes (oh how I love that song) and I've stopped applying lip-gloss and fiddling with my eyebrows. Look, I've even arranged my face into what I hope is a neutral yet attractive expression.
And yet I'm a little scared to look over at the person who is driving you, Hot Ute. Generally, my fantasies about your driver are way off the mark.
You see, Hot Utes are generally occupied by an older guy who looks completely disinterested in me or anything to do with bush land and beach picnics. Often, there are also children in the back of the Hot Ute, and the fantasy falls apart completely.
Indeed, the more I drive around, the more I found there is little to be said for car stereotypes. Just as Hot Utes rarely contain hot men, you have to be careful with associating any type of car with a particular group of people.
After all, I drive a car that my friends regularly refer to as the Soccer Mum Car. It's the classic all-wheel-drive kind of people mover that is built specifically for ferrying small children to school and sport. And yet I don't have any kids (or at least, any that I know of). The car was just cheap and relatively awesome, so I went with it.
My dad drives the kind of convertible that is generally associated with women that resemble Barbie dolls. There is absolutely nothing about him that is even slightly effeminate – he just likes convertibles and couldn't afford a Lamborghini.
I know mothers who drive tiny, bright red hatchbacks. I know tradies who drive old sedans with furry seat covers. I know twenty-something-year-old girls who drive family-size hatchbacks and office workers who drive giant vans (not that they have anything to put in those vans, really – but they're the first to get a call when someone needs something moved).
So, car pulled up next to me, maybe you're not the one for me after all. And look, the light has just gone green. So while a part of me will always love you unconditionally – you better just keep on driving.
Love,
Nat
What type of car do you drive, and what does it say about you?
The next generation Nissan DUALIS is here, say hello to the all-new Nissan QASHQAI. It is the ultimate package, comprised of daring and defiant design and enhanced by advanced, intuitive technology with state-of-the-art connected services.

Packed full of practical features like:

Intelligent Park Assist *
Around View Monitor *
Petrol and diesel options
Satellite Navigation*
NissanConnect Smartphone connectivity**

*(Available on Ti and TL grades)
**(Features and functions may vary by model grade)

The all-new Nissan QASHQAI not only looks slick, it delivers dynamic ride and handling that puts you in complete control.