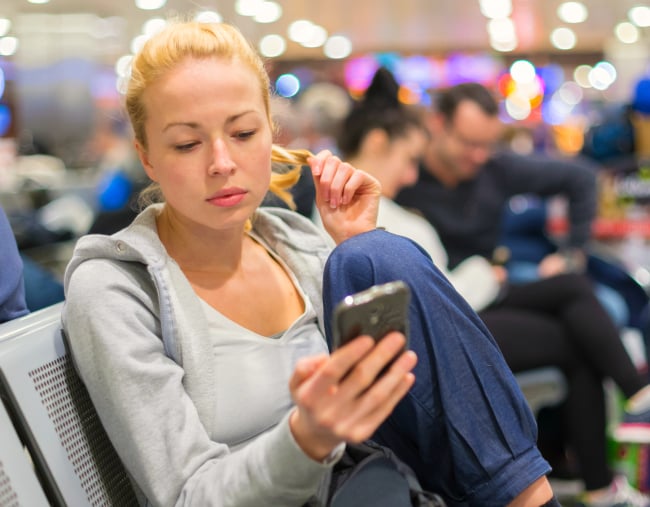 Anyone who says long-haul flights are glamorous is lying.
Either that or they've never been on one because as far as we know, words like 'sweaty' and, dare we say it, 'moist' seem infinitely more fitting.
Aside from figuring out what you're going to do to occupy yourself for 13 plus hours in the air, choosing your 'plane' outfit can be tricky.
The goal is to be comfortable. But also fresh and put together. But how do you reconcile the two when your comfiest pair of track pants haven't been washed in longer than you're comfortable admitting?
Kaleidascopic Travel Designer and Director Marie Sulda has done a lot of travelling in her time. She also knows the wrong plane outfit can mean hours of wriggling, fidgeting and sitting with your fly undone.
We asked savvy travellers for their number one pieces of advice. You're welcome. Post continues after video.
"Plane travel can be tedious, but it can also be a comfortable opportunity for time out, planning is everything," she told Mamamia.
"On long haul flights, comfort comes first and if you follow these rules, you will arrive with more sleep and feeling refreshed."
We hear you lady, but what exactly constitutes the perfect long-haul flight outfit?
For more comfort and less pulling/adjusting/squirming, here's exactly what our expert wears when she flies. And what she leaves in her suitcase.
Lots of layers
Possibly the biggest mistake Sulda said one could make with their long-haul flight outfit is not wearing enough layers.
She said wearing layers – say, a loose singlet or t-shirt, a light cardigan and a cosy knit – gives you the option to take them on and off as the cabin temperate varies. Or as the person next to you fiddles with the lights.
Sulda also added, "A scarf in transit not only helps you with layering, but can be used as a blanket, bunched up into a pillow or even to shield you from cabin light if you are trying to sleep during cabin service."