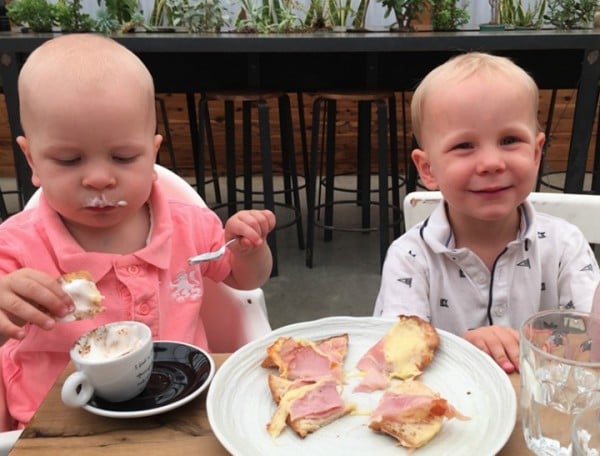 In amongst the tantrums, the tears, the furrowed brows and the folded arms, kids are glorious little bundles of hilarity, humour and love.
My two under four surprise me every day. Sometimes it's a surprise I'd rather not receive, like a turd in the undies on the one day I forgot to pack a spare set before the leaving the house. Or those moments of unwelcome honesty like, "Mummy, your tummy's nice and squishy."
Other unwelcome surprises include my three-year-old popping his penis out the side of his undies and saying, "Look, it's Mr Frankie Furter," and my 18-month-old beaming as he points to his magnificent artwork, drawn with permanent marker on a wall of the newly-renovated house. But in between the exposed genitals and the frequent destruction, there are surprises that are downright delightful and just a little bit hilarious.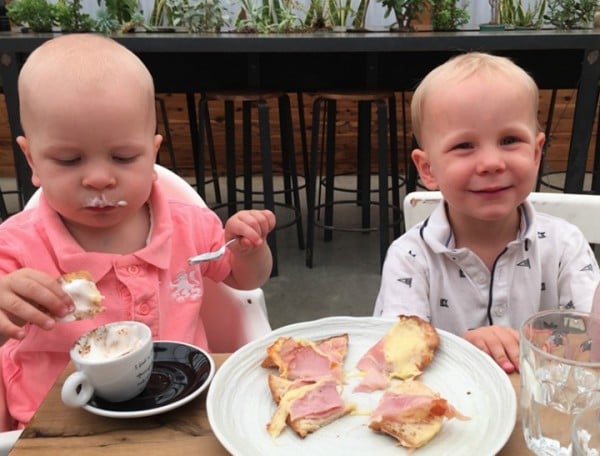 Like the other day it was bucketing down on our drive to kinder and Mr Three started singing. After his usual, "Rain, rain go away," he launched into, "It's raining, it's pouring, Grandpa Sandy needs a Panadol." While the change of lyrics initially perplexed me I soon realised that Grandpa Sandy (his paternal Grandpa) is the old man who went to bed and bumped his head. Because, obviously.
Or when my kids like to surprise me with baffling crimes against fashion. Who else but a preschooler would elect to wear a tutu with ugg boots and swimming goggles? On more that one occasion Mr Three has insisted on dressing himself and we've headed out with him in the bottom of his Gruffalo costume, an inside-out pyjama top, a Batman mask, mismatched socks and a swim nappy, or a similar concoction of oddness. Luckily, other mums just give me a knowing smile when they see my apparel abomination skipping towards them in aisle six sucking on a tantrum-diverting squeezie yoghurt.
They also surprise me with their persistent flair for drama. After Christmas Mr Three declared that Santa was gone and he was, "Never ever coming back again," before protruding his bottom lip and throwing himself face first on the couch to accentuate his distress. A similar demonstration of his angst was acted out in relation to the Easter Bunny, the end of Granny's visit and the lack of cheese in his scrambled eggs.
Then there are the surprisingly tender moments they like to spring on me. Like when I was sitting on the couch make-up free and braless in my trackies and a baggy t-shirt with my hair piled on top of my head in a knotted mess and Mr Three said, "Mum, you is my princess."  While this week I've been replaced by Audrey from kinder as his princess, it's a moment that I remember every time I look in the mirror and find something to criticise.