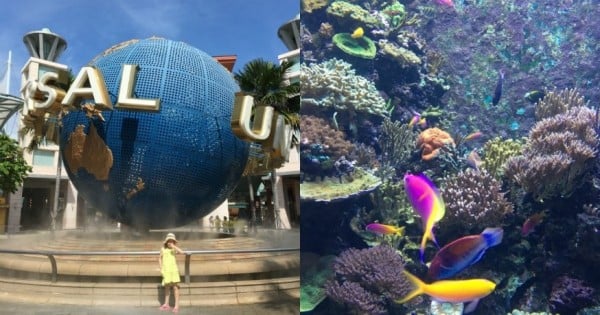 MUUUUM. You're so embarrassing. Followed by Muuuuum, I'm bored. Those words will never get old. And holidays are a perfect time to hear them on repeat. BUT. When you're the one bank-rolling a stop-over in an exotic Asian location, and there's so much to do that should make your teenagers (almost) look up from their phones for a few minutes, you can expect to hear it a little less.
Here are just some of the things that will make a family holiday in Singapore with a teen in tow a less eye-rolling experience. For everyone.
1. SHOPPING – Yes. SHOPPING.
Singapore is beyond famous for it, and teenagers cannot resist the pull of the shiny new stuff. When it comes to hitting the shops in this city-state, it's pretty much choose your own adventure – malls that snake through the city like so many underground air-conditioned treasure troves host every fancy brand you and they have ever heard of and plenty that they haven't. For bargains hit up Orchard Road or the 24-hour Mustafa Shopping Centre, for exotic knickknacks and affordable accessories take them to Chinatown's famous markets. And for tax-free? Take them to the airport. It's got pretty much every retail name you can pronounce, and several you can't. The only trick will be keeping your hand on your wallet when your teen is around.
SHOPPING - Yes. SHOPPING. Image supplied.
2. S.E.A AQUARIUM
If you have a looming adolescent who thinks they're above things like watching fish swim around in giant tanks, they haven't seen the shark tank at the S.E.A Aquarium. It's HUGE, and the sharks are everywhere. Even the coolest of cool kids cannot help but let out a little squeal when one of the most giant of giant rays glides over head, again. Then head to the enormous open ocean exhibit, where you can play Finding Nemo for hours (too old for that, really? They should relive their youth) and openly wonder what the hell you call that fish thing with the saw on its nose. For hours. Seriously, you've seen aquariums, we've all seen aquariums. This? It's no ordinary aquarium.
3. THE ZOO
Speaking of which, Singapore Zoo is no ordinary zoo, either. This is a zoo whose tropical surroundings are so green and verdant and luscious it's hard to know whether the monkeys in the trees are captive inhabitants or just, you know, hanging out there. It's the furthest thing from a concrete-city zoo that you could imagine. You can have breakfast with orangutans.  And… there are WHITE TIGERS, people.
Singapore Zoo is no ordinary zoo. Image supplied.
4. SINGAPORE FLYER
The wheel that dominates Singapore's skyline is the Flyer, and it's enormous. The state-of-the-art pods are spacious and comfy and as you slowly, slowly take the trip all the way to the 165m-peak, Singapore slowly unfolds beneath you. You feel like you're on par with the gleaming skyscrapers that dominate the city as you look out over Marina Bay. And if you're feeling really fancy, you can have dinner in one of these pods, which is a wow-factor experience that would impress even the coolest teen.