They're all wearing pink, knitted "pussy" hats. It must be cold; they're in big jackets. There are lots of them, their voices rising above the crowd. They're clicking their fingers to a single beat and singing as one.
I can't keep quiet. No, I can't keep quiet. For anyone. Any more.
These women had not met before the Women's March on Washington DC on January, 21st. They all come from different states, they had only rehearsed online.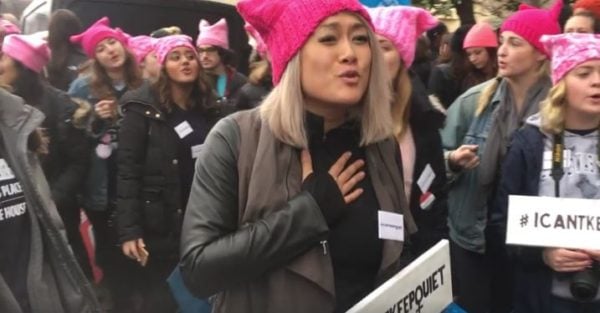 It was a beautiful moment. It's been shared on social media 100,000 times. It shows the power of coming together, that unified voices can - quite literally - drown out the hate.
Both this symbol, and the song itself, is about speaking up and speaking out.
It's a good starting point. But that is all: a starting point.
Listen: Meryl Streep's Golden Globes speech encapsulated how many of us feel about Donald Trump. (Post continues after audio.)

In our pride for attending the Women's Marches around the world, in our elation that millions, upon millions, of women and men showed up to fight for equality, we must remember: it does not end here.
The Women's March organisers in Sydney prepared for this. There were brochures circulating among the crowd, reminding us how to continue our action after the weekend.
It's a bid to maintain motivation following the march, to keep the fire burning in our bellies and further fuel our fight for change.