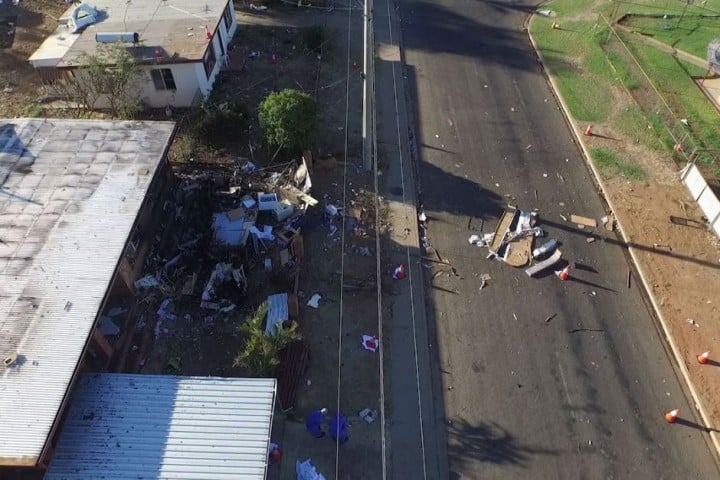 Twelve days ago, four-year-old River and seven-year-old Nyobi, were killed when their father's caravan exploded.
A few days later, police confirmed what their mother, Kath Hinder, already knew: The children weren't just killed. They were murdered by their father, Charlie Hinder, who also died in the explosion. The explosion, likely caused by a device that Hinder had placed in the van, was so powerful that it blew out windows in houses 60 metres away and 55 homes had to be evacuated.
In all of the media coverage of the story, there was one statement that stood out; one statement that truly gets to the heart of what happened to this family last week:
When asked about the wellbeing of Kath Hinder, the children's mother, Mount Isa District Officer Superintendent Russell Miller told AAP on Friday: "She was resigned to the fact."
Kath had told the police that Hinder had done it intentionally. She knew her ex-husband was to blame. She knew that he had murdered their children. She knew it wasn't an accident.
Charlie and Kath Hinder were separated, but Charlie had been living in a caravan in Kath's front yard. The couple's children slept in the caravan with him on nights when Kath worked nights in a local mine. They loved their "sleep-overs" with Dad. Until the night when he methodically rigged up the device that would kill them.
Kath knew that her ex-husband had killed their children because, like so many of these cases, this murder was most likely about her. It wasn't about the child victims – it was about hurting their mother in the most vicious way possible.
The children were the victims of a horrible crime – but, make no mistake, Kath was also the intended victim of this violence. She wasn't injured in the explosion, but it was a brutal assault on her by her ex-partner.