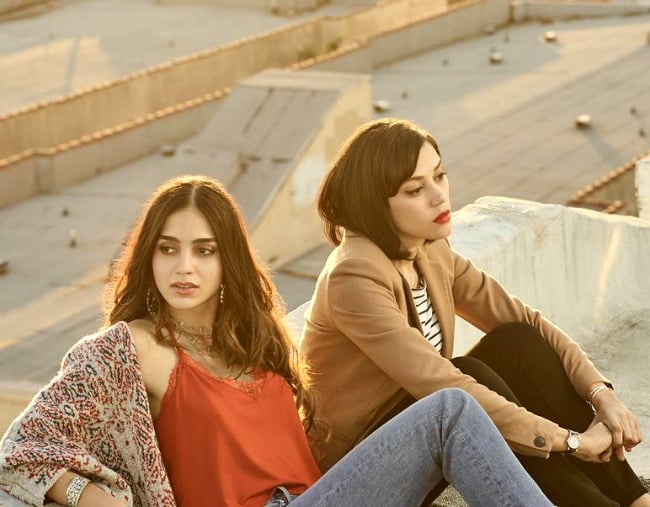 In just one episode the addictive dramedy Vida quickly cements itself as a boiling pot of emotions and story-lines, with the strongest one being an exploration into the tempestuous and binding relationships between families, particularly sisters.
Vida, which is airing now on Stan, follows sisters Emma (Mishel Prada) and Lyn Hernandez (Melissa Barrera) two Mexican-American women who reluctantly return home to the evolving East Los Angeles neighbourhood of their childhood following the sudden death of their mother, Vidalia.
When the sisters are first reunited on the day of their mother's funeral, their relationship is painted as quite an uneven one.
Emma is a successful, savvy businesswomen who tolerates no nonsense and does not allow a hint of emotion to cross her face as the characters move through the motions of their mother's memorial service and wake.
Lyn, on the other hand, is her polar opposite in every way. As a free spirit with a string of failed, creative business ventures in her past and a tendency to run to her sister and mother when her bank account hits zero, Lyn is practically a floodgate of overbearing emotions from the moment the audience claps eyes on her.
Vida is the addictive dramedy you'll want to binge watch immediately, streaming now on Stan.  
After the funeral, the sisters are stunned to learn that their mother's will has left them in charge of her apartment building and the downstairs bar she operated, but it's in no way as straight forward as you may think.
Emma and Lyn also soon discover that Eddy (Karen Ser Anzoategui), the person they thought was their mother's roommate, is actually her wife, and the building and responsibility for all the tenants within it must be now shared equally between them all.
The dialogue and scenes between Emma and Lyn perfectly capture the intense and precarious dynamic that exists only between sisters. One moment they are the worst of enemies and at each other's throats and in the very next scene they are the best of friends, glued together forever by blood and memories and loyalty.
And yet, we can also see that the sister's relationship is in no way perfect. It's messy and real, while also being unflinchingly honest about the fact that although these are sisters, the two of them will never have a picture perfect, happily ever after where all their issues are laid to rest and all they are left with is a cosy friendship fit for a Disney spin-off series.