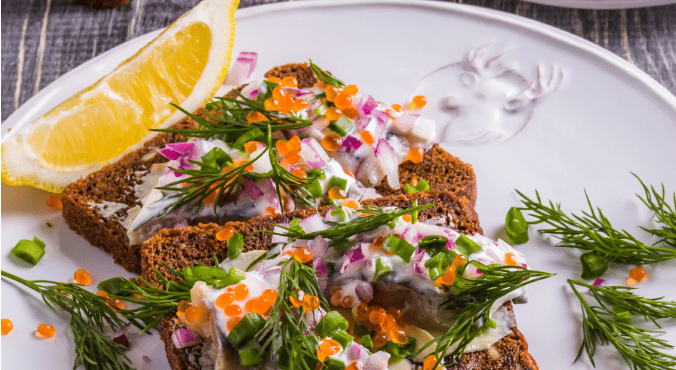 Image via iStock.
Move over Mediterranean diet: There's a new kid in town. The Nordic diet is being touted as one of the healthiest diets in the world thanks to its emphasis on nutrient-dense seasonal foods grown in the wild.
So why are we suddenly putting this way of eating on a pedestal?
"This diet is rich in plant foods and encourages the consumption of oily fish, lean meat, wholegrains, dairy and good oils. In fact, in many ways it's similar to our Australian Dietary Guidelines," Melanie McGrice, a Melbourne-based dietician, explains.
"It encourages the consumption of whole foods that protect against chronic diseases like cancer, heart disease and diabetes. Plus, it encourages people to eat seasonally and purchase local produce."
The proven benefits of the Nordic diet.
In a study published  in the Journal of Internal Medicine, by researchers from Finland, Sweden, Denmark and Norway, found that participants who followed the Nordic Diet,  showed significant health improvements.
All participants had metabolic syndrome (an abnormality associated with cardiovascular disease and type 2 diabetes) and those who followed the Nordic diet had significantly improved cholesterol levels.
Similarly, another study, by The University of Copenhagen, The University of Waterloo, Gentofte University Hospital and Frederiksberg Hospital, published in the The American Journal of Clinical Nutrition, found that the Nordic diet lowered blood pressure and assisted in weight loss. We're in.
The 5 main components of the Nordic diet.
1. Berries.
Native berries are an important component of the diet, particularly cloudberries, lingonberries, bilberries, redcurrants and blueberries. Not only are they full of flavour, they're really good for us too.
"Berries are low in kilojoules and renown for their antioxidant levels." McGrice explains.