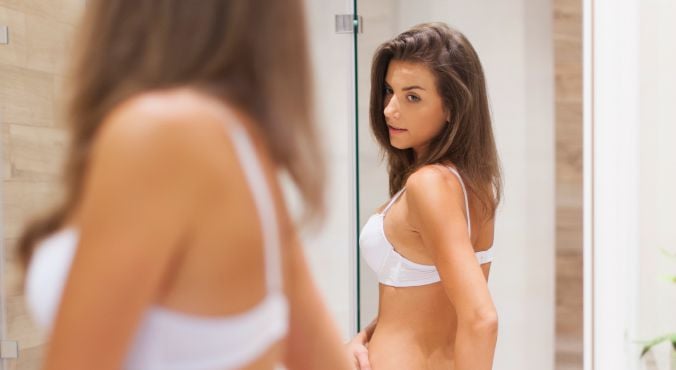 Image: iStock. 
By Tim Olds, Professor of Health Sciences, University of South Australia
A 2011 British survey found 12 per cent of women would give up two to ten years of their lives just to be their ideal weight, while 29 per cent of men think about their appearance at least five times a day.
So what makes an ideal body, and why do we want one so badly?
A good place to start is by looking at "hyperideal" bodies – representations of bodies that are culturally situated as ideals. We measured catwalk models, shop mannequins, supermodels, porn stars (OK, we didn't actually measure the supermodels and porn stars, we got their data from the internet) and even Barbie and GI Joe "action figures" (not dolls!), whom we measured with adjustable rulers and dental floss.
Shapeliness and thinness.
What's common to these bodies? For female bodies, it can be summed up in two words: shapeliness and thinness.
The body mass index (BMI, the square of weight in kilograms divided by height in metres) of the average Australian woman is about 27. In exercise science students it is 22, in catwalk models 20, in porn stars 18, in supermodels 17.5, in shop mannequins 17 and in Barbie 14.5 (a level achieved by about one in every 100,000 Australian women, usually as a result of some life-threatening condition).
The hyper-ideal female body is not only thin, it is also shapely. This makes it tough, because thin women tend not to be shapely, and shapely women are not usually thin.
The ratio of waist-to-hip girth is a simple shape measure which is a consistent index of how attractive men (and women) find women's bodies. Lower is better, but within limits.
Watch: Australian singer Christine Anu discusses body image. (Post continues after video.)
Men lust after women with ratios about 0.6-0.7, a range that happens to include Kim Kardashian (0.65), Angelina Jolie (0.66) and Scarlett Johansson (0.72). The average young woman scores about 0.75, models 0.70, porn stars and supermodels 0.69 and Barbie 0.56.
Sophisticated readers will not, I'm sure, be taken aback to learn bust size also matters. Barbie's bust-to-waist ratio is 13 standard deviations above the mean.
We developed a simple measure of whole-body female shapeliness, the Hourglass Index, which is the bust-waist ratio divided by waist-hip ratio. In this case, higher is better. Astronomical is better still. For athletic young women, the Hourglass Index is 1.8. It is 1.9 for models, 2.0 for shop mannequins, 2.1 for porn stars, 2.2 for supermodels and a quite dizzying 3.5 for Barbie.