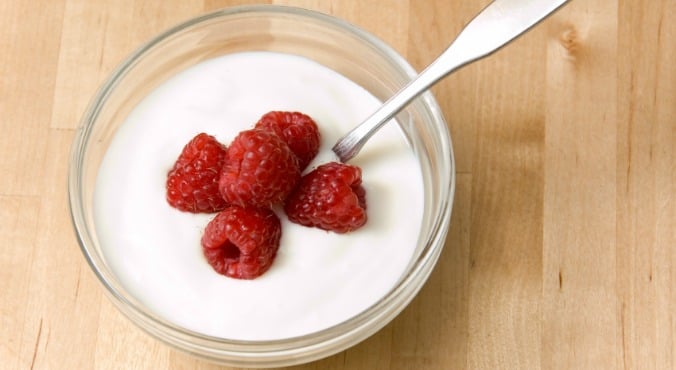 Yes, it's true – live-cultured yoghurt is a good source of probiotics. Image: iStock.
Even if you've never stepped foot in a supplements aisle, you're probably familiar with the terms 'probiotics' and 'prebiotics' — and quietly wondered how, or whether, they actually differ from one another. Or what they even do in the first place.
First things first: there is indeed a difference between probiotics and prebiotics. A few of them, actually.
"Prebiotics are selectively fermented ingredients that allow specific changes to the gastrointestinal microbial ecosystem that confer health benefits," explains Dr Vincent Ho, clinical academic gastroenterologist to the University of Western Sydney's School of Medicine.
"Probiotics, on the other hand, are defined as living microorganisms."
These can be formulated into various products, including foods, drugs and dietary supplements; Dr Ho says the most common species of bacteria used as probiotics are Lactobacillus and Bifidobacterium.
However, they also occur naturally in certain foods. Live-cultured yoghurt is the one of the best-known foods containing probiotic strains, but they can also be found in miso soup, fermented veggies (think pickles, kimchi and sauerkraut), certain cheeses and kombucha.
Watch: Magdalena Roze shares five things you should know about making kombucha. (Post continues after video.)
Prebiotics occur naturally in foods like leeks, asparagus, wheat, oats and soybeans.
The main distinction between probiotics and prebiotics is how they behave when they reach your large intestine, or colon.
Prebiotics mainly consist of nonstarch polysaccharides and oligosaccharides, Dr Ho explains, which reach the large intestine unaffected by the digestive enzymes. There, they feed and promote the growth of bacteria that's already residing in your gut microbiome.
"[Probiotics] on ingestion in sufficient amounts reach the intestine in an active state and can exert health effects," Dr Ho says.