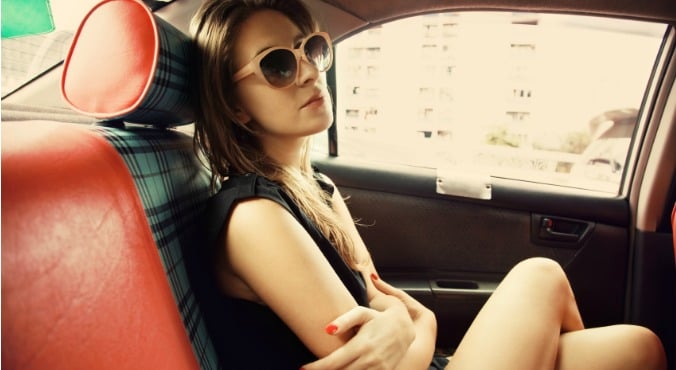 Image: iStock
There are two kinds of people in this world: those who can spend an entire car trip with their head in a book without vomiting in their lap, and those who only dream of it.
Tragically, I belong to the latter group. As a lifelong motion sickness sufferer, the term Bucket List has an entirely different meaning for me — name a location, and there's a very good chance I've stuck my head in a bucket while travelling there.
Like any pro, I have a personal best: the summer holiday where I managed to hurl before my dad even finished pulling out of our driveway (as our neighbours happily waved us goodbye).
Apparently a lot of people grow out of travel sickness by the time they reach adulthood, but some of us are still waiting for that moment to arrive. This is our story.
1. Most of your life savings have been spent on travel sickness tablets
You've dropped some serious coin over the years in an attempt to medicate the nausea away. You can find the motion sickness shelf of a pharmacy within seconds, and you've tried just about every item on it. When you finally find your go-to, you buy enough packets to last you through five apocalypses. One can never be too prepared.
(Tip: Travacalm has never failed me.)
RELATED: "What it's like to live with chronic fatigue syndrome."
2. You've also tried some truly ridiculous non-medical techniques to overcome it
A show of hands, please: how many of you have ever spent a car trip sitting on a pile of newspapers because one of your relatives read that it somehow helped with travel sickness?
3. Spontaneous car trips fill you with dread
"Let's go for a drive!" is the kind of statement that should inspire excitement. But when you have motion sickness, the mere thought of jumping in a car for an indefinite amount of time with moment's notice leaves you reaching for a brown paper bag (to vomit in, that is). Nothing kills the romance of taking a drive with your date like having to say, "Great. Can we just wait half an hour first? My car sickness tablets need to kick in."
RELATED: 27 things only gluten-free people understand.
4. You could never participate in backseat car games as a kid
Remember the glory days of school excursions, when you'd sit on the back seat of the bus with your mates and play a rowdy game of 'Corners'? No, of course you don't, because you had to sit right up the front next to your teacher, clutching a plastic bag, studiously watching the road ahead.
Oh, and you've had more than one friend over the years who's derived great delight from making retching noises in your ear to get you to throw up. Which is simply ~hilarious~.
5. You've vomited in a friend's car. And you were sober
When you have motion sickness, you don't need to be drunk to mortify yourself. I have fond memories of the time my ex's close mate bought a very shiny, new, expensive Skyline and took us for a spin in it. I showed my appreciation by emptying my gut, though thankfully it was all over myself. I probably wouldn't have lived to tell the tale otherwise.
6. You've been That Girl (or That Guy) on a long-distance flight
Sharing a row on long-distance flights can be a great way to befriend new people... that is, until your seat-buddy sees you reaching for the spew bag in an entirely un-ironic way. They'll feign sympathy as your face turns green and your stomach revolts against the turbulence, but don't for one minute think they're not contemplating emptying that paper bag all over you and having you thrown off the plane.
RELATED: 20 signs you're a member of the Nervous Flyers Club.