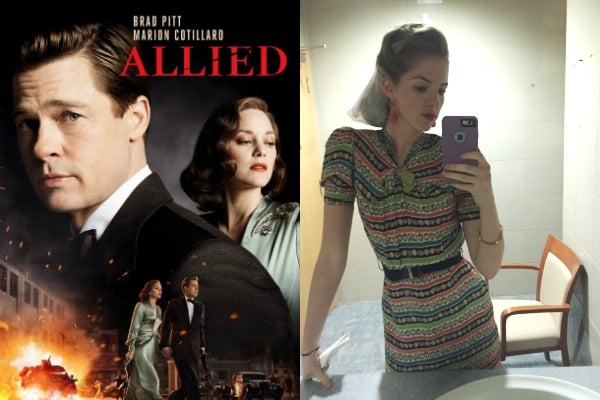 A raucous roar of laughter came from the makeshift garden as set runners realised Brad Pitt was just playing a prank.
The actor was dressed like he'd stepped out of the 1930s and was holding up a piece of plastic dog poo he'd borrowed from his son.
We were on the set of Allied, the 2016 thriller in which Brad plays Max Vatan, a World War II operative.
Here's the trailer for Allied if you missed it or need a refresher. Post continues after video.
When I moved to London with no job and no contacts, I somehow found myself picking up work as an extra. My first gig was on a Brad Pitt film.
What the actual heck.
Looking back, I don't think I realised how insane that sounds, but the reality of working on a huge Hollywood blockbuster was actually quite monotonous and dare I say it… boring (hence the dog poo prank).
Every morning for a month I would get to the studios at 6am. They were on the outskirts of town in an industrial estate and the security to get signed in involved several ID checks.
Once in, I would have my hair and makeup done for about an hour and then the costume department would check me over meticulously to make sure everything was perfect. Keep in mind I was an extra, my name on the call-sheet was literally "Yorkshire Girl 1" so I was of as little importance as humanly possible in the cast.
But the level of detail and precision given to every one of the dozens of extras' looks was impressive. The line on the back of my stockings had to be perfectly in line with the middle of my leg. My hair had to be exactly the same as the day before.