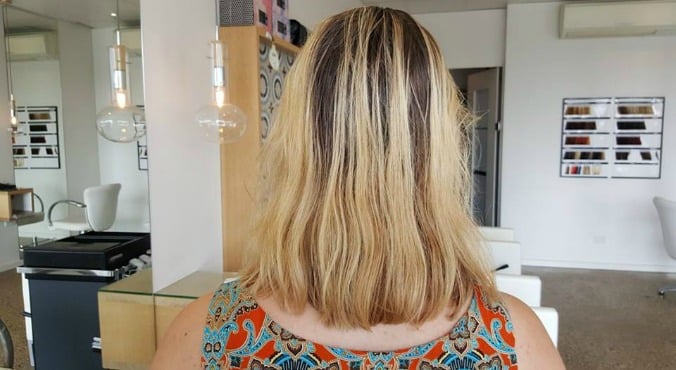 Image: Supplied.
Pink hair has been my goal for about the last two and a bit years. I've been dying my hair blonde since I was eleven (hello, Sun In) but seven years on and it just wasn't making the cut. Blonde was old. Blonde was boring.
So I tagged my stylists, Janelle and Dean, in an Instagram photo of the pink that I wanted in my hair, saying; "Let's do this." Their response? "Full head bleach."
I've never been more terrified in my life.
Watch: Mia Freedman gets the 'Sliding Doors' chop. (Post continues after video.) 
I went into Temple Hair and Beauty in Torquay to meet with Janelle and Dean to talk about the process, and the little beauty "Elumen"  was mentioned. Basically, Elumen is a product that works to FIX your damaged hair while also colouring it.
We decided on a shade and got down to business.
Step one: Bleach and Tone.
The first part of the process was to ensure that Janelle had a 'clean canvas' to work with when applying the Elumen. We used a powder bleach and mixed it with Olaplex. The Olaplex was essential, as it 'helps to reform the bonds during the lightening process,' which means that my hair can stay happy. Yay!
They applied the bleach with foils so that there would be some 'depth and variance' in the colour, then followed with a purple bleach on the ends of my hair. After letting it process, my hair was washed and dried before a toner was added to ensure the right amount of variance in the base colour before continuing.
Check the step-by-step process to get my pink goin' on. (Post continues after gallery.)
THE CHOP: From Bronde to Pink