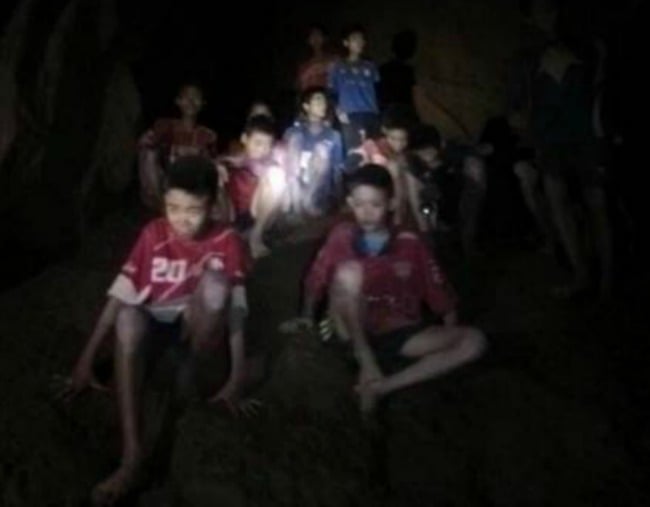 With AAP.
The first eight boys rescued from a Thai cave complex are in good health overall and some asked for chocolate bread for breakfast, officials said.
Rescuers prepared to free the remaining five in a race against time and bad weather.
Two of the boys had suspected lung infections but the four boys from the first group rescued were all walking around their beds.
"The kids are footballers, are strong and have high immunity," Jesada said when asked why they survived so long.
The boys had a good appetite but were mainly being given bland, easily digestible foods. However, doctors later relented after some of the boys asked for bread with chocolate topping.
They are still being quarantined from their parents because of the risk of infection and would likely be kept in hospital for a week to undergo tests, officials said.
In a statement to Mamamia, Professor Peter Collignon, the Director of Infectious Diseases and Microbiology at The Australian National University, explained this is because "caves can present a danger for a relatively rare fungal infection called Histoplasmosis."
"It mainly infects the lungs but it can spread throughout the body," Prof Collignon said. "It is much more common in some areas of the world especially in parts of the USA (Ohio Valley), but also in parts of Canada and India many people seem to be exposed."
It's understood Histoplasmosis, also known as cave disease, is incredibly rare in Australia.
"Caves with large numbers of bats or birds and their droppings seem to be a higher risk for histo. Presumably the droppings allow the fungus to grow better in the dirt/soil and then people inhale the fungal spores."
Another concern regarding the boys' health would be waterborne diseases, Prof Collignon said.
"Water is a risk for many infections," he said. "Meliodiosis is also common bacterial infection in Thailand with water a common source for infection.
"If water is contaminated with human waste, then that can be a risk for viral and bacterial infections for example typhoid, if people are carrying this bacteria."