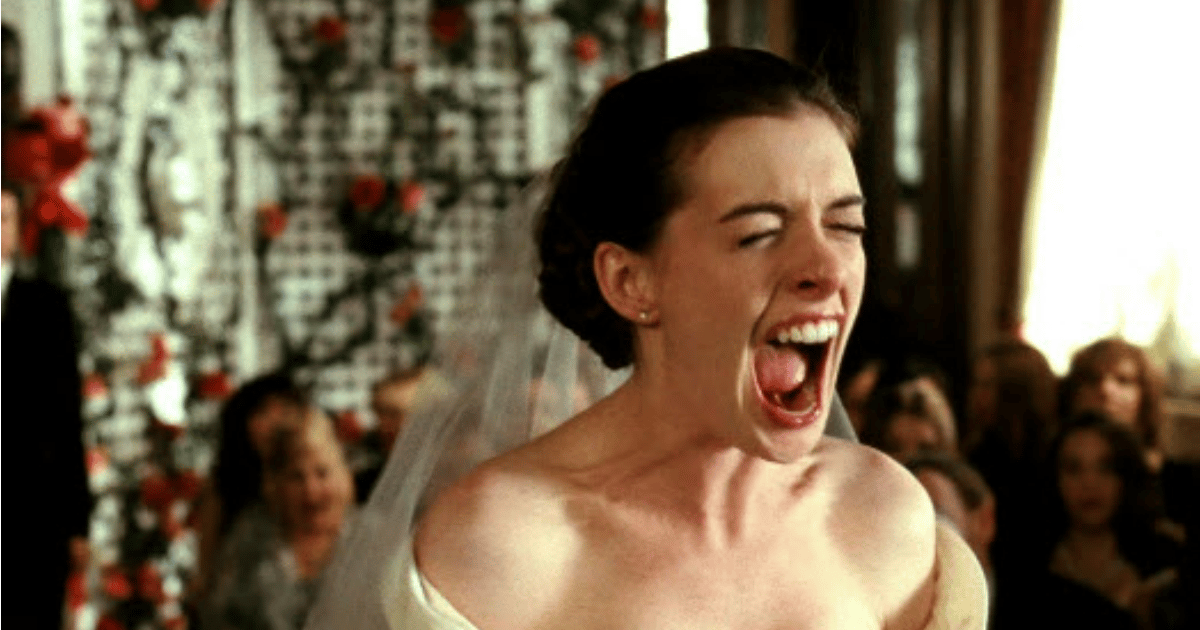 The wedding had a personalised website.
It had letter-pressed invitations, too, in case you were more of a pen-and-paper person. The bride arrived in a horse and cart, to walk down a rose petal-scattered aisle set against a picturesque lake backdrop.  The ceremony? Can't really remember that part except for when they released doves. By then it was over to the champagne fountain and oyster bar splayed beneath a ceiling-hung floral masterpiece.
If, at any stage, you were bored of eating, drinking and socialising there was always some croquet to be played, a guest photo booth to pose in, a photo board to admire as you #hashtagged the day. There was a three-tiered cheesecake, a normal cake, AND a gluten-free cake, plus a lolly buffet to enjoy as we watched a choreographed dance routine, set to a live band. All captured, of course, by four videographers. The bridal party exited in a flame of sparklers, into an awaiting stretch hummer. I guess at the end of the night a horse and cart isn't fast enough.
It was an amazing party.
Big weddings don't always lead to happy marriages. Listen to Mia Freedman tell Monique Bowley and Kate De Brito about her first year of marriage on Mamamia Out Loud (post continues after audio):
But then we watched as the bride, fresh back from her honeymoon, slumped into a dark place. Because it was all over. Two years of planning the "perfect" day and all that was left was a $40K hole in her savings and 600+ digital images that no one would look at more than once. The best part was over. And the actual marriage, it seemed, paled in comparison.
Then, we stood, mouths agape, as the bride announced that she wanted to re-do the entire wedding, the very next year. Differently, this time. Better.
Because she couldn't let go. She couldn't face life without a project in which she was the centre.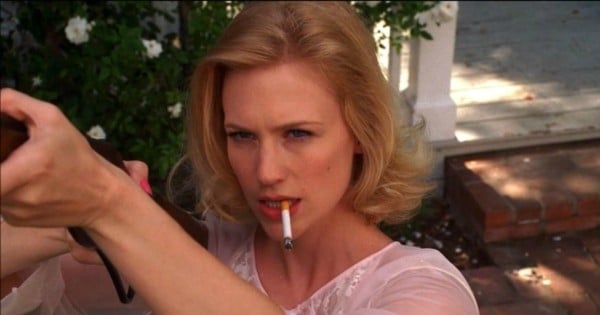 She went a bit Betty Draper With A Gun. (image via Lionsgate/ AMC)
The post-wedding/post-honeymoon blues are a familiar story. Just this week there was a story of the bride who admitted publicly that she'd turned into a wifezilla. She sniped at her husband. She picked fights. She hated who she'd become. And she wanted to know: what the hell happened?
The responses were varied. A few said "You're crazy." A few said "You need therapy".  But mostly, there was an understanding from those who have been there who said, in chorus: YES. THIS is what happens in the first year. The first year of marriage is the hardest.
So yeah, that first year is tricky, you're figuring our your new role as a wife. But what's compounding this first-year blues, is how ridiculously out-of-control weddings have become.
Every chilled-out person I know has lost their mind over their wedding day, because no matter how relaxed you are, these things are inevitably twice as expensive as you think they'll be, and four times the effort.
But, do they really have to be?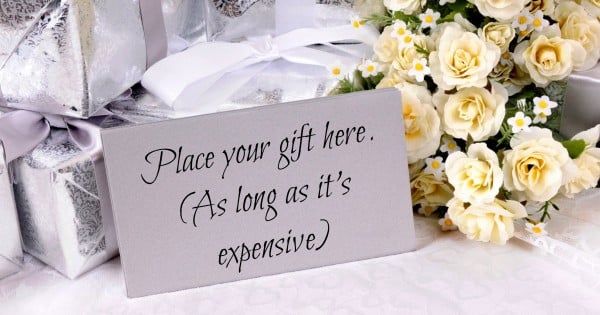 The average cost of a wedding is now over $65,000 (according to the latest Bride to Be magazine's Cost of Love survey) and the time to plan it has crept up to well over a year, sometimes two.
But what if we just lowered our expectations? Went for what was 'good enough' rather than perfect?
Do we need to pump the brakes, shut down pinterest, and actually look into the eyes of who we're marrying instead? Do we need to direct all that planning energy, into planning the future life we're going to have with our partner?
A recent study from two economics professors at Emory University found that couples who spend less on their wedding tend to have longer lasting marriages than those who splurge. The more expensive the wedding, the likelier the marriage will be over, sooner.
All signs point the theory of low expectations. The lower your expectations are for your wedding, the happier your marriage will be.
Click through the most memorable weddings in pop culture (post continues after gallery):

The most memorable weddings in pop culture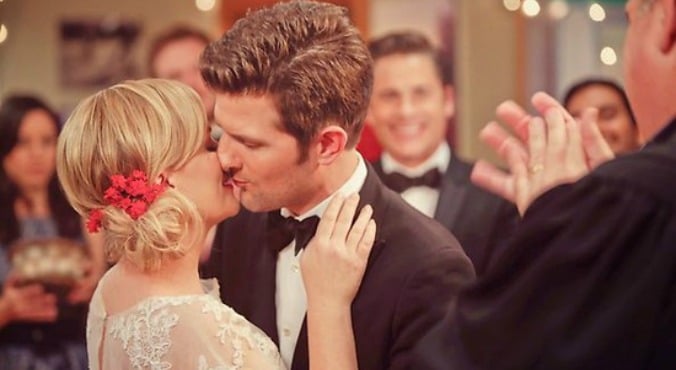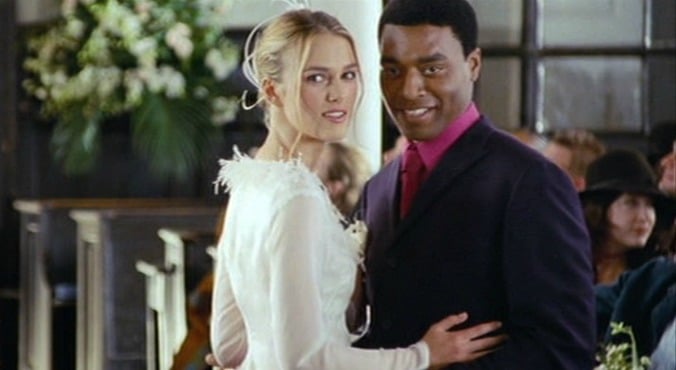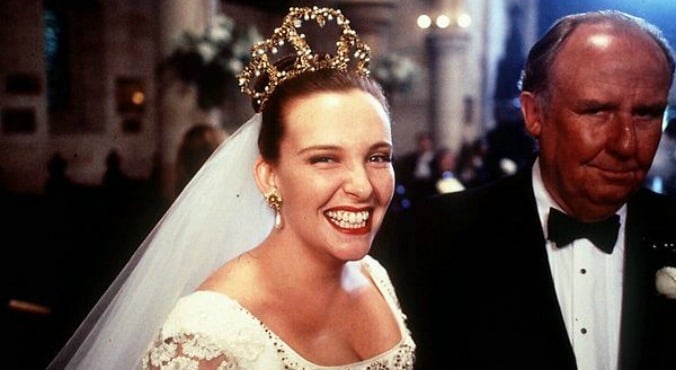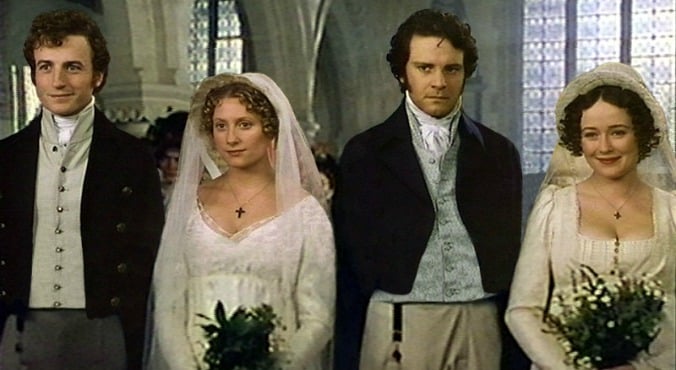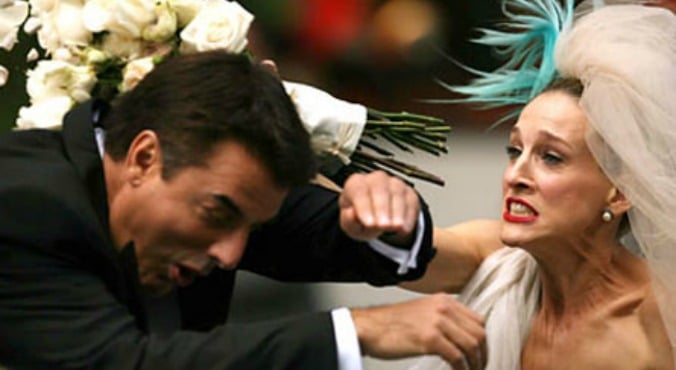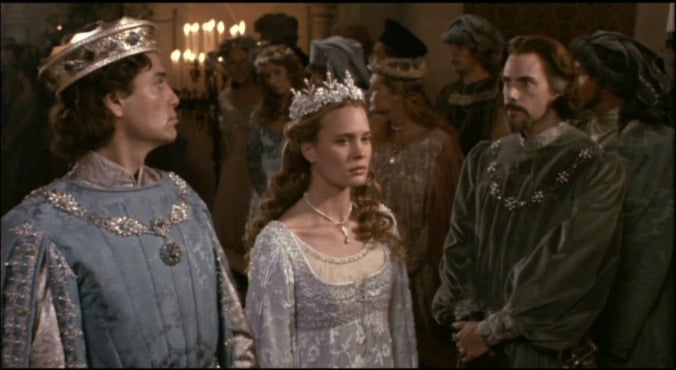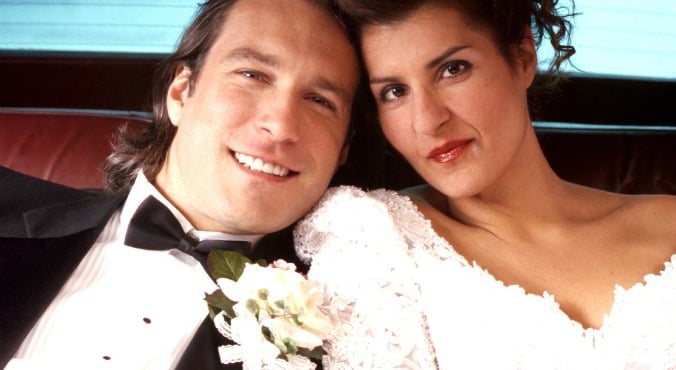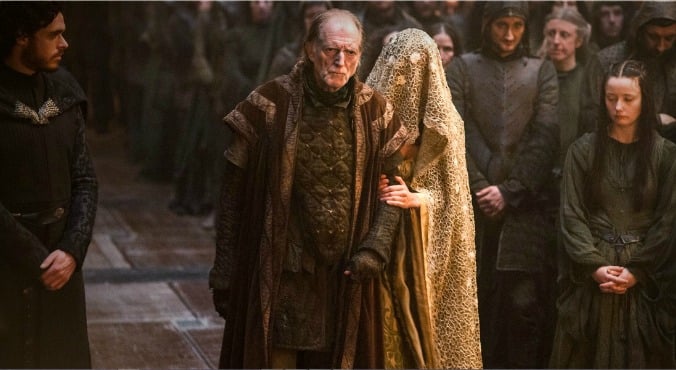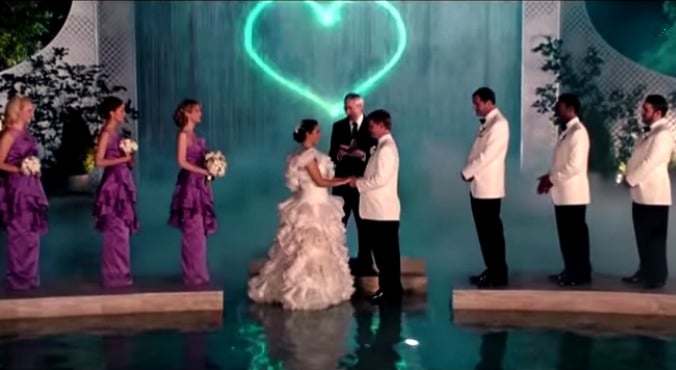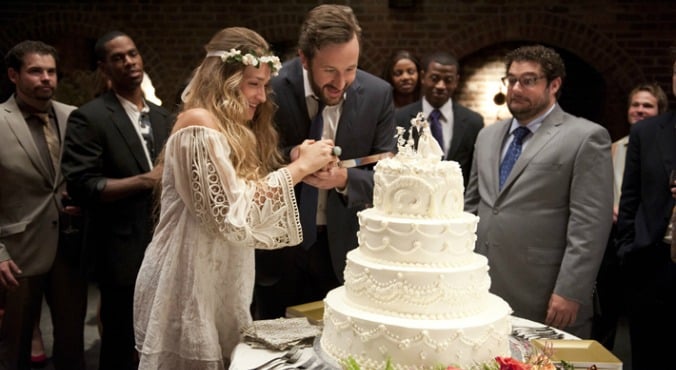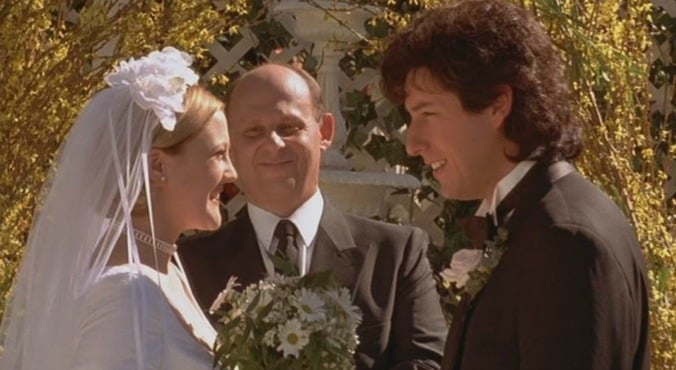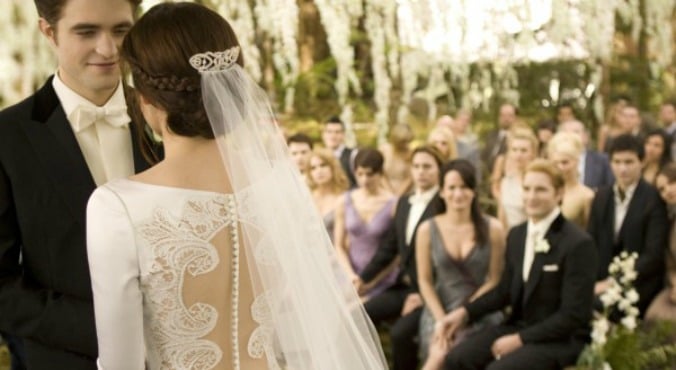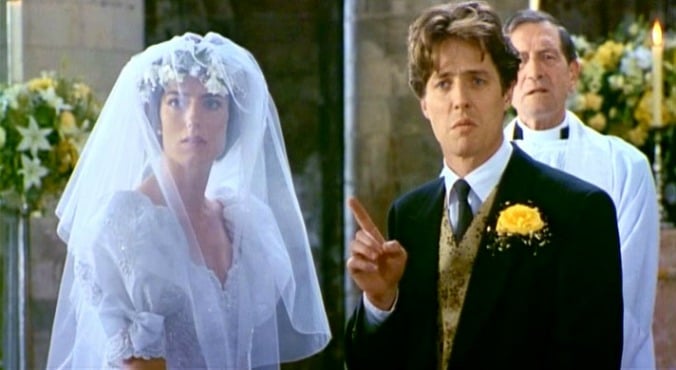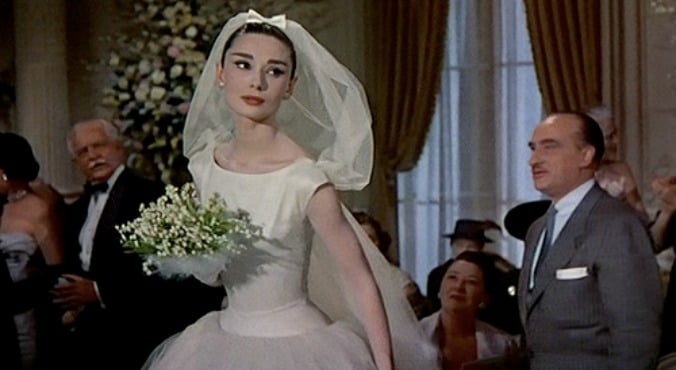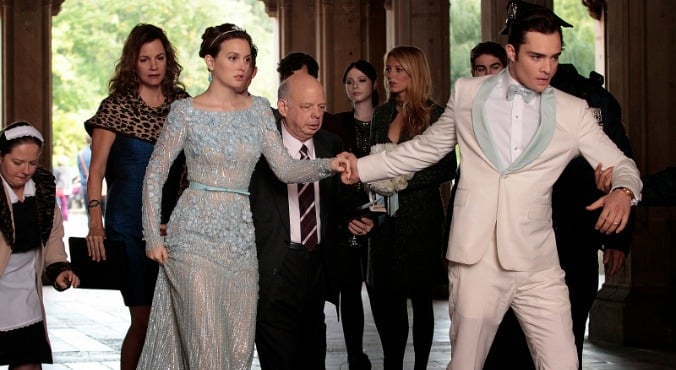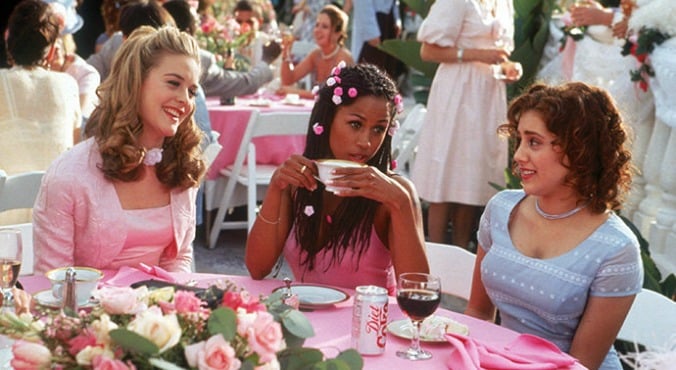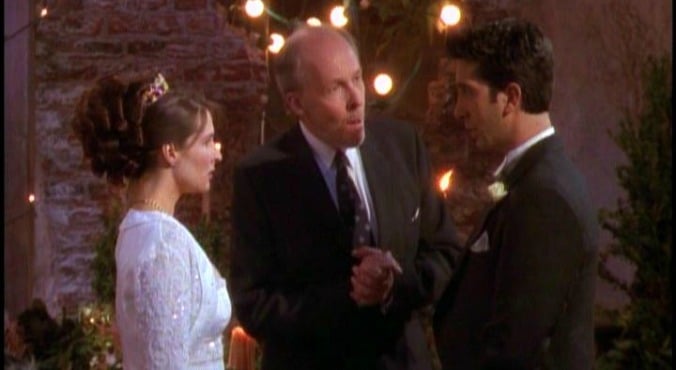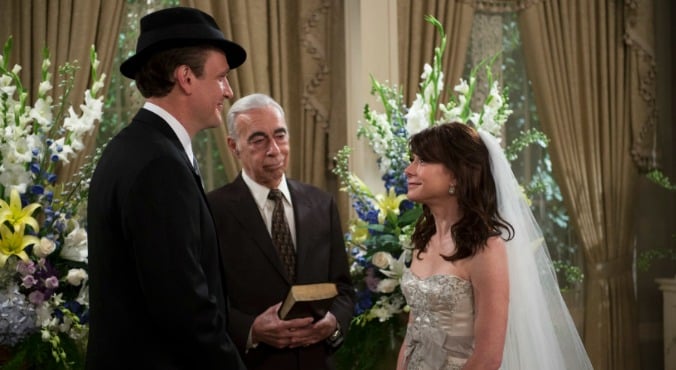 Don't get me wrong, it's super fun to look at all the nice things and dream big about your day, and you can spend your money however you want, princess.  Totally natural. But that's stressful. And if at some point you go Bridezilla on the one person that matters more to you than anyone else… your fiance, and it feels GOOD to do that, then you're setting up Wifezilla habits that will be hard to break later.
Because, shit, like the wisest member of the podcast, Kate De Brito says, at the end of the day, all that extra stuff doesn't matter.
The cake doesn't matter.
The car you arrive in doesn't matter.
Slaving over DIY bonbonierre? Doesn't matter.
Deliberating over the font on your invite? Doesn't matter.
All you'll remember is how it feels. 
Mamamia Confessions:My biggest wedding day regret (post continues after video)
So here's an idea. Sure, be committed to having an awesome wedding. But be more committed to having a marriage. 'Cos that's the part that actually matters. And repeat this mantra: Keep your expectations low. 
Keep your expectations low.
Keep your expectations low.
Go for 'good enough' instead of perfect. Remember that it's about the commitment more than the caterer. And then, you KNOW that the best is not behind you, the best is yet to come.
(And if it's too late, if you're reading this thinking 'I'm a wifezilla and I hate myself and I don't know how to change it' know this: you're not alone. There's plenty out there. Just listen to this week's podcast and follow the advice)
The full episode is in itunes or here. It's the weekly podcast with what women are talking about. There's sage advice, feminist takes on pop-culture, and a good ol' chat with your girlfriends.