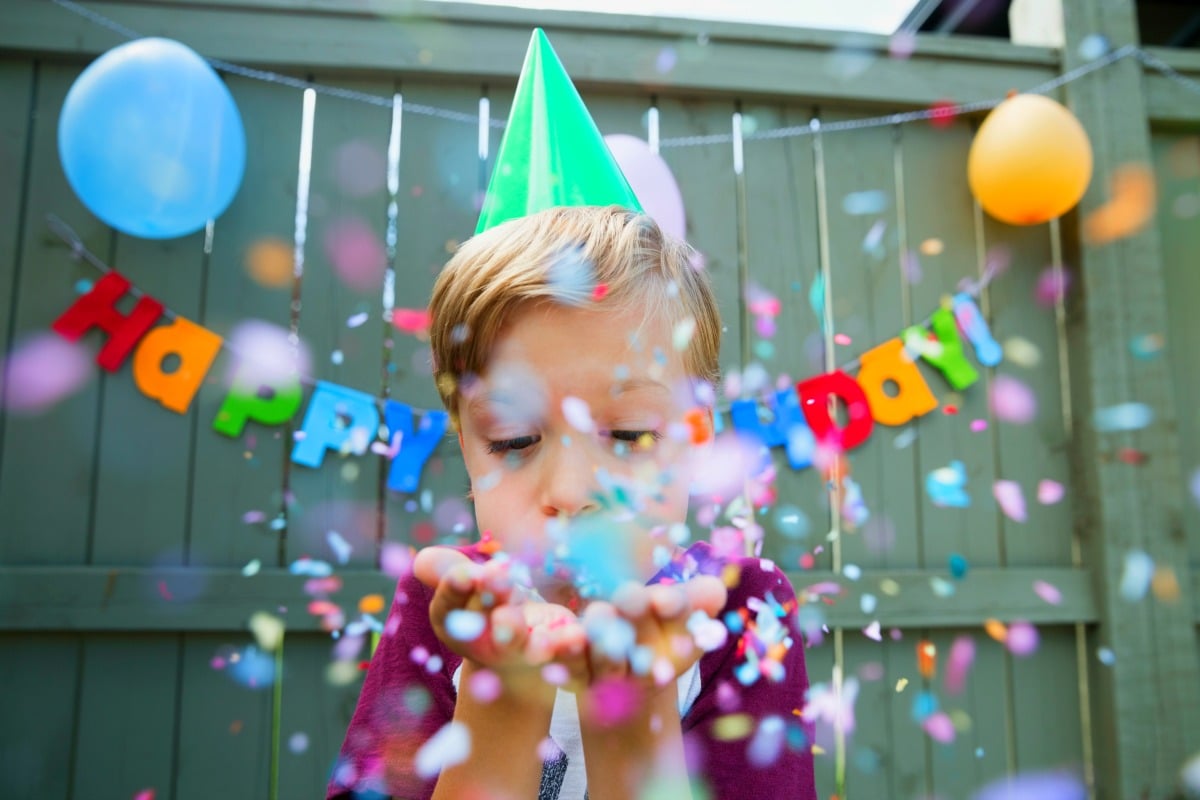 If you searched the definition of "child's birthday party" it would say "fun, games and tears" – and that's just for the parents.
There's the fun of planning a party for your beloved offspring, but then there's the 'games' played by parents; all the unspoken rules and birthday politics. Do you invite the whole class? Do you insist on inviting a child your kid doesn't want there, because you went to their party?
Then there's the gift etiquette. You know your child has so much stuff, so do you politely write "no gifts please" on the invitation – knowing that will guarantee seven truckloads of unnecessary goodies?
Or do you do what is increasingly common these days, and request cash, for either charity donation or for the child to put towards something they really want?
In 2019, the cash gift concept has become even more streamlined; it's called a "Fiver Party". This is where attendees place a five dollar note inside a card in lieu of a gift. The child then chooses to spend the money on something they really want, or they can save it to put it towards something else later.
The pro for the gift-giver is it's simple, inexpensive, and there's no wrapping. For the parent of the recipient, the pro is there's not a giant heap of $20 toys which aren't really needed or appreciated. Instead, the birthday kid can purchase just one or two big gifts they choose themselves which actually "spark joy" as Marie Kondo likes to say – and are thus vastly more meaningful.
The wording on the invitations can go something like this:
"This is a 'Fiver Party'. Timmy/Tammy is saving for a [insert gift], so if you'd like to come to the party with a gift, please simply pop $5 in a card."
But, as with many things parenting, the concept is dividing parents. Some think a Fiver Party is inspired economics, and a win-win for all. Others feel it's not in the spirit of giving, and also, they just don't like being told what to do – especially, with their money.
We asked Mamamia's Facebook parenting group, Mamamia Parents, and the writer's friends, for their thoughts.
Andrew Daddo and Holly Wainwright discuss cash gifts for kids. Post continues after. 

The Fiver Party 'yes camp'.
Many parents took to the economical and practical idea.
"I think it makes sense financially and probably environmentally if the kids gets one big thing they actually need rather than a whole heap of smaller toys that will eventually end up in landfill." – Leah
"Great idea – especially for someone who has everything." – Jutta
"Kids aren't then competing with each other in there playground and know what to expect as their gift… Imagine there's three parties on the same weekend… all Fiver Parties. How much less stress for everyone! Brilliant idea." – Rowena
"Kids get given so much for birthdays that they don't need. I also like that this gives them an idea about money and what stuff costs." – Ashleigh
"I have been doing this for years because I forget to buy the gift (though it's usually a $20 to cover the guilt factor). Needless to say I'd be a fan of the Fiver Party." – Sally
"Spending $20 on a present doesn't sound like much, but it adds up when you have two to three kids attending parties, and it meant I limited which ones they attended." – Sophie