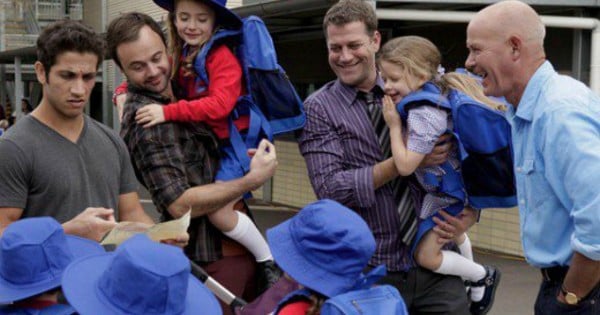 "Is there any fresh bread for sandwiches?"
"Is it Library Day today?"
All questions yelled out in my house this morning. And answered by the person who, despite there being two working parents in this home, almost always ends up responsible for remembering if it's gym class, and whether we've signed that permission slip for the end-of-term walkathon.
The parent who's been checking in with the teacher about Matilda's reading level, the one who knows the names of all the kids in the class, the one who will take her to that afternoon birthday party next Tuesday, and the one who will know what's for dinner tonight.
There's one of those in every house.
And, in my house, it's not me.
Listen to Holly telling Andrew Daddo her big parenting fail for the week. (Post continues after audio.)
Statistically, that makes me a freak. If there's such a thing as a "Lead Parent" – a term coined by commentator Anne-Marie Slaughter to define who makes the parenting decisions and manages domestic logistics – then more than 70 per cent of them are women.
Anecdotally, it makes me a freak, too. This week, on email, I received a message from the 'Class Parent' of my oldest child's form. It was a contact list for all the carers of the kids in the class. It's passed around so we can contact each other should our kids become friends, if we're trying to organise some sort of get-together, in case of head-lice emergency, etc.
The list is divided into column CARER NUMBER ONE and column CARER NUMBER TWO.
What's the difference? Here's a clue: There are 22 kids in my daughter's class. The Carer Number One column contains all female names, bar two. Carer Number Two column contains all male names, bar four.
It's official. I am on the Carer Number Two list. I am Parent Number Two. I am the Non-Lead Parent.
Annabel Crabb: "Women need wives and men need lives." I'm with you, Annabel. I'm with you.
How did I get there, on that list with all the men? I got there because Brent, my partner, filled out the forms. Which is the very telling definition of carer status - Carer Number One always fills out the forms.
This, people, is a tiny triumph. A step in the right direction. We need to shake those lists up, we need them to be a jumble of genders, we need to throw off the deeply old-fashioned idea of "mother knows best" and all its restrictive connotations. I am Carer Number Two, and proud. Women need wives, and men need lives, as the incomparable Annabel Crabb would say. Hells, yes.
So why then, when I looked at that list, scarfing coffee at my work desk early in the morning, did I feel a little 'thump' in my stomach. The tight ping of a tiny knot of panic?