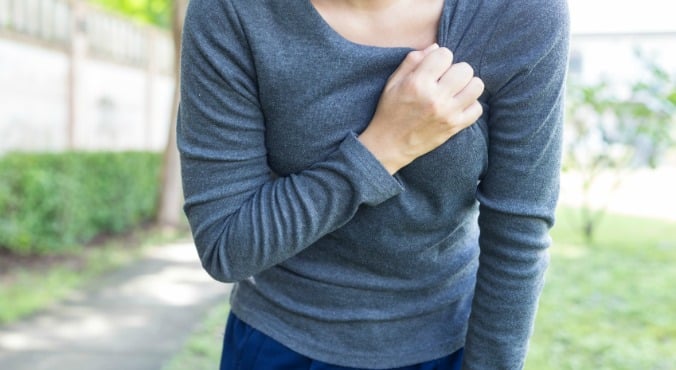 Image: iStock
By Garry Jennings, Baker IDI Heart & Diabetes Institute
Most people usually link the phrase "heart attack" with "massive"; something you are indisputedly aware of.
Some are massive and, in these instances, it's relatively easy to know if it is indeed a heart attack. Typically, there will have been crushing chest pain lasting more than a few minutes. One would hope this has led to an immediate call to 000 and a trip in an ambulance to hospital.
Often ambulance officers will have performed an electrocardiogram (ECG) and transmitted the results to the hospital, which will have selected and be ready with the appropriate treatment. In this case, the chest pain and the characteristic ECG changes are enough – those wiggly lines mean a lot to an experienced reader.
However, most heart attacks are not "massive". In these instances, further tests are necessary and the diagnosis can become quite challenging. The pain may not be typical and the ECG may be normal or difficult to interpret.
Watch: How much do you know about ovarian cancer? We look at the symptoms. (Post continues after video.)
Different types of heart attacks.
"Heart attack" is not just one thing: there are five internationally-recognised types.
The one we think of first is when a plaque in a large coronary artery – consisting of cholesterol, cells and cellular debris that has built up over the years – suddenly cracks or erodes. This exposes the inside of the plaque to the blood flowing down the artery. The blood clots at this point, causing a thrombosis that narrows or blocks the artery.
If the artery is completely blocked, this is likely to cause death of heart muscle cells downstream and myocardial infarction, colloquially called a heart attack.
Two different kinds of heart attack are distinguished by the ECG changes – STEMI (ST segment elevation myocardial infarction) and NSTEMI (non-STEMI) – which may require different treatments. STEMI generally means the artery has blocked completely. If the artery is only partly narrowed and the downstream muscle causes pain but survives the syndrome, it is known as unstable angina.