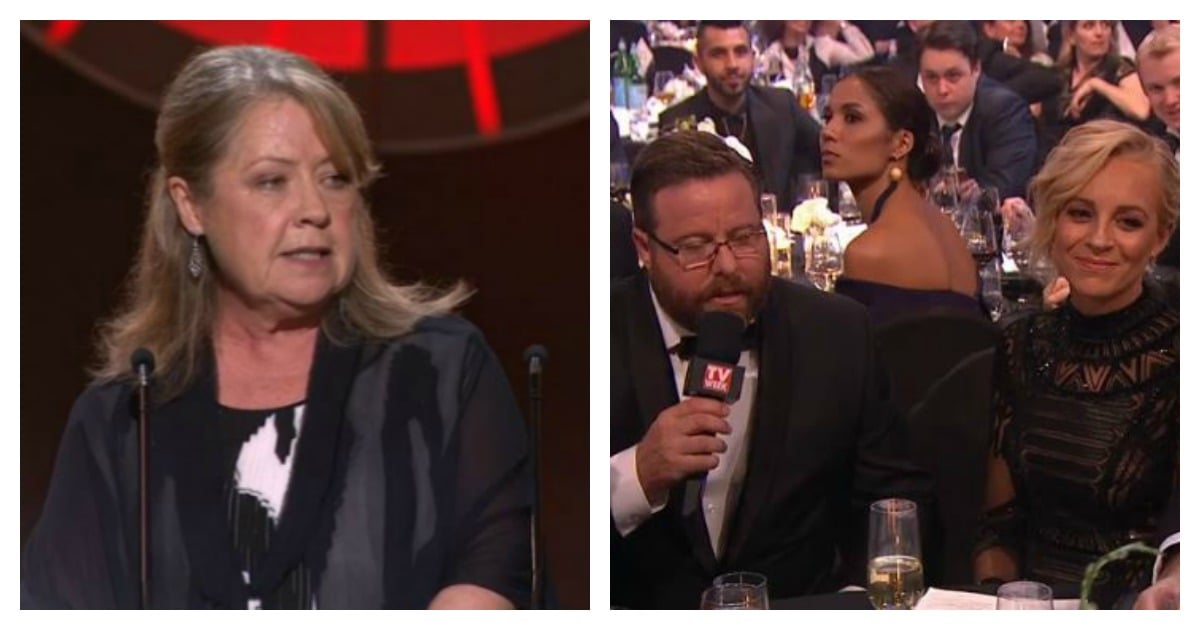 1. That awkward moment when Lee Lin Chin is so done with Shane Jacobson and says 'the jokes need to stop'. Her whole social media persona is constructed and written by comedians. It's not her. She is quite serious.
2. Noni Hazlehurst is an absolute champion. Not only has the veteran actress worked with every Australian actor ever, she is the second female to be inducted into the Logies Hall of Fame.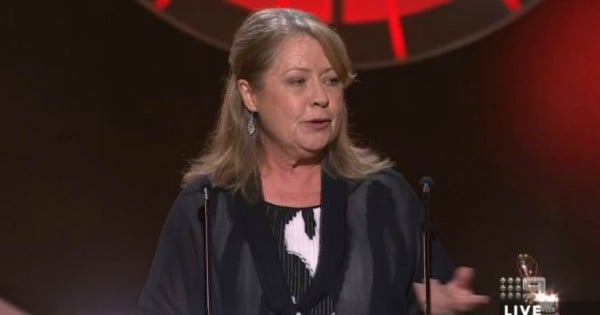 3. Rebecca Judd doing a live weather cross to Nine News from the red carpet dressed in extraordinary ball gown while pregnant with twins. She works hard for the money.
4. If there's one thing we take away from tonight, only comedians should present awards. Peter Helliar and Kitty Flanagan were hilarious, as were Dave Hughes and Julia Morris. The rest? Sub-par.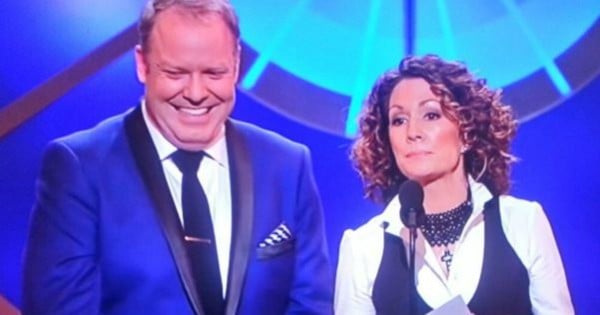 5. Chrissie Swan proved she was Queen in her fuck-it flat sandals.
6. Susan Carland has given us hijab envy. What a supremely elegant red carpet look.
7. Who knew Eddie McGuire's son was on Neighbours?
8. Delta sang a great song. She made sense at the Logies. Unlike foreign no-names.
9. The incredibly powerful and unexpectedly emotional speech from the Seven News team about terrorism after winning best news coverage for the murder of Curtis Cheng by a boy coerced by Isis. Silenced a drunk and bored room.
10. Playschool presenters ruled. From Noni Hazlehurst, John Waters, Justine Clarke, Miranda Tapsil... even Jemima made an appearance on the awards stage.
Our Podcast Director Monz was on the Logies red carpet ... handing out clean undies. You can watch the full video below.
11. A kids show starring five indigenous kids wins best children's to program and they give a passionate speech about diversity and more black kids needing to be on Australian TV. Too right.
12. The moment the Project team won Best News Panel or Current Affairs program and the voice has a jibe at Peter Helliar for not being nominated for the gold... 
13. Julia Moris singing I Need A Hero. Who else knew she could sing? 
Tell us what you think in the comments below. 
Click through the gallery below for all the looks from this year's red carpet...