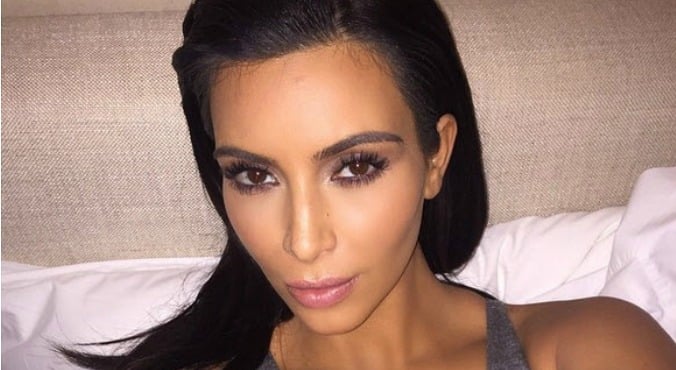 Image: Instagram/@kimkardashian.
The Kardashians aren't exactly famous for their frugality.
For starters, there's the constant haircuts and dramatic colour changes, the designer wardrobes, and the regular jaunts to exotic locations (just because they can).
The sisters' makeup routines don't come cheap, either. According to reports last year, Kylie Jenner's favourite tanning, makeup and hair products came to well over $1000.
However, it seems not everything is quite so budget-annihilating in Kardashian land. In a new post on her blog, Kim has named and famed her 10 favourite "luminous" liquid foundations.
Predictably, there were some big-ticket items on the list. Kim is fond of Armani's Luminous Silk foundation, which will set you back a cool $95. For those who have a spare $65 lying around, Charlotte Tilbury's Magic Foundation also made the cut.
Watch: How you can nail Kim's trademark double braids at home. (Post continues after video.)
If your budget is more "cask wine" than "Moet", don't feel too dejected – because two of Kim's picks cost less than AU$20. In fact, they both cost precisely $18.95, leaving you just enough for a mini sweet snack from the nearest Pick n Mix lolly stand.
One is Rimmel's Lasting Finish foundation, which comes in six different shades and promises to be "sweat, heat, humidity and transfer proof" for up to 25 hours.
The second is Maybelline's Fit Me Matte and Poreless foundation which, according to the product description, "fit[s] the unique texture issues of normal to oily skin."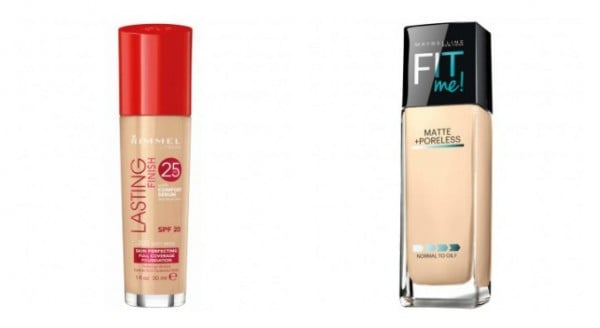 Here's Kim's overall message on the subject of liquid foundations: "Dewy skin is so pretty—and I've found that guys are really into it, too. All you need to get the look is the right luminous foundation."
Well, we're happy to hear we can actually afford to do so.
If that's not enough to satiate your hunger for budget-friendly Kimmy K beauty tips, you're in luck - we've tracked down some of her other suggestions from over the years. (Post continues after gallery.)
Kim Kardashian's life on Instagram
During a Masterclass with Kim and her makeup artist Mario Dedivanovic last year, the 35-year-old gave the nod to Neutrogena's Fresh Foaming Cleanser ($11.49) and Night Calming Makeup Remover Cleansing Towelettes ($7.99).
"I always keep them in my bag and take off my makeup so I can kiss my daughter," she explained.
There you go. Happy shopping.
What's your favourite budget beauty product?