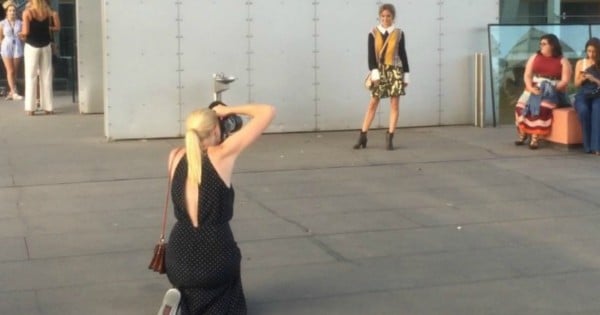 I'll be honest – this isn't my first rodeo.
But despite attending a number of Fashion Weeks, my transformation from a slightly clumsy person into a perfectly poised fashun insider who knows how to pose in photos is still yet to occur.  
Here's what fashion week is really like for us 'ordinary' people.
The experience starts when as I make my way to the venue. The stares from my fellow public transport users (Why oh why did I not get an Uber?) make me a little self conscious about my verging on ridiculous gold fringed high heels that I've never managed to wear anywhere else.
And that great-for-hiding-dirty hair half bun that felt so cool and high fashion as I styled it in the office bathroom? It suddenly feels just odd and out of place.
No matter – just a few stops and I'll be with your fellow fashion-loving people.
Watch: Highlights from the VAMFF festival.

The real runway.
Forget waiting inside to get to the runway, the parade (and the judgement) starts as soon as I step through the gates.
On one side I spy the big-name bloggers I regularly stalk on Instagram lined up against a wall (white, obviously) getting snapped by the street style photographers who stalk the entrance, cameras at the ready.
What appears candid once it's posted and filtered is actually carefully orchestrated – the process is fascinating to watch. And those people pictured on the phone? Yeah, they're not really talking to anyone.