This week, Judah Kelly from Team Delta won the sixth season of The Voice Australia. 
The 20-year-old Queenslander nicknamed 'King Judah' was a favourite from the beginning, and performed in the finale last night alongside Noah Cyrus, the younger sister of Miley Cyrus, Katy Perry and Niall Horan from One Direction.
Kelly won a recording contract with Universal Music, $100,000 in prize money, and will be releasing his first single titled Count on Me. 
LISTEN: The Binge goes behind the scenes of The Voice Australia. Post continues below.
But what does it actually mean to win a talent show in 2017?
Wealth? Fame? A guaranteed number one hit? Eligibility for Eurovision? Tens of thousands of Instagram followers?
If you watched this season of The Voice you'd have lost count of the amount of times the judges proclaimed, "You're going to be a star," "Australia better watch out," or "This won't be the last we see of you…" but the likelihood of any of those things being true is, statistically speaking, a little low.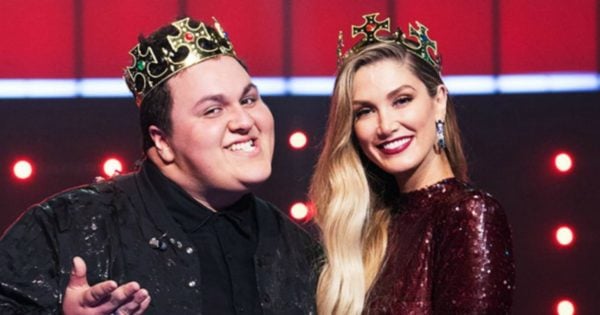 It's not because the contestants aren't profoundly talented. They are. But the market is saturated and the hundreds upon hundreds of talent show hopefuls cannot all achieve a chart topping hit, let alone a career in the music industry.
Given the past is the best predictor of the future, let's examine what winning a talent show actually looks like.
Karise Eden was the winner of the first season of The Voice and saw record-breaking success.
Her debut single You Won't Let Me was one of the four songs recorded by Eden that reached the top five on the ARIA Singles Chart in June 2012. Eden was the first artist to achieve such a feat since The Beatles in 1964.
Her album My Journey, which consisted of songs she performed on The Voice and new covers, debuted at number one and was certified double platinum.
Eight of Eden's songs sat in the ARIA top 50 in the week after it's release.
Eden played Bluesfest in 2013, and in 2014 released another album. One single charted at number 65, and the other failed to chart at all. In mid 2015 she released a cover of The Shirelles Will You Still Love Me Tomorrow which was used to promote Love Child. 
Since then, Eden has taken a step back. She is a mum to a toddler, and now performs only at intimate venues.
In 2014, Anja Nissen won The Voice, and her debut single I'm So Excited sold just 3,032 copies.
Her album sold less than 2,000.
With that said, Nissen competed in Denmark's national final for Eurovision in 2017, and won. She placed 20th in this year's Eurovision final.
Ellie Drennan, just 16 years old at the time, won The Voice in 2015, and her first single peaked at number 25 on the ARIA charts. She has released a number of singles since, the most recent of which was Hard Love, which peaked at number 41.
Earlier this year, she was performing at Caves Beachside Hotel in New South Wales.
Last year's winner, Alfie Arcuri released his debut album following the season, which peaked at number five. Unfortunately, his single Cruel sold just 1,458 in its first week, making it the worst performing winners single in Voice history.
Arcuri performed at Sydney's The Beresford last weekend, and has a number of shows lined up for the rest of the year, at The Bird's Basement in Melbourne and Leadbelly Newtown.
The X Factor winners, who are awarded a Sony Music contract, seem to have slightly better luck. The 2013 winner, Dami Im, went straight to the top of the ARIA charts in 2013 and famously placed second at the Eurovision Song Contest.
Cyrus Villanueva won X Factor in 2015, and his debut single Stone reached number four on the charts. In 2016, his singles peaked at just number 44 and 45. Last years winner, Isiah, befell a similar fate, but earlier this year qualified for the Eurovision Grand Final and finished in ninth place.
Australian Idol finalists, particularly those from the earlier 00s, have seen relative success. Guy Sebastian in particular won himself an enduring career in the Australian music industry, along with runner ups from the series, Jessica Mauboy, Anthony Callea and Matt Corby.
But how about Kate DeAraugo, Damien Leith, Natalie Gauci, Wes Carr, Reese Mastin, Altiyan Childs, Random, Marlisa Punzalan, Harrison Craig, Bonnie Anderson, Mark Vincent, Andrew De Silva or Fletcher Pilon?
Each of these individuals stood on stage, most in front of an audience of over a million, with confetti falling from the ceiling, tears streaming down their face, with people telling them their lives were going to change forever.
For the biggest TV and entertainment news of the week, listen to The Binge podcast.
After more than two decades of talent shows on Australian television, perhaps it's time we accept that 'winning' is a fleeting television moment rather than a promise.
Because in 2017, unfortunately, winning a talent show is not a guaranteed pathway to success.