I was deep in my routine Instagram stalk yesterday when something stopped me in my scrollin' tracks.
I was catching up on the lives of Instagram models (they're still wearing itty bitty bikinis) and food bloggers (they're still eating lots of kale) and the Kardashian/Jenner sisters (they're still plugging nonsensical 'hair vitamins').
Everything was all beautiful people! and sponsored posts! and shiny things I could never afford! until something unusual caught my eye.
On Kendall and Kylie Jenner's Instagram posts, there's lots (and I mean LOTS) of this: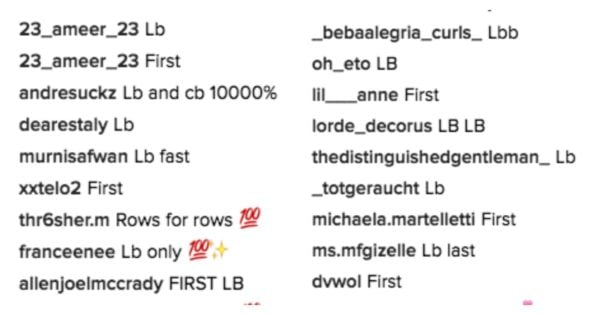 LB last! LB first! LB quick! LB only! LB LB! Fans were commenting at lightning speed. As soon as I refreshed, a new stream of 'LB's and 'CB's came flooding in.
All I could think was: "WHAT THE JEFF IS HAPPENING?!"
Well, upon conducting a quick search, it was made glaringly obvious.
It's code.