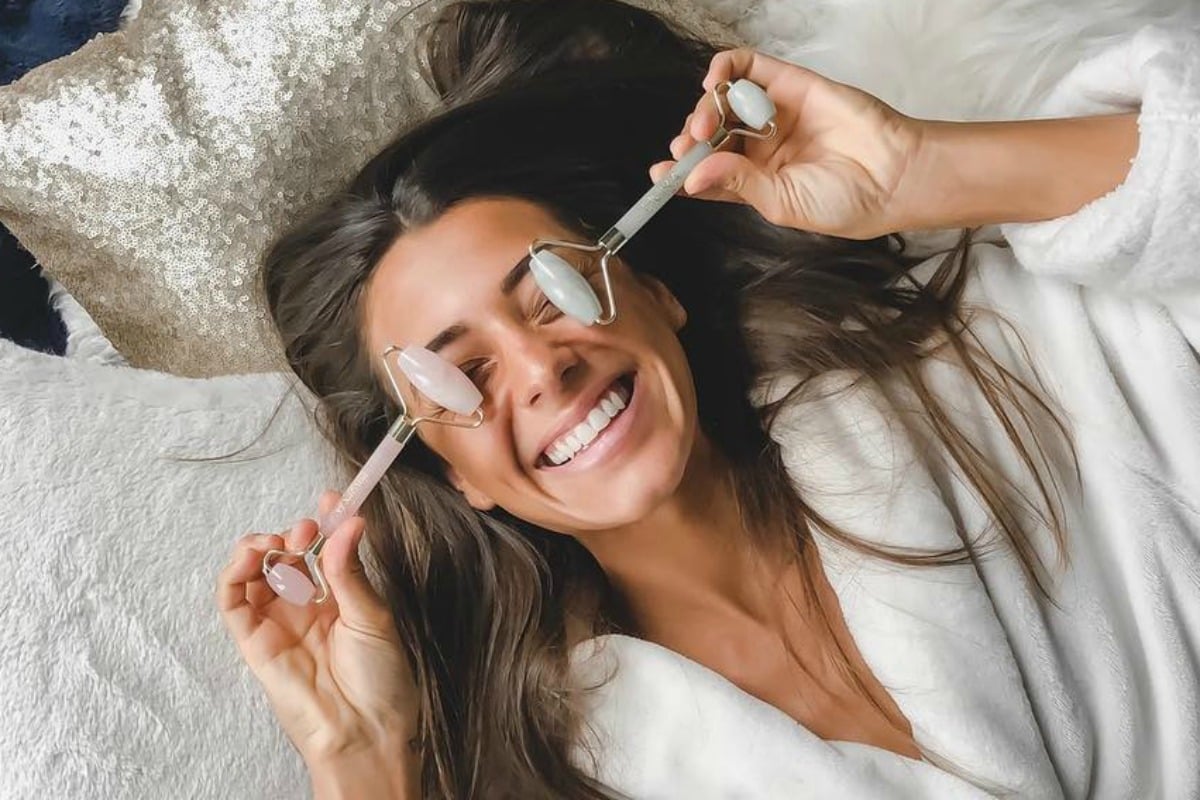 Victoria Beckham has secret pockets in her pants to carry her crystals, Adele uses them to combat stage fright, Katy Perry credits rose quartz for her man magnetism and Kim Kardashian used healing crystals to cleanse negative energy after her Paris robbery. Celebrities are officially obsessed with crystals, and now it seems the beauty world is, too. 
Beauty brands and influencers are finding ways to incorporate crystals not only in their insta feeds but also their product formulations and skin care regimes. Gritty Pretty Founder Eleanor Pendleton is a fan of using a jade roller and supermodel Miranda Kerr is a rose quartz devotee. Along with using a rose quartz gua sha (a heart shape facial massaging stone) as part of her skin care regime to combat puffiness, Kerr's skin care line KORA Organics filters all of its products through rose quartz to infuse the line with the vibration of self-love. Nice, huh?
Crystals in the salon.
Upon arrival at Venustus, Sydney beauty apothecary Jeannie Burke encourages clients to choose crystals to incorporate into their skin and body treatments.
"Clients could hold these or we might place them on their face or body – wherever feels intuitively right." Burke, who trained as a crystal healer twenty years ago, says adding energy work to enhance her clients experience felt very natural.
"Two years ago we started using jade rollers in the salon. We keep them in the fridge for use after waxing, threading and tweezing to calm inflammation. We also use them for lymphatic drainage of the face and neck when clients are concerned with puffiness."
Success with jade rollers lead Burke to look further into Gua Sha facial tools and develop her Crystal Cryotherapy Facial. This treatment, which dissolves you into your most peaceful, relaxed state, uses alternate hot and cold therapies to reduce fluid retention in the face. Lithos therapy (hot stone massage) and the Venustus modelling mask (a hot, heavy clay) are balanced by massage with cooled jade rollers and frozen cryotherapy moisturiser. The facial aims to reduce puffiness, eliminate toxins and stimulate skin circulation for instant results.
What the dermatologist says.
Is there any crystal clear scientific proof these tools work? (Sorry, had to.)
For now, the evidence appears to be anecdotal. The scientific literature doesn't support the use of [crystal skin care tools] i.e there is no good evidence that they achieve anything, says Dermatologist Dr Ritu Gupta.
"Basically what happens with the lymphatic system is, as you talk, use your muscles for facial expression, chew and speak, the muscles contract – and with that contraction the lymphatic fluid is pumped back towards the heart and away from the skin," Dr Gupta explains. 
"If people drink a lot of alcohol, if they don't get enough sleep or have naturally poor lymphatic drainage, for those people [lymphatic massage with crystal tools] could be of very minor benefit – but for the average person with a normal skin circulation it's not proven," Dr Gupta adds.