For many of us, breakfast tends to be a fairly last-minute affair. It's a hastily-prepared bowl of cereal in front of the morning news, yoghurt eaten while ironing uniforms, peanut butter toast wrapped in paper towel on the way out the door.
You've probably wondered how people who are experts in eating a balanced diet start their days. Well, you're in luck, because we asked a bunch of them to tell us.
Julie Brodrick
"A couple of typical breakfasts I have are natural yoghurt, berries and gluten-free granola either with or without a boiled egg and a piece of grainy gluten-free toast and marmalade," Julie says.
"The weekend is different – we cook up eggs, mushrooms, baby spinach or fruity gluten-free pancakes when we have time."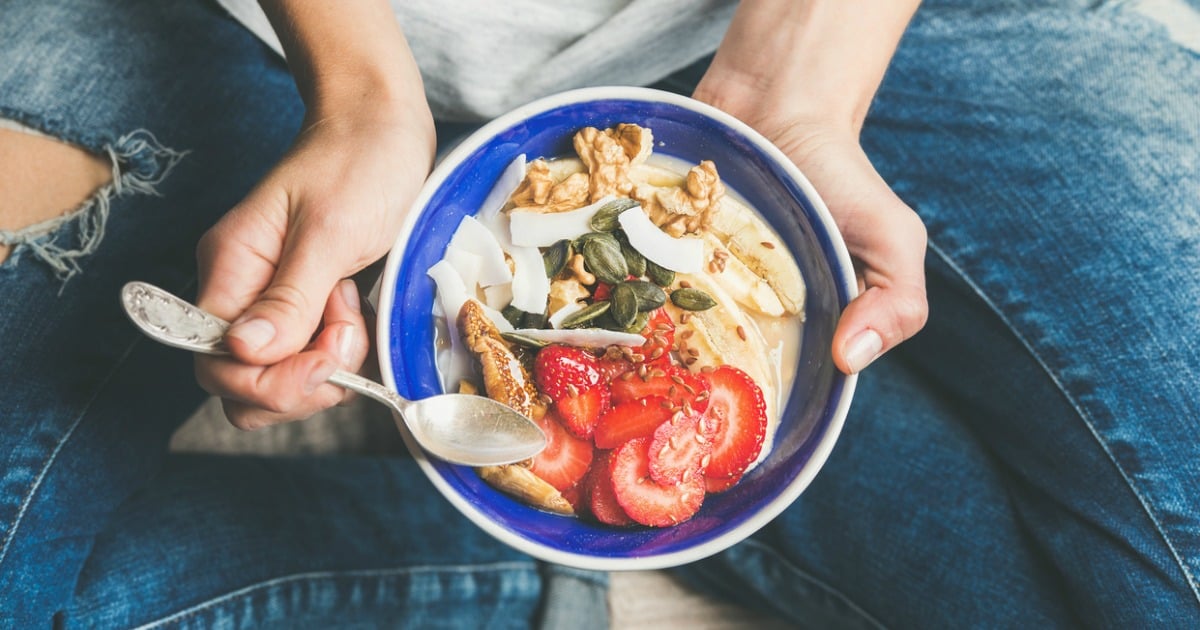 Julie says breakfast is a great opportunity to squeeze some more veggies into your diet, as most of us aren't eating enough of them.
"Starting the day with a couple of eggs with some wilted spinach or rocket is a great way to get an extra serve of veg and a serve of protein in your diet," she says.
Caitlin Rabel
Winter is officially here (cue Game of Thrones theme song), and that means one thing: it's oats season.
Caitlin is a fan, saying, "I find oats keep me full for a while, which helps get me through my morning at work."
"In the warmer months I often have homemade muesli with some yoghurt and stewed fruit, and if I'm in a big rush it's multigrain roast with peanut butter on my way out the door."
(See? You're not the only one doing the toast 'n dash.)
Listen: Why routine is beneficial for the whole family. (Post continues after audio.)
Olivia Bates
Olivia is another member of Team Porridge.
"I make mine with traditional oats, which are a source of beta glucan proven to lower cholesterol, naturally high in fibre, and are lower GI compared to quick oats," she says.
"I make them with a combo of half milk and half water. I swap between cows milk and almond milk, largely depending on what I have in the fridge at the time."
She also adds vanilla and cinnamon for flavour, and tops it off with pan-fried pear slices, homemade berry coulis, or dried fruit and chopped nuts.
"I also occasionally make healthy French toast or nutritious pancakes with almond meal. In terms of savoury options it will usually be soy and linseed toast with some avocado and cooked mushrooms or poached eggs," Olivia explains.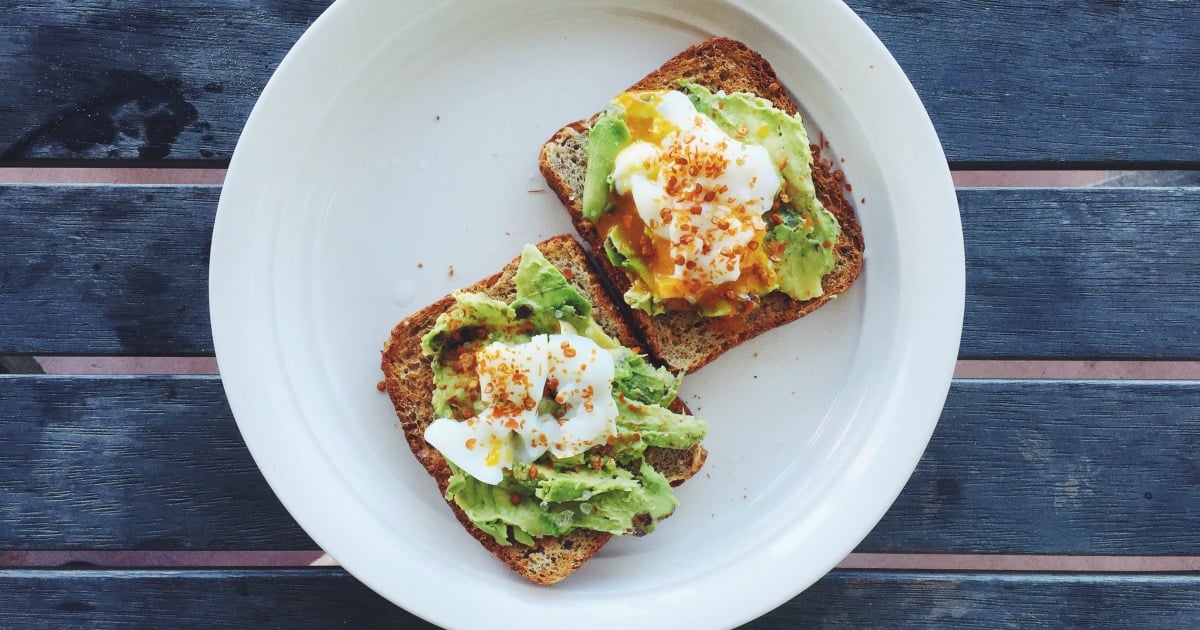 Anna Debenham
Anna says the key to eating a healthy breakfast is planning ahead and having the staples you need. Her go-to during the week is a combination of oats, yoghurt, milk and frozen fruit, which she batch-prepares on Sunday night.
"I combine, oats, Greek yoghurt, chopped dates, a tablespoon of chia seeds, milk, frozen berries and water in a container and make enough for a few days," she explains.
"This provides a great balance of protein, dairy, fruit and healthy carbs, which helps to keep me feeling satisfied and energised."
On the weekend, breakfast revolves around eggs, avocado, and whatever veggies she has left in the fridge. "Sauteed mushrooms and spinach in garlic, lemon, olive oil and chili flakes is a go-to fave," Anna adds.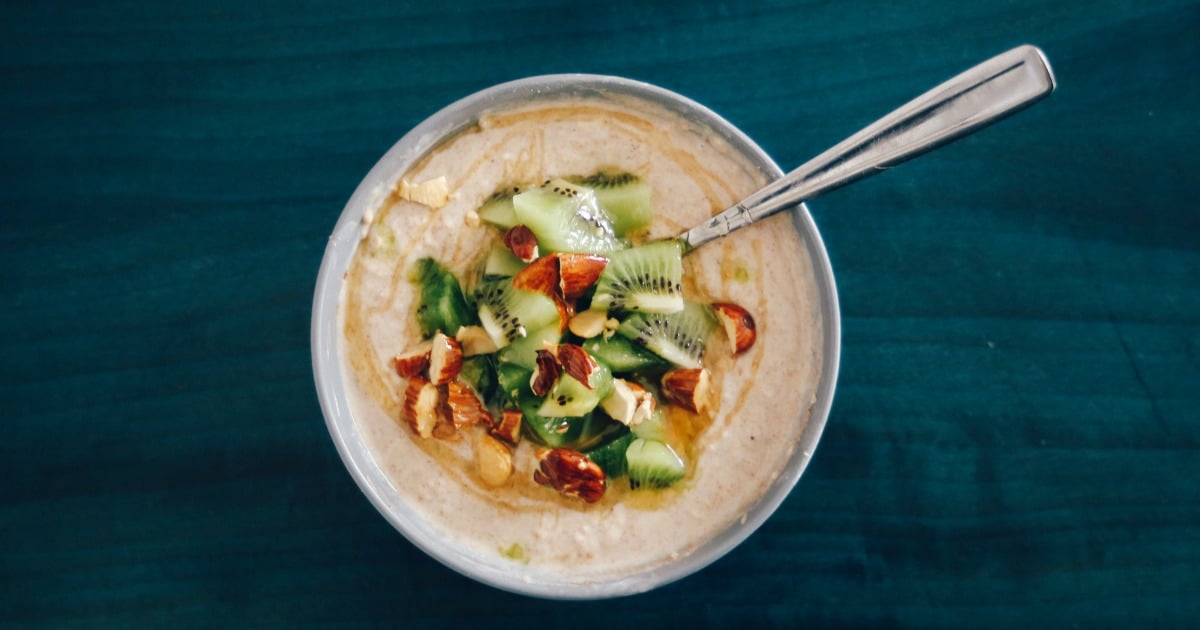 Joel Feren
Director and principal dietitian at Hearty Nutrition
Joel is a self-confessed creature of habit at the breakfast table, option for a wholegrain cereal topped with chia seeds, berries, Greek yoghurt and lite milk.
"A brekkie like this provides a nutritional punch - low GI carbs, fibre, muscle-building protein, healthy fats including omega 3s, as well as folate, iron, magnesium and B vitamins," he explains.
"And I'm well on my way to meeting my recommended two serves of fruit for the day. It's a winner from every angle."(Post continues after gallery.)
Brunch photos that'll get you hot under the collar
Tanya Lewis
As a mum of three (almost four) Tanya admits her breakfast is usually on the fly - if not a 'shove and go' situation.
"It usually consists of a a small bowl of porridge make with milk leftover from the big shared pot, or oats with natural yoghurt (I like Chobani) and cinnamon," she says.
Fresh fruit is usually a staple, whether it be chopped up on top of her cereal or shared with the kids.
"I sometimes cut the kids' sandwiches in funky shapes so if I'm still hungry I'll top up with the offcut crusts and handfuls of almonds," Tanya adds.
Alexandra Parker
Don't have a lot of time to spare in the morning? You're not alone.
"My weekday breakfast is usually something pretty quick and easy. Natural muesli with greek yoghurt and fresh fruit is one of my favourites," Alexandra says.
"I always flavour plain greek yoghurt with fresh fruit to sweeten it up naturally without the added nasties. I often add a handful of pepita seeds for an added crunch and a good dose of omega 3s."