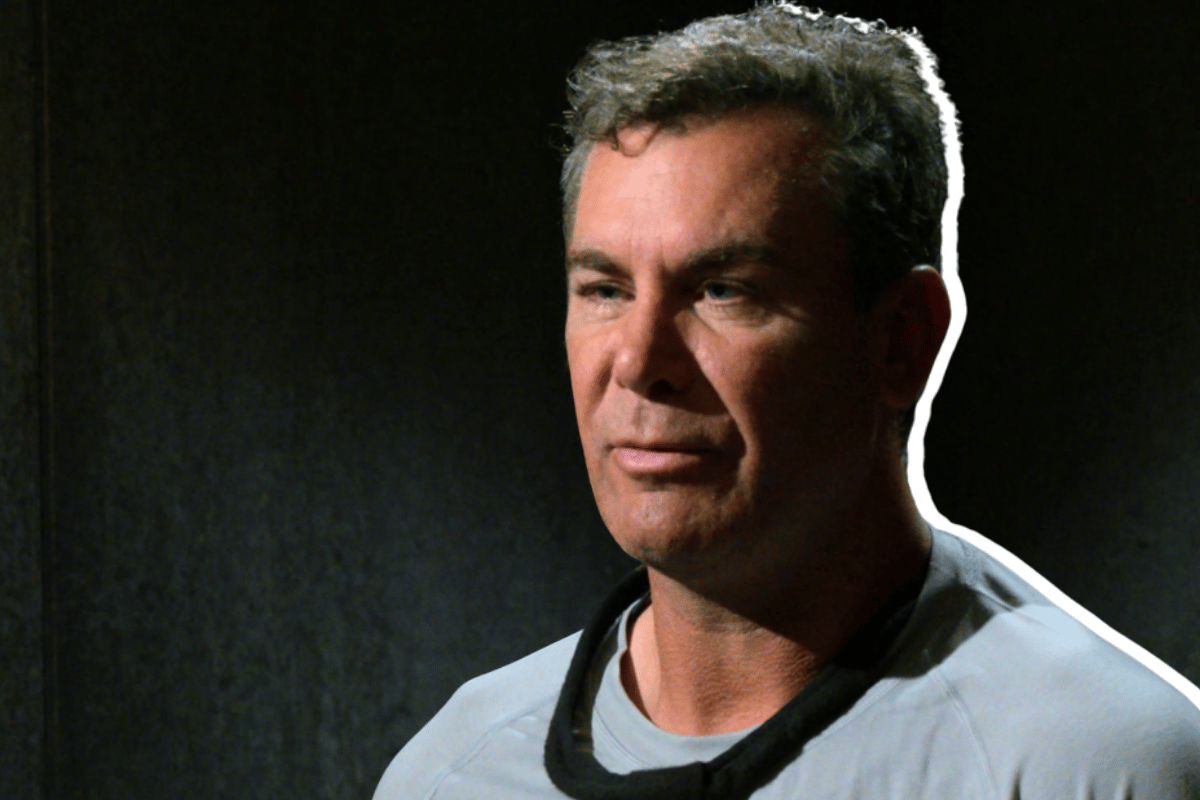 The following deals with domestic violence, which may be triggering for some readers.
This week, Wayne Carey returned to our TV screens. 
On Tuesday night's episode of SAS Australia, we saw Carey - a man described as a "football legend" in his intro - open up about his past. The former North Melbourne and Adelaide AFL player admitted to cheating on his former wife with a teammate's wife in 2002, before running away to Las Vegas. He labelled the experience as "one of the biggest stories about him" in the media, which "haunted him for over 20 years". 
He then also admitted to "throwing wine on a girlfriend" in 2007. 
But there is far more to Wayne Carey's story. 
Wayne Carey SAS Australia 2022. Post continues below.
Video via Channel 7.
In 1997, Carey pleaded guilty to indecent assault after grabbing a woman's breast on a Melbourne street, allegedly asking her, "Why don't you go and get a bigger set of tits?"
The matter settled out of court.
In October 2006, Carey allegedly hit himself over the head with a champagne bottle and wrestled with a security guard, after an alleged domestic dispute with his then-girlfriend Kate Neilson in a New York hotel room. The security guard - Kyle Banks - alleged he saw Carey "smacking" Neilson in their room at the W Hotel and tried to intervene. 
In 2008, he shared his account of the alleged incident with A Current Affair. 
"He smacked her and he shook her and he smacked her again and shook her again and he smacked her again," Banks alleged on the TV program.
Listen to Mamamia Out Loud: The worst man on TV tonight. Post continues after audio.
In 2007, Miami police were summoned to a luxury hotel after Carey allegedly smashed a wine glass into the face of Neilson, during a confrontation in the hotel's restaurant. When police went to the couple's suite, Carey lashed out and kicked a female officer in the mouth. He was convicted of battery on a law enforcement officer, while Neilson decided not to press charges.
This week, Neilson spoke publicly about the alleged assaults, telling the Herald Sun she didn't want that "dark period" of her life to be discussed on reality TV.
"The incident was so long ago now and it was a dark period of our relationship, but I can say with certainty the glass of wine was intentionally thrown into my face and smashed my mouth pretty bad. [It is] definitely something I well and truly want to leave behind me," she told the publication. 
Neilson says she was left with cuts to her mouth and neck resulting from Carey's alleged actions.
During his 'interrogation' on Tuesday night's episode of SAS Australia, Carey downplayed the incident.
"I got accused of glassing my girlfriend. I went over to throw wine in her face when we were at a restaurant, which is clearly wrong. The glass touched her lip. The headlines were that I glassed her. Of course throwing wine on a girlfriend is unacceptable. Yes, the glass touched her lip, it didn't break. I wasn't trying to glass her," he told SAS Australia staff Ant Middleton and Ollie Ollerton.
Image: Channel 7. Carey then shared that domestic violence is something he experienced within his own family when he was growing up. 
"Why I behaved that way is due to a number of reasons. Actually being physically violent towards someone, I saw that every day growing up. The way my dad was with my mum, horrific stuff. And that's why when people close to me said 'that is unacceptable' I'd say 'what do you mean? I raised my voice, I stood up, I put my arm on her'. I now know how warped my thinking was," he said. 
"All my partners will say I've never been physically abusive, but have I been abusive mentally and I guess intimidating? Absolutely. 
"My integrity will always be questioned. I'm not trying to prove anything to the public, it's to myself. People can change. They evolve. Hopefully, this can help me."
In response, Middleton said Carey was a "work in progress". 
"Always a work in progress. To be old and wise, you had to be young and dumb. It is what it is. Do you want to be known for who you were or who you are?" he asked Carey.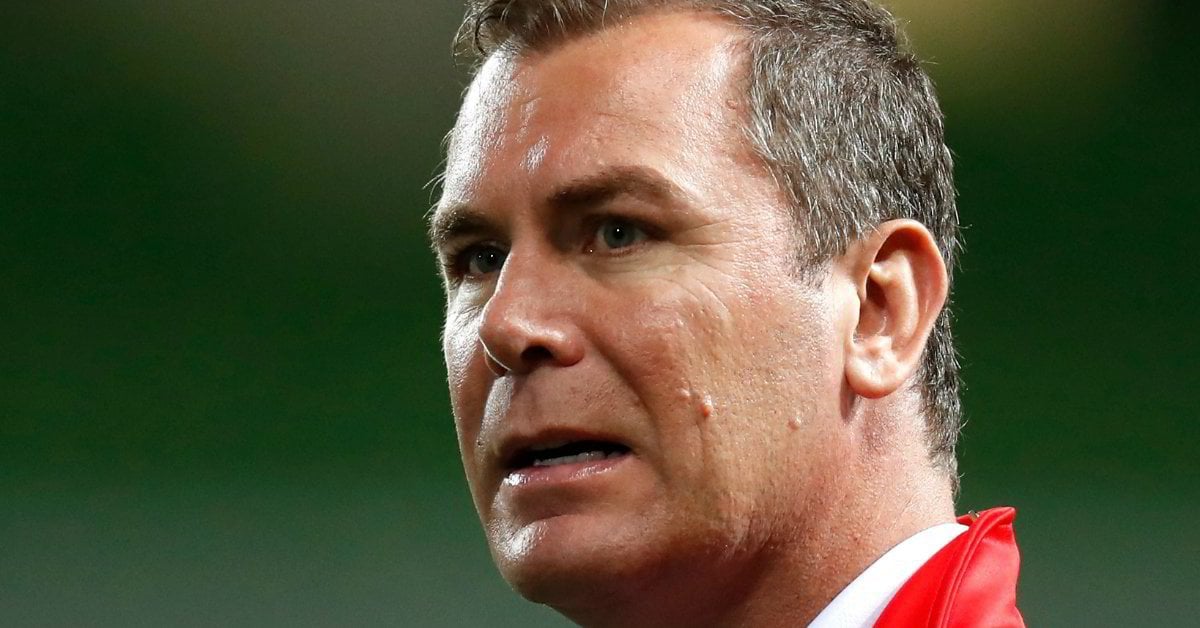 Image: Getty 
Ultimately, this is how Carey has always been treated by the AFL community and the Australian media. Like a man who is simply a work in progress. An "AFL legend" who has made some mistakes and has experienced a "fall from grace". 
While initially sacked from Channel 9 and 3AW, television networks and the AFL community ultimately forgave Carey for his actions. Or at least that's the message that was sent to viewers when Carey became a chair AFL commentator for Channel 7 in 2014, and was cast on the 7Mate panel show Talking Footy. Or when he appeared on The All New Monty: Guys and Gals in 2020. And now SAS Australia. 
Carey's consistent second chances aren't isolated, and this isn't the first time a man with a violent or criminal past has been given a 'redemption arc' on Australian reality TV. Just last year, we saw both Sam Burgess and Koby Abberton speak about their checkered pasts on SAS Australia.
In February 2021, Burgess was convicted of intimidating his ex-father-in-law. The conviction was overturned in March 2021. The former South Sydney Rabbitohs player and captain had also previously been under investigation by the NRL and NSW Police regarding allegations of misconduct and domestic violence, following a report by The Australian newspaper. In October 2021, NSW Police announced "no further police action is expected to be taken" in regards to the claims. 
Bra Boys member Abberton was found guilty in 2004 of perverting the course of justice in relation to a murder case, and in 2008 he pleaded guilty to assaulting an off-duty police officer in Honolulu. 
Earlier this year, Married At First Sight groom Simon Blackburn was axed from the show after his controversial social media activity was raised by the woman who was matched with him on the show. 
Then we had Thomas Markle Jr. on Celebrity Big Brother Australia in 2021. Only four years earlier, Markle Jr. was arrested for allegedly holding a gun to his then girlfriend's head during a drunken argument. He was later charged with menacing, pointing a firearm at the woman and unlawful use of a weapon. The charges were later dismissed.