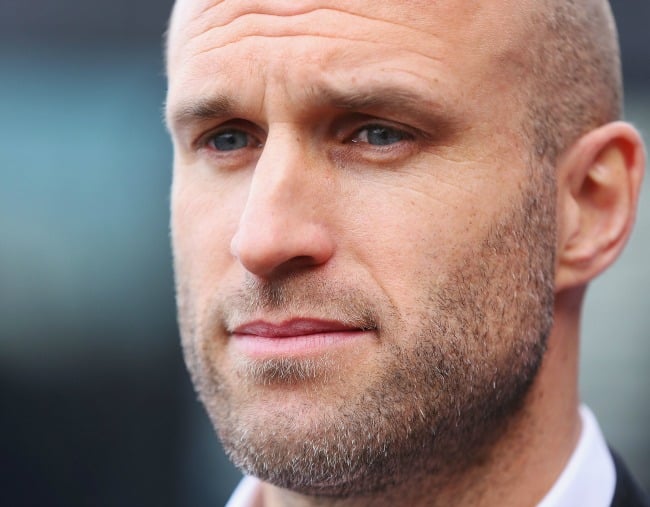 Former AFL legend Chris Judd has been forced to apologise for making a joke about cancer during a live television fundraiser for… yes, children's cancer.
The retired West Coast Eagles captain and two-time Brownlow Medallist made the gaffe while lending his profile to The AFL Footy Show's My Room Telethon on Thursday.
The offensive comment came after one of the show's panellists, Shane Crawford, commented that the father of four "smells nice".
"I'm using a natural deodorant," Judd replied. "The by-product of that is that it doesn't actually work, but I'm not going to die of cancer."
Within minutes, Footy Show viewers had inundated the program's social media pages to express their outrage over Judd's remark.
"Oh my god! Disgusting," wrote one Twitter user. "I cannot believe what you just said!!!"
"Chris Judd should be made to apologise for what he said before the end of the show. So disgusting and so disrespectful."
Oh my god! Disgusting #chrisjudd I cannot believe what you just said!!! #9AFLFootyShow

— Suzie (@SSASvictoria) August 9, 2018
No, Chris….you did not just…#wordvomit #instantregret #chrisjudd #9AFLFootyShow

— wndrlst (@Kate2xU) August 9, 2018
Funny how Chris Judd thinks he's free from cancer because he doesn't wear deodorant. Too many family members of mine have been struck down with the horrific disease without doing all the things that are linked to cancer. People had the right to be offended. #9AFLFootyShow

— Ashlee Louise (@AshleeLouise18) August 9, 2018
An hour later, Judd apologised on air.
"I'm not going to back over it, but needless to say I said something that was insensitive before," he told viewers.
"I had no intention to be offensive, but no doubt it's come across that way to some people. So my apologies. We're all here for the right reasons tonight and I hope it doesn't detract from the night."
Host Eddie Maguire defended Judd's comment, and argued it had been "misconstrued".
"It was nothing that you said that was wrong. We understood exactly what you were saying," McGuire said on air.
"Some people have misconstrued something and wanted to take it up on Twitter, but there you go."
Judd's wife, television and radio host, Rebecca Judd, has previously stated that she avoids antiperspirant deodorant due to concerns about its aluminium content.
"That's why I don't wear it, I'm scared!" the 35-year-old told KIIS FM in 2017.
A myth persists that the ingredient can increase a person's risk of developing various cancers – especially breast – and even Alzheimer's Disease. However, according to The Cancer Council, these claims have not been proven.
"The Journal of The National Cancer Institute published a study in 2002 exploring the relationship between breast cancers and antiperspirants or deodorants in 1606 women," the organisation notes.
"The findings did not show an increased risk of cancer amongst deodorant or antiperspirant users."