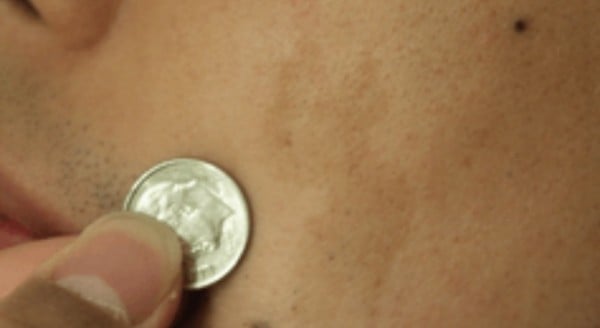 Image: iStock
By Rodney Sinclair, University of Melbourne
Birthmark is the term used to describe any of the large number of common skin marks that are present at birth or appear soon afterwards. It doesn't mean they were caused by the physical process of birth.
Birthmarks generally result from an overgrowth of a structure that is normally present in the skin. For example, an overgrowth of blood vessels produces vascular birthmarks or haemangiomas; an overgrowth of pigment cells produces congenital naevi or moles.
There are a number of myths and superstitions about birthmarks. Moles were considered evidence of guilt during the Salem Witch Trials. The "maternal impression" myth suggests that if a woman experiences an especially strong emotion during pregnancy and touches a particular location on her body, her baby may be born with a birthmark on that part of her baby's body.
The reality is that the cause of birthmarks is unknown. For most babies they don't create major problems and many birthmarks do not require any treatment. They do not predict future prosperity or special personality traits. They are not caused by the actions or omissions of the pregnant mother.
Watch: Those childbirth questions you've always wanted to ask? We went there. (Post continues after video.)
Fortunately, lasers and other medical breakthroughs have provided options for those birthmarks that do not fade spontaneously and are problematic or unsightly.
Café au lait macules.
Café au lait macules are pale brown or milk coffee-coloured birthmarks. They can occur at any site on the body, are usually less than five millimeters in diameter and are not dangerous or harmful. Café au lait macules are usually present at birth but may occur later in childhood or increase in number with age.